A Trebbiano from Abruzzo? Yes, if it's from Valle Reale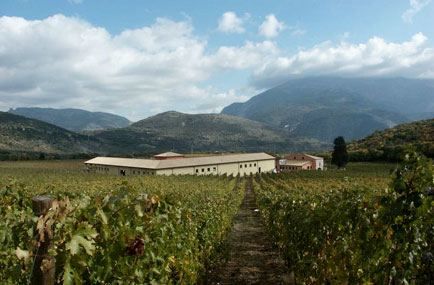 Trebbiano d'Abruzzo Vigna del Convento di Capestrano 2014 from Valle Reale is a pleasing wine with character .
"I want my wines to taste like this place!," Leonardo Pizzolo once told me. He has been running the Valle Reale estate since 1999 and in less than 20 years has made the winery one of the best for white wine in the region (and beyond). It is situated in Popoli, in the upper part of the Pescara province, between the mountain areas of Grand Sasso and Majella, one of the coldest places in the region for winegrowing and where excellent mineral water can also be found.
"In order to make a wine that tastes like the land it is from, the must needs to be undergo spontaneous fermentation. And if you want spontaneous fermentation, then you have to prepare a pied de cuve. To make a pied de cuve the way it should be made you need to use the grapes from the edge of the vineyard, the closest to the forest and that have more yeast on them. Pied de cuve is like a broth in cooking: it needs to boil to get stronger. Thus it needs to be freshened up continually".
The result are two Trebbiano d'Abruzzo, Vigneto di Popoli, which is less showy, and Vigna del Convento di Capestrano, which is an explosion of personality, deeply 'nordic' and pleasing.
Valle Reale 
Titolare : Leonardo Pizzolo
Località San Calisto
65026 Popoli (PE)
Tel. +39 085 9871039
Fax +39 085 8876118
[email protected]
www.vallereale.it
Bottiglie Prodotte : 25.000
Ettari di vigneto : 49
Viticoltura Biologica Certificata 
Anno di Fondazione : 1999
Related Products