The snow wine of Nicola Biasi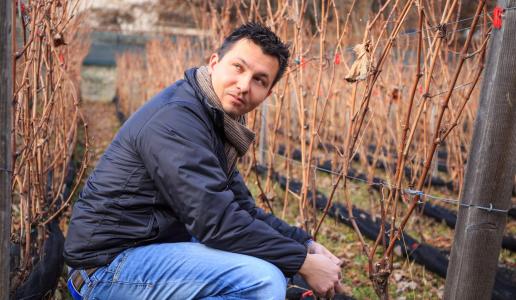 From a vineyard situated at 1,000m above sea level in the Val di Non comes Vin de la Neu, made from resistant Johanniter grapes.
The Biasi family owns land in the Val di Non that is situated at some 1,000m above sea level. Here the young enologist Nicola Biasi convinced his parents to allow him to plant a vineyard of around a hectare, a choice in contrast to the traditions of an area where apples are king.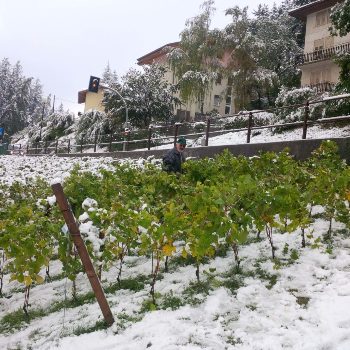 The reasons behind this choice were rooted in the desire to determine the feasibility of an experimental project dealing with new resistant varietals, something Nicola is one of the leading Italian experts on. The decision on which varietal to plant was, itself, quite unusual: Johanniter, a white wine grape created in 1968 by Johannes Zimmerman at the State Institute of Viticulture in Freiburg, Germany. The varietal is a cross of a father grape that is itself a hybrid, a Riesling and Seyve 12481, and a mother hybrid between Pinot Grigio and Chasselas. In Italy, Johanniter is practically unknown – as are the other resistant varieties – and its cultivation was only recently authorized.
The extreme conditions in the vineyard and the characteristics of the varietal ensure that its cultivation has a minimal impact on the environment in line with the latest dictates of viticulture.
The wine produced was named Vin de la Neu, Snow Wine, given that the vineyard is entirely covered with snow in the winter.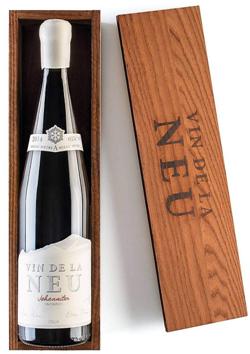 Vin de la Neu Vigneti delle Dolomiti Johanniter 2017
92/100 - € 98
Made from Johanniter grapes grown on head-trained vines and harvested in mid-October. The wine ferments in wood and matures on the lees for 12 months in barriques. It has a straw color with green reflections and a clear and intense aroma of white peach and medlar with a touch of pine and boxwood. The elegant mouthfeel is vertical and dynamic with a sapid note that upholds the flavor and ushers in a polished and very persistent finish.
Bottles produced: around 500 plus some magnums.
Related Products