The Barbera and La Morandina winery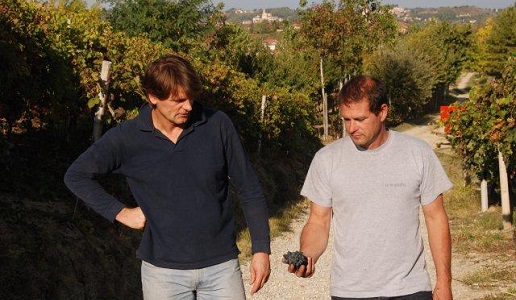 From an ancient winery in the Asti area, from a vineyard which is an old cru of more than 100 years old, comes La Morandina's Barbera d'Asti Superiore Varmat.
This article is available in Italian only.
Giulio e Paolo Morando dal 1988 sono al timone di questa importante cantina che ha alle spalle cinque secoli di storia nella zona di Castiglione Tinella, un bellissimo lembo nel cuore delle Langhe. La conducono con un occhio molto attento alla sostenibilità, tant'è che oltre l'80% dell'energia che serve alla produzione proviene da fonti rinnovabili.
Un territorio ricco di tufo e calcare che, come in poche altre zone, sa conferire ai grappoli dorati del loro moscato profumi ed aromi eleganti e raffinati ma freschi e di piacevolissima beva. Sia il moscato che gli altri vini prodotti portano in sé la doppia anima che i due fratelli vogliono preservare: da un lato la tradizione delle piccole botti di legno dall'altro la tecnologia e le moderne vasche in inox come strumento per esaltare le qualità delle uve nel pieno rispetto dell'ambiente.
Le vigne di uno dei cru aziendali, il Varmat, hanno 100-120 anni di età e crescono su un terreno dove non di rado si possono trovare resti di conchiglie marine e dove la famiglia Morando riesce a lavorare ai massimi livelli queste vecchie viti di barbera.
Barbera d'Asti Superiore Varmat 2016 La Morandina
90/100 - € 26
Da uve barbera d'Asti da vigne di oltre cent'anni. Matura in barrique per 18 mesi. Colore granato intenso con riflessi violacei. Al naso bei profumi di piccoli frutti rossi maturi, prugna e amarena quasi in confettura, con delicati sbuffi speziati. Al palato è fragrante e strutturato, di bell'equilibrio. Lungo e avvolgente il finale dove ritornano i piccoli frutti rossi e la nota speziata.
Related Products