Rio Maggio and Granarijs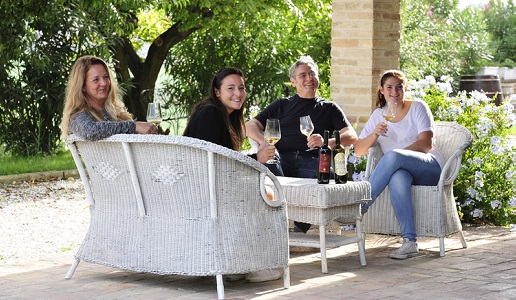 The name is a homage to the farming tradition of the area, while Rosso Piceno Granarijs is a strong yet agile wine.
Mons Granarum (or Mons Granarijs) is the mound of wheat grain. Even if over the past 50 years it has become the center of quality shoe production, Montegranaro has, since the time of the Romans, a strong agricultural vocation. It is in the Fermo province part of Piceno, where the number of wine estates is far less than at the heart of Piceno, the one around Offida to the south and in the Ascoli Piceno province near the border with the Abruzzo region. Piceno Fermano is at the heart of the Marche region and while there are not many estates, they are excellent ones, like Dezi in Servigliano, Lumavite in Rapagnano and others.
Rio Maggio is a typical, family estate (they produce around 100,000 bottles) run by Simone Santucci, the son of founder Graziano, together with his wife Tiziana and their daughters. The estate is probably one of the best in Piceno Fermano for all the area's wines. For example, if you want a Falerio dei Colli Ascolani, once the typical white of the southern Marche before the media tsunami for Passerina and the rediscovery of Pecorino, here you will find one of the best, Telusiano, which for many years was one of the best regional whites after those of Jesi and Matelica.
But today we are talking about red wines, which in Piceno means Rosso Piceno: a typical blend of Montepulciano and Sangiovese as well as one of Italy's most historic appellations. Rio Maggio interprets it both as a ready-to-drink wine and as a more important wine, Granarijs.
Rosso Piceno Granarijs 2015 Rio Maggio
89/100 - € 20
A blend of 70% Montepulciano and 30% Sangiovese that matures on the lees in barriques for 14 months. The wine has a distinct but not opaque ruby color and a bouquet with classic notes of nutmeg that alternate with those of bitter cacao and black cherry with a smoky hint. The mouthfeel is rich yet loose, with tannins that are just a tad rough and a flavorful finish with notes of vanilla and nutmeg. This version is a tad less full-bodied than usual (select Rosso Piceno can be very bold) but is more agile and easy. With bottle aging Granarijs takes on a pleasing earthy note. Our advice is to let it sit in the cellar for a couple of years even if it is really good even now.
Related Products