Petra 2017 Preview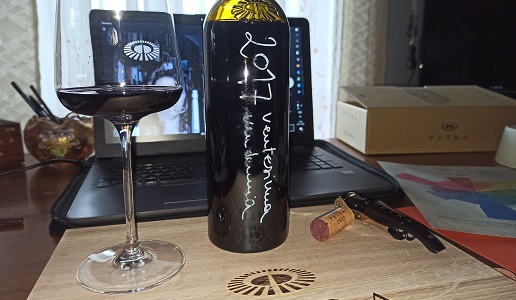 2017 is the twentieth vintage for Petra, in Val di Cornia, and the winery's signature wine - the blend of the same name - is in dazzling form.
This article is available in Italian only.
L'azienda Petra non ha bisogno di presentazioni. Non solo chi segue il mondo del vino, ma anche chi ha l'abitudine di leggere giornali non può aver dimenticato quanto si è parlato della cantina costruita dall'architetto svizzero Mario Botta in Val di Cornia, che non a caso fa parte del circuito Toscana Wine Architecture, che comprende 14 cantine di eccellenza e di design.
L'impegno toscano dell'imprenditore franciacortino Vittorio Moretti e, oggi di sua figlia Francesca, ha quasi venticinque anni e nasceva dal desiderio di cimentarsi anche con grandi vini rossi. Da qui la ricerca di una terra da rossi poco conosciuta ma sicuramente vocata come la zona di Suvereto e la scommessa sui vitigni internazionali, nello stile della Costa Toscana. Questo almeno all'inizio e il campione di casa, il vino simbolo del progetto Petra, è figlio di cabernet sauvignon e merlot.
Ma dall'esordio, sotto la guida dell'enologo francese Pascal Chatonnet, ad oggi (l'azienda è seguita da Beppe Caviola dal 2014) moltissime cose sono cambiate. C'è una maggiore consapevolezza delle potenzialità dei diversi terreni, grazie anche allo studio di zonazione effettuato anni fa dal professor Attilio Scienza; c'è una minore "sudditanza" nei confronti del modello francese, grazie anche all'esperienza cresciuta anno dopo anno; c'è la voce giovane e innovativa di Francesca alla guida dell'azienda. Anche nella recente storia enologica maremmana sono cambiate molte cose e così, finita l'epoca delle estrazioni, oggi si producono vini più attinenti al territorio.
Il Petra 2017 è il vino che festeggia la ventesima vendemmia ed è figlio per il 70% del cabernet sauvignon proveniente dai terreni più calcarei, poveri ma ricchi di scheletro, dove quest'uva trova la maturazione fenolica ideale. Il 30% invece è costituito dal merlot allevato sulle argille che, grazie a una ritenzione idrica importante, anche nelle annate siccitose (come appunto la 2017) riesce ad evitare problemi di stress alle piante. Si tratta di un vino che riesce ad esprimere la maturità delle vigne e l'espressività del territorio.
Toscana Rosso Petra 2017
94/100 - € 40
Da uve cabernet sauvignon 70% e merlot 30%. Bio. Matura in barrique (25% nuove) per 18 mesi. Colore rubino scuro, denso. Al naso è molto intenso e fruttato, con tanta amarena, confettura di frutti di bosco, poi la freschezza della macchia mediterranea accompagnata da sfumature di cioccolato e cenni di liquirizia. La bocca è fresca e piena, rotonda e morbida, ampia e saporita per la croccantezza del frutto. Il legno di maturazione è ben integrato sebbene il vino sia ancora molto giovane. Nel finale torna la liquirizia.
Related Products