Maria Pettena: a rosé to drink without hesitation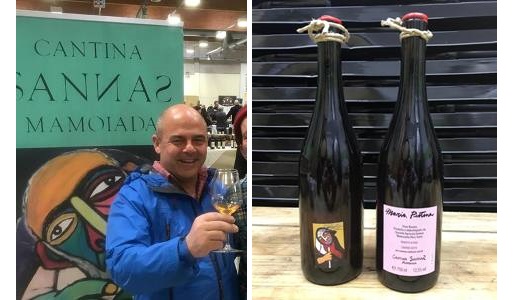 This rosé from the Sannas winery, made from Cannonau grapes, is very expressive and has distinct character.
Piergraziano Sanna came to the Mamoiada area after various work experiences in the entrepreneurial sector with passions that range from sport fishing to rugby. In 2016, he acquired vineyards in the Berei area, with vines between seven to 100 years in age, and embarked on a totally new professional career with an approach that was clear from the start: enhancing wine expressiveness by intervening as little as possible in both the vineyard and the winery. This entailed no use of chemicals in the vineyard, nor sulfur or copper, long fermentation (40 days), no decanting and few sulfites. The results were brilliant and expressive wines with very distinct characters.
Rosé made from Cannonau grapes is common in Mamoiada and producers compete with each other with their own interpretations. In our opinion, this rosé from the Sannas winery is one of the more interesting and personal. Maria Pettena is the woman who roams about after dinner and kidnaps disobedient children.
Cannonau di Sardegna Rosato Maria Pettena 2018 Cantina Sannas
93/100 - € 28
Made from Cannonau grapes, fermented on the skins for 40 days and matured in used barrels for ten months. The wine has a bright, orange color and fresh aromas of cherry and wild strawberry with a juicy, full and flavorful mouthfeel. The elegant finish is bracing and dry with a fresh and very long aftertaste.
Related Products