Lacrima di Morro d'Alba: a wine with two faces?
The latest vintage is best when young, due to its overwhelming aroma, but the Superiore has shown it can age with interesting results.
A recent vertical tasting of Lacrima di Morro d'Alba involving two of its best producers, Stefano Mancinelli and Lorenzo Mariotti Campi, respectively of the two wineries named after then, staged at an excellent (and little-known) Marche restaurant, Dal Mago a Morro d'Alba, produced results that went beyond expectations. It was a challenge that cast doubts on the custom of consuming Lacrima di Morro d'Alba only and always when it is young, because the bold, polyphenolic load present in the better wines would suggest letting it age a bit.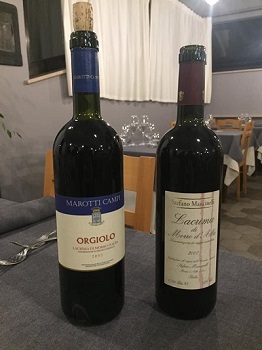 In fact, this tasting-dinner confirmed what, in private, some producers have been saying for years: the latest vintage and the Superiore versions should be approached differently. The first is best soon after it reaches the market, due to its overwhelming aroma that will knock out the consumer, while the latter has shown it can stand the test of time without any problems for over ten years.
However, many factors still need to be resolved if one want to produce an ambitious, aged Lacrima Morro d'Alba Superiore. And while the varietal's aromatic personality is beyond question, at present there is no consensus on what the extractions should be and which types of wood should be used for maturing the wine. Lacrima, in fact, can have very bold extracts but this puts it at risk of "imploding" when in the bottle without developing benefits from aging.
The evening at Da Mago confirmed that this is a wine for the mouth, whereas persistence does not add much to the bouquet. But it also dispelled, I would say in a definitive way, any doubts over Lacrima di Morro d'Alba's propensity to age. Aside from the stylistic differences between the Superiore from Mancinelli, darker and almost reduced, and Orgiolo from Marotti Ciampi, bolder and matured in wood, their Lacrima di Morro d'Alba demonstrated a propensity to age well over ten years, developing very intense balsamic notes, a cool temperament (Mediterranean in color) and austere yet sweet tannins.
The best wine sample: Origiolo 2002 Marotti Ciampi.
Happy hunting.
Related Products