Filodivino, an interesting Castelli di Jesi new entry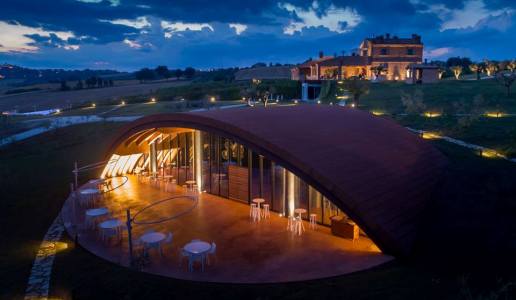 The young Filodivino estate has from the start demonstrated a precise and austere style. Try the Castelli di Jesi Verdicchio Classico Riserva Dino 2015.
The story behind this estate is not a new one, not even for the Marche region: a group of successful entrepreneur-friends leave the city (in this case Milan), to go and live in the country (in this case San Marcello in Castell di Jesi) and make wine (in this case Verdicchio).
But what us surprising about Filodivino – aside from the beauty of the location and the structures, which include a restaurant and guest accommodations and spa (making it more Alto Adige-inspired than Tuscan) – is the level of quality that has been evident from the start.
The first wines bottled were those from the 2013 harvest and they were excellent, with a style distinguished by precision and austerity, making Filodivino one of the most interesting new entries in Castelli di Jesi, along with Pilandro, Vigna degli Estensi and Poderi Mattioli.
While the 2014 Dino reserve wine was also excellent (thanks to the hydrocarbons), this equally excellent 2015 seems to have a little more to it, above all a propensity to age slower in the bottle.
The estate is very lovely but not easy to get to and so a navigator would be useful. Then again, this makes it an excellent place for a getaway weekend.
Castelli di Jesi Verdicchio Classico Riserva Dino 2015
91/100 - € 22
Made using only Verdicchio grapes and matured in stainless steel vats on the lees for eight months and undergoing malolactic fermentation. The wine has a medium-yet-lively straw-yellow color and a clean and precise aroma with notes of camphor and white flowers. The mouthfeel has a medium body and is dry and loose, two characteristics not necessarily common for Jesi reserve, elongated by a hint of salt. The finish is deep and modulated with a note of sweet almond that is amazingly clear.
'; $art = str_replace("http://doctorwine.it","https://www.doctorwine.it",$art); $art = str_replace("http://www.doctorwine.it","https://www.doctorwine.it",$art); echo $art; ?>
Related Products