Bosco dé Medici: Between Pompeii and Vesuvius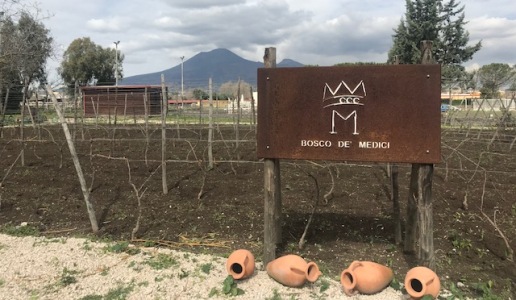 A small winery exalts an area known the world over for the Pompeii archeological site and their red wine Lavarubra closes with a note of ash, epitomizing the territory
A branch of the Medici family of Florence moved to the Kingdom of Naples in 1576 and selected land on the slopes of Mt Vesuvius to produce wine to meet their needs. After years of only cultivating and caring for the vineyard of the same name, the Bosco dé Medici estate decided to make wine and continue a tradition.
The winery is right next to the archeological site of Pompeii while the educational vineyard is on an ancient Roman road where the magnificent crater of Vesuvius watches over the Tasting Pompeii Tour sensorial course held between the rows of the estate's vines.
The eight hectares of organic vineyards are planted with the red wine grapes Piedirosso and Aglianico and the white grapes Caprettone and Falanghina. Four wines are produced for total of some 15,000 bottles a year that are a clear expression of the essence of the land.
Related Products