A pleasurable rediscovery: Mötfrei 2005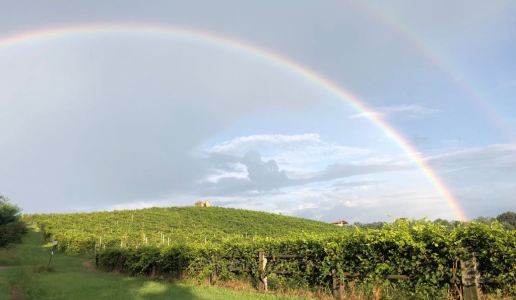 From the depths of my cellar out came a Colline Novaresi Nebbiolo Mötfrei 2005 from Francesco Brigatti, what a pleasant surprise!
This bottle goes a long, long way back. I met Francesco Brigatti a dozen or so years ago during an exploratory tour of northern Piedmont with a friend who worked for Luigi Veronelli's wine guide. It was a very interesting encounter because here was a real vigneron, in the highest and best sense of the term.
His agricultural practices and those in the winery were all focused on respect for the grape and the recognizability of the land, also through the use of indigenous yeasts. In fact, all others that could in even some small way alter the local character of the wine are banned.
Francesco is both an enologist and an agronomist and alongside Nebbiolo he also cultivates Uva Rara and Vespolina, the three red wine grapes that best express the Colline Novarese hills, as well as Erbaluce and other varieties. In all, he produces some 25,000 bottles a year from six hectares of vineyards.
The most representative wine of his estate is MötZiflonfrei, a blend of 85% Nebbiolo, 10% Vespolina and 5% Uva Rara that matures for 20 months in traditional, Slavonian-oak barrels. However, the wine that impressed me wasNebbiolo Mötfrei, which I had only tasted at the estate when it was still very young and for sure much different than it is now. It was, first of all, harder, colder, with evident but not dominating tannins. Francesco told me to let the wine age because it would change completely. And so, while trying to put a little bit of order in my cellar, I found this bottle that was now 13 years old and decided to open it immediately!
Colline Novaresi Nebbiolo Mötfrei 2005 Francesco Brigatti
92/100 - € 18
Made from only Nebbiolo grapes and matured for 18 months in French-oak barrels. The color is a nice, antique red leaning slightly towards brick-red, typical for an aged Nebbiolo. The very elegant bouquet has notes of dried flowers with evident balsamic whiffs. The rich, grapey mouthfeel is very elegant and persistent with very ordered and elegant tannins. A great Nebbiolo to drink in gulps. I could kick myself for not having another bottle in the cellar. At its solemnly commendable price it would not have been impossible at the time for me to buy a case.
Related Products