The Cormonesi Clan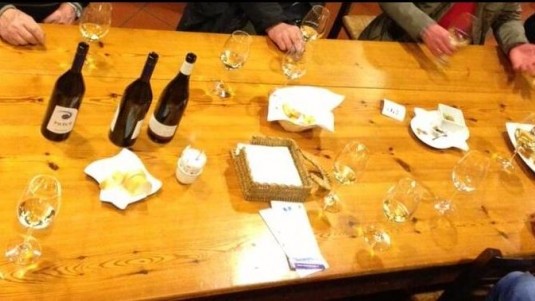 In the spring and often in the summer and on those lovely autumn days after the harvest, the wrought-iron tables at the Enoteca in Cormons, in the splendid XXIV Maggio square, begin to fill up, starting around six, with some well-known local characters. Playing host and serving local wine, cheese and cold cuts is Elena Orzan who is the manager of the Enoteca (wine shop) as well as its maître d', sommelier and confidant who knows all the wine secrets of her clients.
Sitting at the tables and engaged in passionate discussions are a group of local wine producers who are somewhat ironically referred to as 'The Cormonesi Clan', a reference to a French gangster film called 'The Marseille Clan' starring Jean-Paul Belmondo and Claudia Cardinale. Here Elena would be the Cardinale character, I hope she considers this a compliment, while the Belmondo one, the gang leader, would be Dario Raccaro, a charismatic and excellent wine producer from Brazzano who makes an amazing Tocai-Friulano: Vigna del Rolat. The other members of the 'clan' are all producers from the area of Collio and Isonza given that Cormons is host to both appellations.
They are famous among those who love Friuli wine, people like Edi Keber, Franco Toròs, Renzo Sgubin, Sandro Princic, Roberto Pichech and Mario Drius just to name those who first come to mind. Also included are great winemakers like Maurizio Felluga and Loretto Pali with his splendid Castello di Spessa who, however is in Capriva, the next town over, but was admitted to the clan because he also owns La Boatina which is in Cormons. Sometimes even yours truly is allowed to sit at those tables given that he seems to know a thing or two about the area's wines.

When the discussion centers on the best winemaking methods the atmosphere heats up. These topics include whether white wines should macerate or be made in amphoras and what the alcoholic content should be, with often opposing opinions. Other topics include the propensity that certain white wines have to age, the slow disappearance of Pinot Bianco, which everyone rightly agrees is not a good thing, and the spread of Prosecco (made from Glera) in the plains. And in these often heated discussions the person who stands out is Dario Raccaro because of his great winemaking skill and his expertise on the area and winegrowing there.
The clan meetings are an open university where taking part is an authentic privilege, where the views expressed are never trite nor commonplace. Discussions often include tastings with the wines explained by their respective producers in regard to the methods used and the rationale behind certain choices as opposed to others or why they have opted to go 'organic'. For sure this is not the only place in Italy where discussions like these take place between producers regarding real problems be they technical, involve winegrowing or sales. However, this is without a doubt one where real and sincere discussion takes place with an authentic desire to exchange views that have nothing to do with personal pride between competitors or envy. And it is here at the Enoteca where all their wines can be found, tasted and evaluated by all.

Needless to say, the discussion are not always calm and collected but the intentions are positive and the discussions are always very interesting. And then there is the tireless and ever-present Elena, the true hostess of Cormons wines and her dedication to what she does is truly extraordinary.