The Wine Growers Association of Greve is born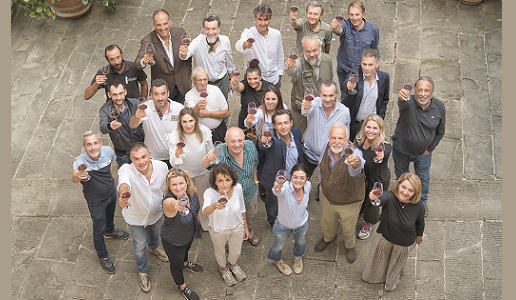 The wine growers of Greve in Chianti have joined together in an association with a clear common goal: the protection and promotion of the entire Greve in Chianti area with a sustainable future in mind.
This article is available in Italian only.
Nel territorio del Gallo Nero è nata una nuova associazione di produttori, quella dei Viticoltori di Greve in Chianti, che ad oggi conta ben 25 aziende socie, ma con un potenziale di crescita ben maggiore. Dopo anni di incontri informali, i produttori della zona hanno sentito la necessità di unirsi con un obiettivo comune: la tutela e la promozione di tutto il territorio grevigiano. L'associazione ha infatti come scopo principale, oltre a quello di far conoscere le proprie aziende vitivinicole ed i loro prodotti, la promozione della sostenibilità come importante strumento di protezione del territorio e leva per una sua ulteriore valorizzazione.
Il territorio è un valore inestimabile per il Chianti Classico e i Viticoltori di Greve si impegnano e si impegneranno a tutelarlo per le generazioni future, attivandosi anche per la riqualificazione di aree ancora non ben integrate nel paesaggio chiantigiano, promuovendo l'enoturismo e tutte le produzioni agricole che favoriscano la biodiversità, vigilando sulla qualità dell'aria, dell'acqua e sull'assetto del suolo, quali elementi imprescindibili per produrre prodotti agricoli di qualità.
Il logo scelto dall'associazione vuole di fatto rappresentare le tre tematiche principali, su cui essa si basa: il territorio con la grafica degli archi che caratterizzano la piazza principale di Greve in Chianti, fulcro del paese; la produzione vitivinicola rappresentata dai bicchieri di vino; ed infine, le foglie di una pianta che si creano con l'intersezione tra gli archi e i bicchieri, per comunicare l'impegno verso la sostenibilità ambientale.
"Greve in Chianti è il nostro territorio, la nostra casa, la nostra famiglia, il nostro lavoro ed è per questo che ci uniamo per promuovere e tutelare il suo prestigio nel mondo", sottolineano i rappresentanti dell'Associazione.
Presidente dei Viticoltori di Greve in Chianti, è stata nominata Victoria Matta del Castello Vicchiomaggio.
Aziende socie Associazione Viticoltori di Greve:
Agricola Ottomani
Ambrogio e Giovanni Folonari Tenute s.a.r.l.
Azienda Agricola Campriano
Azienda Agricola Corte di Valle
Azienda Agricola Giacomo Grassi
Azienda Agricola La Buca
Azienda Agricola Manetti Leonardo
Azienda Agricola Richiari Porciglia
Carpineto s.r.l.
Castello di Querceto
Castello Verrazzano
Castello Vicchiomaggio
Fattoria La Presura
Fattoria Santo Stefano
Fattoria Toscanella Rimaggio
Podere Poggio Scalette
Querciabella
Pieve di San Cresci
Sugame Agricola
Terreno
Torraccia di Presura
Triacca
Vignamaggio
Villa Calcinaia
Viticcio