Sud Top Wine 2019: the winners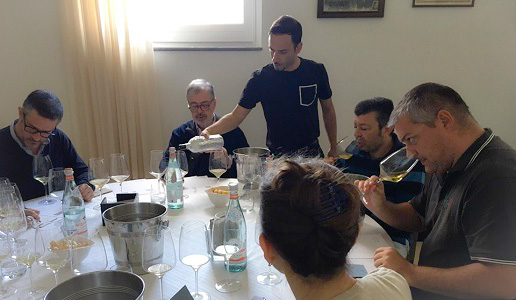 As part of Taormina Gourmet, the Sud Top Wine competition was held, which takes into consideration only wines from southern Italy. Here are the winners.
An international jury led by Daniele Cernilli, after days of blind tasting, drew up the ranking of the best wines from Sicily, Calabria, Apulia, Campania and Basilicata (an expansion from last year's edition in which only Sicilian wines were considered). The jury was composed as follows: Daniele Cernilli, alias DoctorWine, chairman of the commission, Elizabeth Gabay (Master of Wine), Eleonora Scholes (spaziovino.com), Stephen Brook (Decanter, World of Fine Wine), Andre Riberinho (Portuguese wine influencer), Federico Latteri (Cronache di Gusto).
These are the winners:
DOC ETNA BIANCO (White)
- Doc Etna Bianco N'Ettaro 2018 - Masseria Setteporte
- Doc ETNA BIANCO 2018 - Travaglianti
- Doc Etna Bianco Affiu 2018 - Eredi di Maio Superiore
DOC ETNA ROSSO (Red)
- Doc Etna Rosso Badalarc' 2015 - Spuches
- Doc Etna Rosso Riserva Zottori Noto 2015 - Cottanera
- Doc Etna Rosso Piano dei Daini 2016 - Tenute Bosco
RED WINES FROM NERO D'AVOLA GRAPE (DOC SICILIA AND OTHER DOC)
- Doc Eloro Fontanelle 2014 - Curto
- Doc Sicilia Nero d'Avola Donnatà 2018 - Alessandro di Camporeale
- Doc Sicilia Nero d'Avola Azhar 2017 - Summanera
DOC SICILIA GRILLO AND CATRRATTO
- Doc Sicilia Grillo Lalùci 2018 - Baglio del Cristo di Campobello
- Doc Sicilia Grillo Vigna di Mandranova - Alessandro di Camporeale
- Doc Sicilia Grillo Timpa 2018 - Feudo Montoni
SICILIAN WHITES (DIFFERENT DOC)
- Doc Sicilia Zibibbo Rajah 2018 - Gorghi Tondi
- Doc Sicilia Insolia 2018 - Feudo Principi di Butera
- Doc Monreale Catarratto Lu Bancu 2018 - Feudo Disisa
SICILIAN REDS (DIFFERENT DOC)
- Doc Faro Oblì 2015 - Tenuta Enza La Fauci
- Docg Cerasuolo di Vittoria Poggio di Bartolone 2017 - Poggio di Bartolone
- Docg Cerasuolo di Vittoria 2016 - Tenuta Bastonaca
DOCG TAURASI
- Docg Taurasi Riserva Vigna Cinque Querce 2011 - Salvatore Molettieri
- Docg Taurasi Vigna Cinque Querce 2012 - Salvatore Molettieri
- Docg Taurasi 2014 - Macchie S. Maria
DOCG GRECO DI TUFO
- Docg Greco di Tufo Giallo d'Arles 2018 - Quintodecimo
- Docg Greco di Tufo 2018 - San Paolo Claudio Quarta
- Docg Greco di Tufo Terre degli Angeli 2018 - Terredora
DOCG FIANO DI AVELLINO
- Docg Fiano di Avellino contrada Sant'Aniello 2014 - Vigne Guadagno
- Docg Fiano di Avellino Excinere Resurgo 2018 - Terredora
- Docg Fiano di Avellino 2018 - Vesevo
DOC AGLIANICO DEL VULTURE AND DOCG AGLIANICO DEL VULTURE SUPERIORE
- Docg Aglianico del Vulture Superiore Da Ginestra 2015 - Grifalco
- Doc Aglianico del Vulture Titolo 2017 - Elena Fucci
- Doc Aglianico del Vulture Grifalco 2017 - Grifalco
APULIAN REDS FROM PRIMITIVO GRAPE
- Es Red 2015 - Gianfranco Fino
- Doc Gioia del Colle Primitivo Chakra 2017 - Giovanni Aiello
- Doc Primitivo di Manduria Raccontami 2016 - Vespa
APULIAN REDS FROM NEGROAMARO GRAPE
- Silver Serie Vigne Vecchie 2015 - Vigneti del Salento
- Zacinto 2018 - Masseria Cuturi
- Selvamara 2016 - Cantine Due Palme
ROSE WINES:
- Doc Etna Rosato 2018 - Travaglianti
- Contessa Filomarino 2018 - Tenute Girolamo
- Doc Sicilia Rosato Donna Grazia 2018 - Gurrieri