Proseccapocalypse: the hailstorm in Valdobbiadene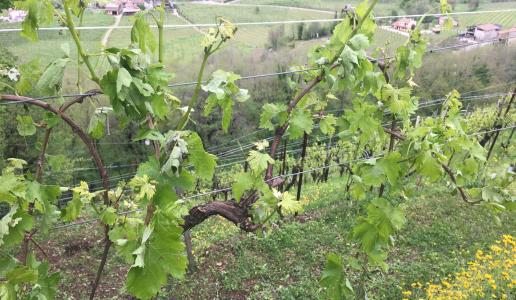 On April 26, around 9:00 p.m., in the province of Treviso, in the heart of the Prosecco di Valdobbiadene DOCG production area, a more unique than rare event took place... a hailstorm that left everything astonished.
Alas, as often happens, the most severe criticism, with a good component of "keyboard lions", was unleashed on social networks between divine punishments (for some even right!) and sincere concern. So I try to understand, after a couple of days from the fact, what damage actually caused this event. To do this I needed the help of those who live in the area every day and has made the vineyard practically his first home, I interviewed Marco Rosanda, winemaker and owner of the winery Col del Lupo, a small family-run business that for three generations produces glera grapes and wine Valdobbiadene Docg.
DoctorWine: Hello Marco! I know that you're busy and that you're in the vineyard, I'm only stealing a few minutes... can you tell me what happened and how it's going in your area?
Marco Rosanda: Hi Sissi! When I was only 4 years old Grandpa Aldo took me with him to the vineyard. In 40 years of wandering around the vineyards I've never seen a similar phenomenon, and even when confronted with my older "neighbours in the field" I've had confirmation: last Friday's hailstorm was definitely an exceptional event. A large and dense hailstorm hit a very large strip of land: it involved Campea, Guia, Miane, San Pietro di Bardozza, Santo Stefano, and finally the areas of Colbertardo and Col San Martino... really never seen before, but for the moment the damage, at least in general, does not seem to be so serious or definitive.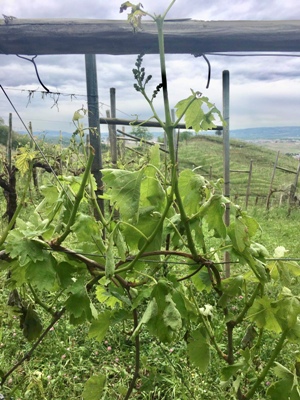 DW: Really? So no damage to production?
MR: It is difficult to say with certainty, at least for the moment, but for what I have seen and heard the inflorescences are still on the plant and have not been damaged, they are still in a very compact phase and perhaps this has played in their favor. The shoots and leaves have been damaged, but we will have more problems with pruning next year than with harvesting this year. Personally, I noticed that some of the shoots I had already identified for the vegetative renewal have been lost; I will have to opt for the "second choice", maybe less aligned with the row but still part of the plant. Without considering that now the plants, put to the test by the bad weather, will drive away shoots "mercilessly" as a 'defense, probably I will move to live in the vineyard because it will be an endless job trying to make order ...
DW: Didn't you already live there? Seriously... Have you intervened at the phytosanitary level?
MR: Immediately, I healed the wounds and shoots that had been cut with zeolite and tried to sanitize as much as possible with sulfur; I run the vineyard organic and these are the only things I could do. What worries me are the weather forecasts for the next few days: rain, rain and more rain that will wash away the products... Positive is the lowering of temperatures that certainly slows down the possible development of mold, but also the vegetative advancement of the plant ... so, from this point of view, we remain a bit cheated, we try to see the positive side anyway.
DW: Your company's motto is "High Hills, High Quality"; any difference between high and low hills?
MR: Unfortunately for us yes... the lower vineyards paradoxically, receiving less sunshine, are slightly further back and the damage has been contained. Our high hill vineyards, on the other hand, kissed by the sun, are further ahead and shoots and bunches have inevitably been more exposed to the elements.
DW: We've seen really alarming photos of hailstones at the edge of the roads... but I've seen very little of the vineyards, can you send me some photos?
MR: Of course I'll send you some photos from the vineyard so you can see with your own eyes. Believe me, the biggest damage, instead of hail, was done by the media... on Facebook I read insults to producers, people who praised well-deserved divine vendettas... sometimes we should just take a step back and try to identify ourselves in the shoes of those who live by this and believe in their work... I also read that Prosecco is a s**** wine, but absurdly the area affected by this fact is the most suitable area ever, with steep hills (39% slope) densely populated with small plants of vines, impossible to deal with with machinery.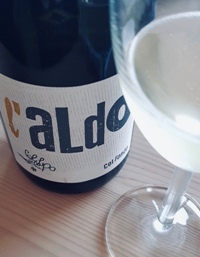 We are farmers, we are artisans, we believe in what we do. We do not deserve these insults.
DW: Your viticulture is heroic, I know, I was lucky enough to see it personally. I thank you and I won't take any more of your time, I cross my fingers and hope soon to toast with you to "an excellent vintage" with a glass of my favorite Col del Lupo wine... your L'Aldo colfondo!