Michelin, TripAdvisor and TheFork: is it a revolution?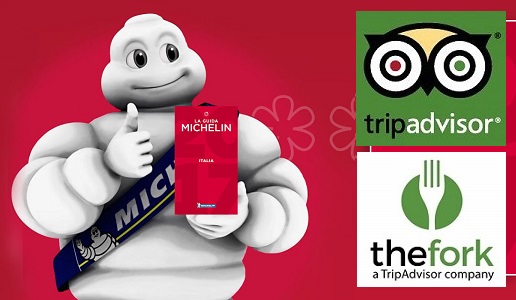 Thanks to the new agreement, the Michelin stars will be well identified on the TripAdvisor portal and you can book a Michelin selection table with TheFork.
The world's most famous and respected red wine restaurant, has signed a partnership agreement with TripAdvisor and TheFork to offer customers an additional way to search for their ideal dining experience by accessing a wider choice of high quality restaurants around the world from the web and from mobile phones. All 14,000 restaurants selected by Michelin Guide inspectors around the world will be clearly identified with their Star, Bib Gourmand and Dish scores and distinctions on the TripAdvisor website and app, leading to a significant improvement in accessibility to the Michelin selection. In addition, around 4,000 restaurants across Europe will soon be accessible and bookable on TheFork and the digital platform of the Michelin Guide. Michelin has also signed an agreement to sell Bookatable in TheFork. This acquisition allows TheFork to consolidate its existing markets and expand into five new countries: the UK, Germany, Austria, Finland and Norway. This means that the 14,000 restaurants bookable on Bookatable will join the 67,000 already bookable on TheFork, creating the largest online restaurant reservation platform. The terms of TheFork's acquisition of Bookatable have not been disclosed.
The partnership between the Michelin Guide, TripAdvisor and TheFork will significantly increase the visibility of Michelin Guide chefs and restaurants and bookings by connecting with the world's leading online booking platforms. With over 120 years of experience creating gourmet guides that provide restaurant recommendations based on the work of independent and experienced inspectors, this strategic partnership between Michelin and TripAdvisor will offer unprecedented visibility to the addresses listed in the Michelin Guide selections around the world," Scott Clark said in a press release, member of the Michelin Group Executive Committee - By combining the exclusive Michelin Guide restaurant selection criteria with the completeness of TripAdvisor's travel planning platform, we will be able to make Michelin Guide selections accessible to a much wider range of customers around the world. These agreements will enable millions of consumers to easily identify and book Michelin's selected restaurants on TheFork. In return, all selected TheFork partner restaurants will also be bookable on the digital platforms of the Michelin Guide (app and website) at www.guide.michelin.com.
"We are delighted to add the Michelin Bookatable to the TripAdvisor family. This agreement allows us to continue to expand our business geographically while offering even more valuable service to restaurants and customers - added Bertrand Jelensperger, Senior Vice President, TripAdvisor Restaurants and CEO of TheFork - Soon we will make the Michelin selected bookable restaurants more visible on our platforms to better serve our users and direct customers to the right restaurant for them.
TheFork and TripAdvisor offer restaurants a wide audience of highly bookable customers. TheFork, through the acquisition, targets gourmets in 22 markets, with a stronger focus on local consumers, with over 80,000 bookable restaurants and over 30 million monthly visits, while TripAdvisor helps nearly 460 million travelers every month plan trips with the help of over 830 million reviews and opinions on 8.6 million accommodations, restaurants, experiences, airlines and cruises. These virtual visitors represent a huge pool of potential new customers for restaurants and can have a significant effect on their revenues. The issue of review, however, was not addressed by Michelin but we all realized that often starred restaurants, even with three stars, are in the bottom of the rankings drawn up by TripAdvisor, very often false, or made by people who understand little (or nothing) of cuisine.
Source: Cronache di Gusto