Maurizio Danese is the new CEO of VeronaFiere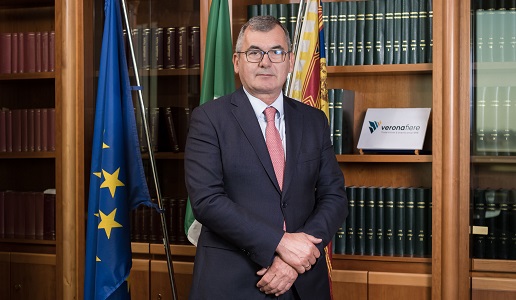 Veronafiere's BoD on June 16 unanimously appointed the CEO in a sign of business continuity: he is Maurizio Danese, formerly at the top of the spa in Viale del Lavoro from 2015 to May 2022.
The new figure is provided for in the amendments to the bylaws desired by the shareholders and approved at the shareholders' meeting last February. Together with the Board of Directors, Veronafiere will ensure the appropriate balance with other managerial figures and the preservation of the wealth of experience in political-institutional relations and in the industries represented.

Corporate structure Veronafiere SpA: City of Verona (39.483%), Fondazione Cassa di Risparmio di Verona, Vicenza, Belluno and Ancona (24.078%), Verona Chamber of Commerce (12.985%), Cattolica Assicurazioni (7.075%), Banco BPM Spa (7.009%), Agenzia Veneta per l'Innovazione nel Settore Primario (5.379%), Province of Verona (1.401%), Intesa Sanpaolo Spa (1.354%), Banca Veronese Cooperativo di Concamarise (0.883%), Immobiliare Magazzini Srl (0.188%) and Veneto Region (0.161%).