Let's Taste Italy in Warsaw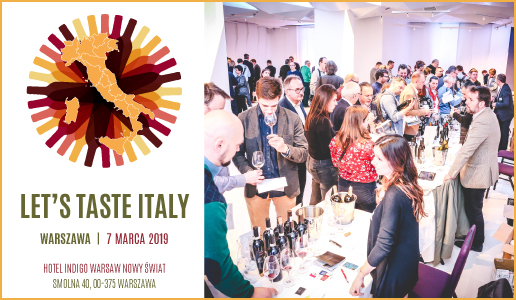 The Essential Guide to the Wines of Italy 2019 will also be presented in Poland and precisely in Warsaw as part of the Let's Taste Italy event.
Italian wine is going through a very positive phase in Eastern European countries thanks to the notoriety and credibility of "Made in Italy" and even if they are still marginal markets, if compared to the most important ones such as the USA and Germany. Poland is the largest market in Central and Eastern Europe (considering Russia a market in itself), with over 38 million inhabitants and constant economic growth, and the new models of Polish consumers consider wine a healthy and refined product.
Poland is therefore confirmed as one of the most interesting markets thanks to the process of "education" in quality drinking that will bring consumption to the levels of the rest of Europe. Among the instruments of consumer education we can certainly include tastings and masterclasses, which are a great success for the interest shown and the desire to learn about a country like Italy always in the routes of the Poles.
At the top of Polish preferences are the Tuscan reds with denomination.
On the basis of these considerations, DoctorWine has decided to present The Essential Guide to the Wines of Italy 2019 also to the Polish public, in its English version and especially with the E-book that is easily downloadable from the site (at this link) and that will be honored to all participants.
The presentation will be unveiled on Thursday, March 7 at the Hotel Indigo Warsaw.
From 12.00 to 13.00 there will be a masterclass dedicated to Chianti Rufina, cured by the Consortium and held by the Polish expert Mariusz Kaczyński, from 14.00 to 18.30 will take place instead the classic walk around tasting.
These are the producers whose wines will be tasted in Warsaw:
- BELISARIO (www.belisario.it), Marche
- CARPINETA FONTALPINO (www.carpinetafontalpino.it), Toscana
- CASTELLO DI MONTEPÒ JACOPO BIONDI SANTI, Toscana
- CLARA MARCELLI (www.claramarcelli.it), Marche
- COLOGNOLE (www.colognole.it), Toscana
- FRESCOBALDI (www.frescobaldi.com), Toscana
- FULIGNI (www.fuligni.it), Toscana
- GRIGNANO (www.grignanowinery.com), Toscana
- I VERONI (www.iveroni.it), Toscana
- MORA & MEMO (www.moraememo.it), Sardegna
- PASQUA (www.pasqua.it), Veneto
- PODERE GIODO (www.giodo.it), Toscana
- PODERE IL POZZO (www.podereilpozzo.it), Toscana
- PODERE MONASTERO (www.poderemonastero.it), Toscana
- QUERCIABELLA (www.querciabella.com), Toscana
- SELVAPIANA (www.selvapiana.it), Toscana
- STATTI (www.statti.com), Calabria
- UMANI RONCHI (www.umanironchi.it) Marche