Assoenologi, the fund raising continues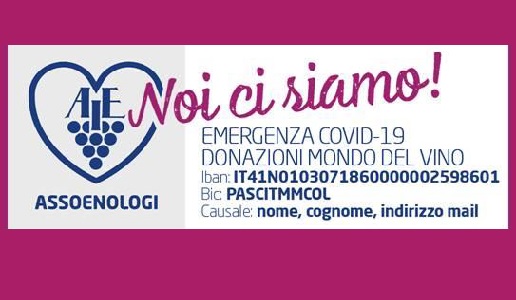 Collected by Assoenologi the funds for the first lung ventilator that will be donated to San Raffaele in Milan.
The Italian wine people once again gave a great demonstration of generosity and sensitivity in a very complex moment for our country and for the entire planet due to the Covid-19 emergency. In a few days Assoenologi, through the awareness campaign launched in favor of Italian hospitals, collected the first 20 thousand euros that will be immediately donated to the "San Raffaele" of Milan for the purchase of a lung ventilator.
But the fundraising continues, with the aim of donating another hospital garrison still a respirator. And this is why Assoenologi is still counting on the help of the entire wine world, starting with its oenologist colleagues.
The health emergency we are experiencing is destined to enter the history books and the history of a country also passes through small and large gestures of solidarity. Assoenologi does not want to miss this appointment, thus remaining at the side of doctors and nurses who in these weeks are literally taking care of our Italy. So that the closeness may be translated into concrete action, they have made available a CURRENT ACCOUNT dedicated to the initiative that we want to remember here:
IT41N0103071860000002598601
Still relying on the great heart of the world of wine, Assoenologi is certain that it can still reach the amount needed to purchase another fan so precious in the fight against coronavirus.
Related Articles