The Network of High Tuscany Wines is born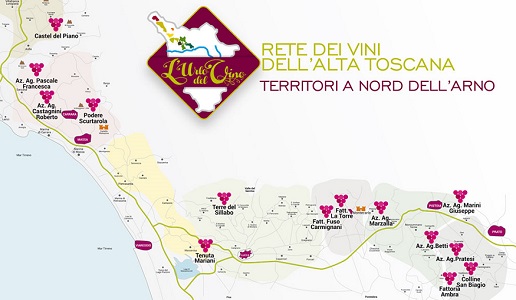 A handful of producers from the provinces of Prato, Pistoia, Lucca and Massa got together to promote the territory of Alta Toscana and its wines.
This article is available in Italian only.
L'Alta Toscana – una terra spesso difficile, stretta tra il mare, i monti delle Alpi Apuane, dell'Appennino e le colline a Nord dell'Arno, da sempre connotata da proprietà fondiarie a volte piccole, talvolta addirittura da minimi fazzoletti di terra strappati con fatica ai boschi – è conosciuta magari più per la sua storia, per le sue antiche città e borghi, per le sue espressioni artistiche e per le personalità che le hanno create, per un suo tradizionale artigianato, e, in tempi moderni, anche per la vivacità di alcuni suoi distretti produttivi, che non per i vini che vi vengono prodotti: troppo forte l'ombra che alcune aree produttive con ben altri 'numeri' a disposizione, nella Toscana centrale e meridionale, spesso proiettano su di essa.
È un un territorio di grande valore enologico, finora sostanzialmente poco conosciuto, che identifica geograficamente la cosiddetta Alta Toscana, ma che a tutti gli effetti rappresenta un'attraente e pregiata "Altra Toscana", rispetto a quelle celebrate del Chianti senese e fiorentino e della Maremma.
Le aziende e i vini prodotti sono all'interno del territorio delimitato a sud dal fiume Arno e a Nord dall'appennino Tosco-emiliano; il territorio coinvolto parte dal comune di Carmignano a Prato per arrivare fino a Massa Carrara, passando per le verdi colline pistoiesi e lucchesi. In questo territorio, il "cuore segreto" della Toscana, ci sono grandi potenzialità, sapienti ed appassionati produttori, in grado di offrire prodotti di alta qualità e con un'ospitalità italian style di pregio. Percorsi irripetibili rivolti ai visitatori tra natura rispettata e arte.
I vignaioli che hanno costituito la Rete dei Vini dell'Alta Toscana si sono dati l'obiettivo di ampliare la capacità comunicativa dell'eccellenza del territorio con un'ottica dinamica di condivisione e compartecipazione. I bouquet dei vini prodotti raccontano le storie d'amore che durano da centinaia di anni tra l'Uomo e la sua Terra.
Le aziende della Rete dal mare all'entroterra:
MASSA CARRARA
Azienda Lorieri
Azienza agricola Francesca Pascale
LUCCA
Gino Fuso Carmignani
Fattoria La Torre
Terre del Sillabo
Tenuta Mariani
PISTOIA
Azienda agricola Betti
Azienda agricola Marini
Azienda agricola Marzalla
PRATO
Fabrizio Pratesi
Fattoria Ambra
Colline San Biagio