Positive agri-food foreign trade data in 2020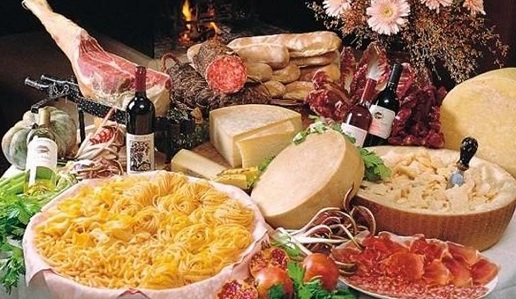 Brief analysis of the Study Office Cia on the Made in Italy agri-food foreign trade between January and November 2020. Analysis based on the latest data on foreign trade released by Istat.
This article is available in Italian only.
L'agroalimentare è un settore particolarmente sensibile agli scambi commerciali, con un export che vale oltre 42 miliardi di euro nel 2020. Per l'esattezza, stiamo parlando di 42,2 miliardi di euro nei primi 11 mesi dell'anno scorso. Rispetto allo stesso periodo dell'anno precedente (2019) la crescita percentuale è stata del +1,3%.
Sul fronte degli arrivi (importazioni), tra prodotti agricoli, cibi e bevande l'Italia ha importato un valore pari a 39,4 miliardi di euro. Considerato che nello stesso intervallo temporale del 2019 il valore dell'import era stato pari a 41,7 miliardi di euro, l'Istat ha registrato quest'anno una riduzione del 5,4%. Le dinamiche tendenziali sopra riportate si sono tradotti in un surplus della bilancia agroalimentare che, in termini assoluti, ha sfiorato i 3 miliardi di euro (+2,8 mld €).
Nei primi 11 mesi dell'anno in corso, quindi, l'Italia è stata esportatore netto di prodotti agroalimentari. Una novità assoluta rispetto al trend storico che ha caratterizzato la bilancia commerciale agroalimentare nazionale, che consolida un percorso avviato dall'Italia circa dieci anni fa.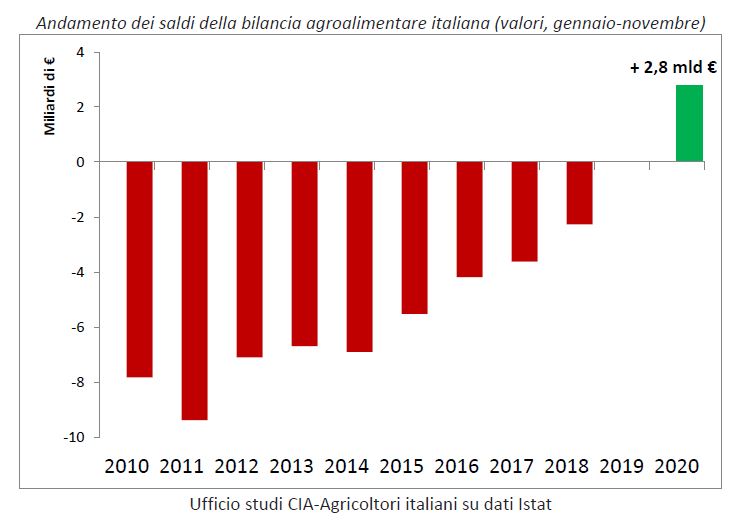 Se si guarda ai principali mercati di sbocco dei prodotti alimentari e bevande Made in Italy, nel periodo gennaio-novembre troviamo sostanzialo aumenti, ad eccezione della Francia che sostanzialmente conferma i valori dello scorso anno:
Germania +5,5%
USA +5,2%
UK +2,3%
Giappone +6,9%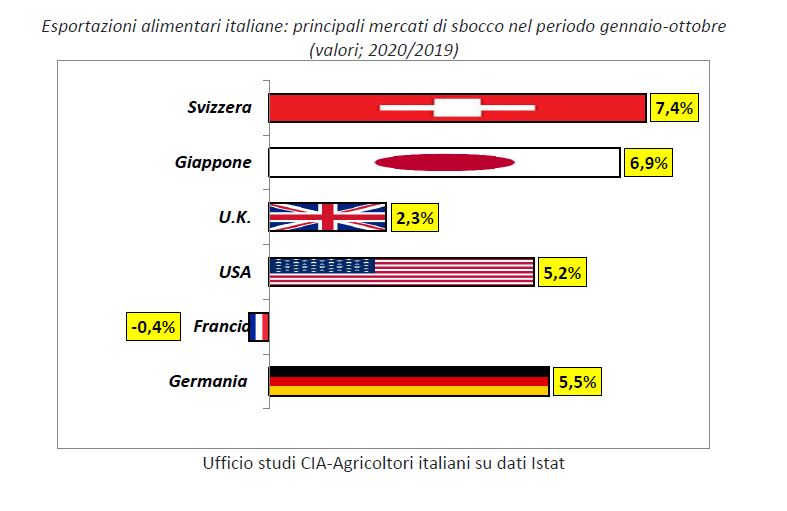 Nel solo mese di novembre rispetto al 2019:
Dopo il lieve calo del mese precedente le esportazioni agroalimentari hanno ripreso la propria corsa al rialzo facendo registrare una crescita del 5% in valore.
L'aumento delle spedizioni estere sopra menzionato, è stato affiancato da una spinta verso il basso delle importazioni ancora più marcata. Infatti, con un valore assoluto di 3,6 miliardi di euro, gli arrivi in Italia di prodotti agricoli, cibi e bevande hanno ceduto il 7% del loro valore.
Quanto sopra osservato sul lato della crescita delle vendite estere, trova conferma all'interno di tutti i principali mercati di sbocco dell'agroalimentare tricolore, eccezion fatta per quello francese dove si registra una contrazione degli acquisti di cibi tricolore.