Olive Day for Christmas with the Oil Tourism Movement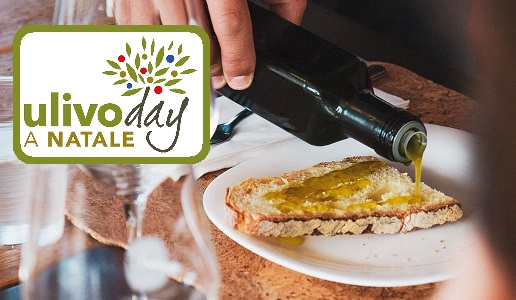 The magical atmosphere of the holidays in December and until January 4 enters the companies of the Movimento Turismo dell'Olio in Puglia, Tuscany and Umbria with the first edition of the event Ulivo Day at Christmas.
This article is available in Italian only.
Per questo nuovo evento targato MTO sono previste visite agli impianti produttivi, passeggiate tra gli uliveti, degustazioni di prodotti tipici, tour guidati, degustazioni, ricette della tradizione, musica, eventi di solidarietà. I frantoi del MTO si trasformano in "mercatini di Natale", dove acquistare olio e prodotti per la famiglia, ma anche da regalare. Si tratta di un'iniziativa finalizzata alla sensibilizzazione dei consumatori che desiderano approfondire la propria conoscenza dell'olio extravergine di qualità e delle cultivar autoctone. che vogliono vivere un'esperienza diretta e formativa a contatto con chi produce.
"La valorizzazione dell'Olio Extravergine d'Oliva e la sostenibilità ambientale - spiega Donato Taurino, presidente nazionale del Movimento Turismo dell'Olio – sono al centro dei programmi del Movimento Turismo dell'Olio e i festeggiamenti natalizi sono un'occasione importante per celebrare le feste con il prodotto di eccellenza della dieta mediterranea". I migliori frantoi offriranno Pane&Olio ai visitatori come benvenuto e come simbolo di benessere, pari ad un farmaco naturale per le sue proprietà organolettiche indispensabili per la conservazione dello stato di salute. Un invito dunque a regalare olio evo a Natale, un sostegno alle nostre difese immunitarie.
L'evento si svolgerà: in Puglia il 5 dicembre, in Toscana 11 e 12 dicembre, in Umbria l'8 dicembre e tutti i week end dall'11 dicembre al 4 gennaio.
Le aziende che hanno aderito alla manifestazione "Ulivo Day a Natale" seguiranno tutte le norme e le misure sanitarie, di cui alla Normativa Statale e Regionale vigente e dei Protocolli anti Covid-19, al fine di prevenire il rischio di contagio.
Tutte le informazioni sempre aggiornate sul programma delle attività sono disponibili sul sito: www.movimentoturismodellolio.it e sui canali social del Consorzio.
INFO: Segreteria nazionale MTO - Tirsomedia srl, Via Giuseppe Sangiorgi, 15 - Bari
info@movimentoturismodellolio.it - Vittoria Cisonno +39 320 0747043
Facebook: @MTOlioIt - Instagram: mtolioit