Giustino Bisol passed away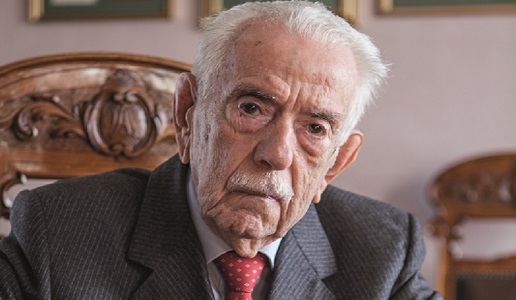 Another farewell in the world of wine: the centenary founder of Cantine Ruggeri left on January 24th.
He had just turned 100 years old, Giustino Bisol, founder of the Ruggeri Winery, who just last year had dedicated a limited edition of the Valdobbiadene Prosecco Superiore Docg of the same name to him to celebrate his century of life. A medal fighter in the Second World War, then escaped from the Nazi camps, but above all founder of the Ruggeri Winery in 1950, Giustino Bisol was a true visionary of Prosecco.
An extraordinary man, Giustino left after a life dedicated to his winery, created and developed with a love inherited from his father, one of the first oenologists of Valdobbiadene, and from his grandfather who ran a small distillery. He always threw himself body and soul into the enhancement of the oenological vocation of his land until he achieved success with the Ruggeri Winery. A success son of hard work and sacrifices in difficult years with the sole objective of bottling the best quality wine possible. Like when, in 1995, Valdobbiadene Prosecco Docg Giustino B. arrived on the market to celebrate half a century of Giustino's activity in the world of wine. And it is immediately a triumph. An absolute pioneer in the field of Prosecco, Giustino Bisol left his heirs an enormous wealth of knowledge.
The winery, which together with the workers of Ruggeri continues in the footsteps of its founder, would like to thank Giustino Bisol for his commitment, his passion and his fundamental contribution to the success of the company he has made great and which this year celebrates its 70th anniversary. Great personalities like Giustino Bisol never really leave, but remain as beacons in history, for the excellence of their works and in the memory of those who knew, appreciated and loved them.
Taken from OnavNews, written by Guido Montaldo