Federdoc renews the agreement to protect wines with denomination on eBay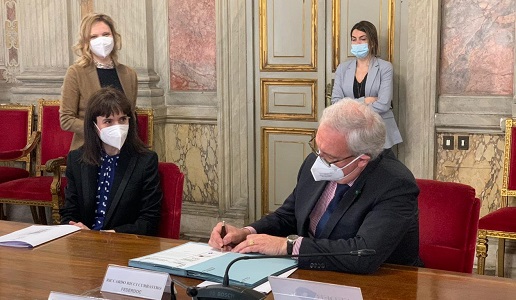 Federdoc, renewed the agreement for the protection of D.O. Wines on the e-commerce platform of eBay Group, to guarantee consumers who buy online.
This article is available in Italian only.
"Siamo particolarmente lieti – dichiara Riccardo Ricci Curbastro, presidente Federdoc – di contribuire attivamente all'attività di protezione dei vini a denominazione per contrastare la contraffazione dei prodotti italiani". Una dichiarazione che esprime soddisfazione, rilasciata dal Presidente alla conclusione dell'incontro per la firma del nuovo accordo biennale con il Gruppo eBay, alla presenza del Ministro delle Politiche agricole Stefano Patuanelli, finalizzato alla tutela delle denominazioni geografiche vitivinicole sulla piattaforma e-commerce.
"Una attività di controllo – prosegue Ricci Curbastro - che dal 2014 porta avanti con decisione, con la fondamentale vigilanza dei Consorzi, azioni di tutela del lavoro del nostro comparto produttivo dei vini a D.O. ma anche e soprattutto a garanzia del consumatore italiano e internazionale che acquista anche online. Una efficace forma di protezione verso la indiscussa qualità e originalità del nostro patrimonio vinicolo che certamente contribuisce ad accrescerne il valore e l'unicità.
Fonte: Ufficio Stampa Fderdoc