Daniele Cernilli President of the Jury of Autochtona Award 2021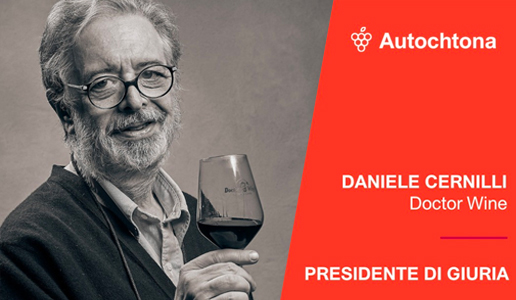 The award that valorizes wines from indigenous Italian grape varieties is back. Two days of tastings in Bolzano in early October and the announcement of the winners in live streaming during the 18th edition of Autochtona. This year the president of the jury will be our Doc Daniele Cernilli.
This article is available in Italian only.
Dopo il grande successo dell'edizione 2020, anche quest'anno torna il premio Autochtona Award, organizzato da Fiera Bolzano, nella sua formula rinnovata: a inizio ottobre esperti degustatori, wine writer e buyer, sia italiani che internazionali, si riuniranno a Bolzano per giudicare le numerose etichette provenienti da tutta Italia, in grado di interpretare l'affascinante universo dei vini autoctoni. Un mondo fatto di numerose varietà che spesso hanno trovato dimora all'interno di areali di piccole dimensioni e intimamente legate a vitigni che altrimenti avrebbero rischiato l'estinzione.
9 giurati italiani e 6 internazionali, presieduti da Daniele Cernilli, si riuniranno a Bolzano per decretare i migliori autoctoni d'Italia. I componenti italiani dell'edizione 2021 saranno: Giuseppe Carrus (Gambero Rosso), Fabio Giavedoni (Slow Wine), Andrea Gori (Intravino), Christine Mayr (Vitae-AIS), Alessandra Piubello (I Vini di Veronelli), Marco Rossi (Tannico) e Leila Salimbeni (Spirito diVino). Insieme a loro anche i giornalisti Alessandro Franceschini (Viniplus di Lombardia) nel ruolo di segretario degli Autochtona Award e Pierluigi Gorgoni (giornalista, enologo e docente della scuola Alma) coordinatore del premio. I primi nomi dei volti internazionali, frutto della collaborazione con l'Agenzia ICE, sono invece: Paula Bosch (sommelier, giornalista e scrittrice), John Brunton (The Guardian), Sigi Hiss (Vinum), Susan Hulme (MW e giornalista per Decanter), Anders Levander (DinVinguide).
"Siamo davvero entusiasti di questo premio che rappresenta il momento clou della nuova edizione di Autochtona" spiega Thomas Mur, Direttore di Fiera Bolzano. "La nuova formula dell'Award, che ha debuttato lo scorso anno riscuotendo apprezzamento da parte dei produttori, ci consente di valorizzare con ancora più forza il grande patrimonio autoctono presente nel nostro Paese".
Le degustazioni si svolgeranno in due sessioni, rigorosamente alla cieca, che consentiranno ai giudici di stillare la lista dei vini finalisti in lizza per gli Autochtona Award nelle categorie "Miglior Vino Bianco", "Miglior Vino Rosato", "Miglior Vino Rosso", "Migliori Bollicine", "Miglior Vino Dolce" alle quali da quest'anno si aggiungono "Miglior Vino Metodo Ancestrale" e "Miglior Vino Orange". Confermati i premi speciali "Terroir" e "Miglior Produttore Under 40", quest'ultimo in collaborazione con Vinarius, l'Associazione delle enoteche italiane. A questi riconoscimenti si aggiungono gli storici premi appartenenti a Tasting Lagrein, rassegna riservata ai vini prodotti con il noto vitigno autoctono a bacca rossa dell'Alto Adige, nelle categorie "Rosato", "Classico" e "Riserva". Un compito senz'altro impegnativo alla luce della grande eterogeneità e biodiversità del vigneto italiano, che proprio dalla ricchezza delle sue varietà trae grande forza e distintività.
Quest'anno inoltre i vini protagonisti ad Autochtona Award saranno presenti anche in un grande banco d'assaggio a Fiera Bolzano, gestito in totale sicurezza dai sommelier Ais dell'Alto Adige, che si svolgerà il 18 e 19 ottobre in occasione della 18ª edizione di Autochtona.
La proclamazione degli Autochtona Award verrà trasmessa in diretta streaming sui canali social di Fiera Bolzano nel pomeriggio di martedì 19 ottobre: l'atto finale di un'edizione che avrà come momenti salienti, oltre al banco di assaggio, un intenso programma di masterclass per approfondire i temi più attuali di questo comparto.
Fonte: https://www.fierabolzano.it/it/press/autochtona-award-2021