Chef without a crown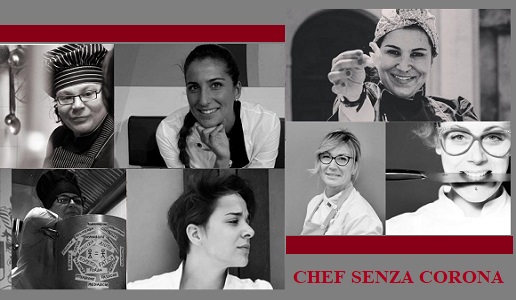 "Chef Without Corona", is the recipe contest to forget the contagion.
In times of Coronavirus, Italians have returned to the desire to cook, chefs are chasing each other in asking for recipes for the dishes published, there are competitions for the best meat sauce between neighbors, beer yeast has become unobtainable: yeast creates magic in children and satisfaction in adults who can bake a good pizza or a crispy homemade bread.
Seven female chefs have decided to come out of inertia and launch a fun and exciting initiative that will keep us company in the coming days: Chef Senza Corona. An online cooking course, with video clips, which is also a contest, a challenge for everyone. For readers, who try to treasure the experience of professional chefs, and for chefs, who come out of isolation at home and go back to doing what they do best.
That's who they are:
- Barbara Agosti - Eggs and Zum (Rome)
- Anastasia Paris - Hotel Le Gole (Celano - Aquila)
- Alessandra Ruggeri - L'Osteria della Trippa (Rome)
- Ornella De Felice - Coromandel (Rome)
- Martina Prospero - Va.Do al Pigneto (Rome)
- Valentina Pistoia - Piazza 11 (Subiaco- Rome)
- Ginevra Antonini - Mood Ginevra Catering / Chef's rehearsal (Rome)
The idea of "Chef without a Crown" comes from the desire to create something that looks ahead, "We don't just want to keep company today and create a moment of leisure, we want people to find a concept that has been compulsorily put aside: Sharing. With those who participate in the contest we want to create a way to start walking together again, to launch into a video recipe to take part in a cooking class when everything is over, we want them to follow the lessons together, to share their doubts with us, why the donut at home cooks badly, why they followed the recipe for roast meat to perfection but the meat always becomes hard and that together, once again, we return to live every relationship and moment without fear".
The contest is divided into two phases: in the first, which takes place in April, readers must send their own video recipe that will be examined by the chefs who will choose the winner. In the second, in October, the lessons of the course will begin.
To keep up to date with the contest, for details and regulations, please consult the Chef without Crown Facebook page.
Contacts: chefcontest2020@gmail.com