After 24 years Ricci Curbastro leaves Federdoc presidency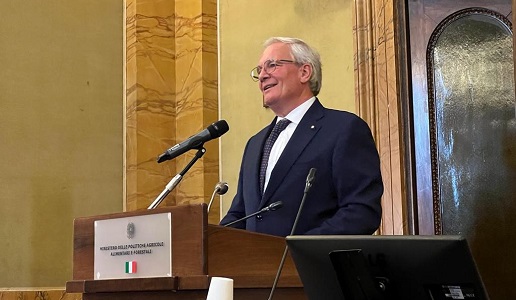 Federdoc's Annual Members' Meeting met in Rome yesterday, Tuesday, June 21, to appoint the directors of the new Board of Directors. It was also an opportunity for Riccardo Ricci Curbastro to bid farewell from his role as president, leaving the Federation's presidency after 24 years. The appointment of the new president will take place on June 28.
"24 years at the helm of Federdoc," Ricci Curbastro stressed, "have been a long and important journey for me. It was 1998-I was only 38 years old and had been the president of the Franciacorta Consortium since 1993. I was catapulted into the arena of Federdoc, which, that very year, moved its headquarters to Rome, close to the Palaces of Politics. Thus began a constructive journey that saw us begin participation in '99 at our first Vinitaly, and engage in constructive collaborations with the Ministry of Education and Universities. In 2000," Ricci Curbastro continues, "we positively faced the crisis of the Frascati Consortium, and in 2001 a first great success, to which many would follow: we succeeded in convincing Minister Alfonso Pecoraro Scanio to dismiss the Ministerial Decree of May 29, 2001, which establishes "controls on the production of quality wines produced in specific regions. Thanks to Federdoc's work, a modern and effective control system is born."
Promotion projects on DO wines, first in Europe and then in non-EU countries, then the opening of the first representative office in Brussels. And again promotion campaigns such as "We control everything except who you drink it with," but above all the battles carried out with tenacity and consistency, such as the one in 2006 against the Wine CMO Reform Proposal, on Planting Rights in 2012 or the one started against ICANN in 2013, and lasted two years, against the liberalization of ".wine" and ".vin" domains .
In 2009 he is the first president of Valoritalia. In 2010 Efow, European Federation of Origin Wines, was born. Strongly desired by Federdoc, it is the result of a long journey in Brussels with the French, Spanish and Portuguese companions. 2010 is also the year of "Erga Omnes": the most representative Consortia, have the opportunity to obtain recognition and authorization to operate precisely "erga-omnes." This important mandate has enabled the Consortia to become more and more leading players in this strategic sector. In 2015 Equalitas was born and in 2016 the Testo Unico della Vite e del Vino was approved. In 2019, the establishment of the Mipaaf Table for the definition of a single standard of certified sustainability is launched. And the amendment to the Testo Unico del Vino regarding the transition from DOC to DOCG is drafted. In 2021, Federdoc resumes the training spirit of 20 years earlier and launches the "Senatore Assirelli Scholarship." Objective: to train new professional figures destined for the Consortia, which are increasingly struggling with generational turnover.
"In 2022," Ricci Curbastro concludes, "Federdoc joined Symbola, a cooperation of great significance that reaffirms Federdoc's commitment oriented toward sustainability and safety for consumers. In addition to the federative purposes of protecting appellations, we have sought with the entire Federdoc team, whom I thank, to enhance the training of new prepared and aware professionals. Our activities have been achievements and progress for new generations. It has been a good journey and I leave the baton."
The appointment of the new president will take place on June 28.
This is the complete list of councilors unanimously elected yesterday:
FEDERDOC BOARD OF DIRECTORS: Andrea Ferrero, Filippo Mobrici, Massimo Marasso, Riccardo Ricci Curbastro, Fabio Zenato, Elvira Bortolomiol, Christian Marchesini, Paolo Fiorini, Franco Cristoforetti, Paolo Corso, Giangiacomo Bonaldi, Ruenza Santandrea, Claudio Biondi, Giovanni Busi, Francesco Colpizzi, Andrea Rossi, Elisa Fanti, Vittorio Carone, Alberto Mazzoni, Valentino Di Campli, Leone Massimo Zandotti, Francesco Liantonio, Libero Rillo and Antonio Rallo.
THE BOARD OF AUDITORS: Marco Morolli
COLLEGE OF AUDITORS: Luca Petrelli, Vasco Boatto, Arturo Stocchetti