50 TOP ITALY: The best Italian restaurants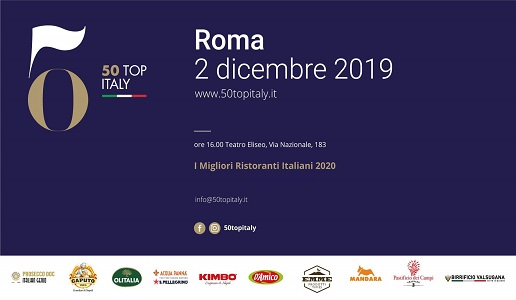 It's just a short while before discovering the names at the top of 50 Top Italy, the online guide, available free of charge, dedicated to the best of Italian catering.
A project signed by LSDM (historic congress of auteur cuisine staged since 2008 in Paestum) and edited by its creators, Barbara Guerra and Albert Sapere, along with journalist Luciano Pignataro.
On Monday, December 2, at 5 p.m., at the Teatro Eliseo in Rome, one of the temples of Italian culture, the final award ceremony of I Migliori Ristoranti d'Italia 2020 will be held, divided into four price ranges: Low Cost, Trattoria/Osteria, catering up to 120 euros and over 120 euros. The event will be broadcast live streaming on the Facebook pages of 50 Top Italy and Luciano Pignataro Wine&Food Blog.
Several special prizes will also be awarded during the evening. Among these, two important awards unveiled in advance: the S.Pellegrino & Acqua Panna Valorizzazione del Territorio 2020 Award awarded to chef Ciccio Sultano of the Duomo restaurant in Ragusa, while the young Marco Ambrosino, at the helm of the 28 Posti restaurant in Milan, won the D'Amico Cucina Mediterranea 2020 Award.
The latter, therefore, will go on stage at the Elysée together with the top 10 of the 4 categories provided by the guide, after the winners from 50th to 11th position have been unveiled on the website 50topitaly.it. The addresses reviewed, in total, are the best two hundred from North to South of the Peninsula. To give the votes, in full respect of anonymity, autonomy and, of course, paying the bill, a jury of 130 inspectors. The method of judgement is revolutionary, with great emphasis on service and hospitality, fundamental elements of a restaurant attentive to its customers.
Finally, the prize will also be collected by the first three classified (already announced in previous weeks) of the Best Italian Restaurants in the World 2019, international section of the guide edited by Guido Barendson, which saw the triumph of the restaurant Passerini in Paris, chef Giovanni Passerini. Second and third place for Don Alfonso 1890 Toronto in Canada, and Heinz Beck Restaurant Tokyo in Japan.
The event will be streamed live on the Facebook pages of 50 Top Italy and Luciano Pignataro Wine&Food Blog.
Partners:
Olitalia, Birrificio Valsugana, Consorzio di Tutela del Prosecco DOC, S.Pellegrino & Acqua Panna, Kimbo, D'Amico, Mandara, EMME Prodotti Tipici, Pastificio dei Campi, Mulino Caputo.