Michel Rolland, the Wine Guru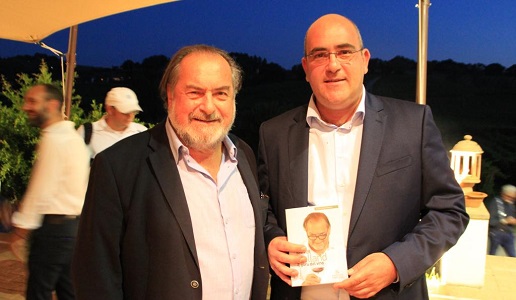 The autobiography of the great French enologist, the "king of blending", has now come out in Italy.
Who really is Michael Rolland? How can he come out with wines that are always so spot on and can please millions of wine lovers? The most famous and media savvy French wine consultant in the world tells us this and more in his autobiography, "Michael Rolland, the Wine Guru", the Italian edition of which has been published by Edizioni Ampelos and was presented in a preview event at the Arnaldo Caprai estate in Montefalco.
He wrote the book together with journalist Isabelle Bunisset and the haughty and ironic title is a provocative response to those who accuse him of being responsible for the standardization of wine, a reputation that has earned him nicknames like the Napoleon or Maradona or Mephistopheles of Blending, just to cite a few.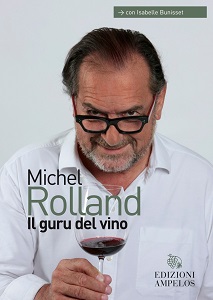 The book is the story of how the son of a modest Bordeaux winegrower, an average student to was destined to follow in his father's footsteps in the vineyard and winery, rose to become a superstar. After earning a degree at the Institute for Enology, the school for the children of farmers, he and his wife Dany took over a laboratory for analyzing wine and later founded a consultancy firm that ended up having 250 estate clients on five continents. Reading the book one learns not only about the life of the "king of assemblage" but also the history of French and international winemaking. In the 1970s, when he was starting out, the role of the enologist was not a prestigious one and producers were convinced that that only important knowledge was that handed down from father to son because how to make wine was something transmitted genetically. Research was focused on the chemical makeup of wine, studies on fermentation, the structure of tannins and the various combinations of sulfite uses.
"Mine was an incredible human adventure, one of encounters and both rewarding and disappointing discoveries, all satisfying – Michael Rolland said – I started out in enology when everything still had to be invented and tested. I initiated, or better accompanied, the great changes in winegrowing and wine making. I traveled the world over, to all latitudes, to undermined the convictions of those who still had doubts. I blended different varietals that some considered incompatible. I found lands which were thought to be unsuited and which today proudly host grape vines. I met unique men who wanted to make unique wines with distinct character in countries that had an improbable winemaking future. Enthusiasm is what illuminates life. As I often say: you can't do anything unless you really want to and can look beyond what exists today".
The book is filled with anecdotes and encounters with famous people and important friendships. In July 1982, Robert Parker and his wife knocked at his door. At the time the American, who was still unknown, was a member of a club that organized tastings and then compiled evaluations at the end of each session. His reviews would later be published in Wine Advocate, a reference point publication for wine lovers and professionals. According to Rolland, Parker is the most courted and less courtesan taster around, oblivious to the praise of critics and capable of tasting for hours over 200 wines and always with the same acumen.
A whole chapter is dedicated to re-establish Rolland version of the truth in regard to the successful 2004 documentary Mondovino, made by Jonathan Nossiter (defined as a half- sommelier, half-writer, half-philosopher and half-filmmaker), which depicts Rolland as a hateful, authoritarian person whose humor is nothing more than belligerent cynicism. I will leave you readers task of deciding where the truth lies.
Il guru del vino
Michel Rolland con Isabelle Bunisset
Published in Italy by Edizioni Ampelos
- 190 pages
- format 15x21 softcover
- published June 2020
- cover price € 19.00