Discovering Tintilia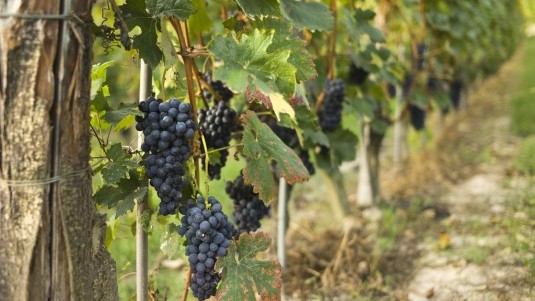 Tintilia is a traditional grape from Molise, maybe non native but ancient. Anyway it can be found only in Molise vineyards and it is very important for local viticulture.
A traditional varietal from the Molise region even if it is not exactly native. Nevertheless, it is only found in that region where it represents an undisputed asset.
Tintilia is the name of a typical Molise varietal that grows in the region's hilly hinterland. It was abandoned over the years in favor of more productive varieties but at present it is at the center of an interesting revival to enhance its value. All things considered, it is one of the most authentic elements of Molise winemaking.
The varietal can be considered native to Molise only in regard to the long time it has been cultivated there. The question thus arises: how many centuries must pass before a varietal adapts to its terroir and absorbs its unique and unmistakable characteristics thus becoming indigenous? Tintilia was introduced in Molise in the second half of the 18th century, when it was part of the Bourbon reign, and the result of the intense trade between the Kingdom of Naples and Spain. Its name probably derives from tinto, the adjective that is used in Spanish to denote red wine, in consideration of the grape's color which is a dark red.
Related Products
Product
Producer
Date of publication
Author
Read
Tenute Di Giulio 2012
Tintilia del Molise
Borgo di Colloredo
09/05/17
Daniele Cernilli
100% Tintilia grapes. Matures 6 months in barrique. Intense garnet ruby red color. Complex and varietal aromas of wild berries, smoky hints, spices and wet soil. Strong taste, tanninc, typical,...
Leggi tutto
Tintilia del Molise 2013
Tintilia del Molise
Di Majo Norante
09/05/17
Daniele Cernilli
100% Tintilia grapes. Matures 12 months in tonneau. Ruby red with violet hues. Notes of morello cherry and a light spiciness. Briny on the palate, good body and balanced tannin. The finish is not as...
Leggi tutto
Lame del Sorbo 2014
Tintilia del Molise
Vinica
09/05/17
Daniele Cernilli
100% Tintilia grapes. Stainless steel only. Bright and lively ruby red. Very fruity aromas, with notes of plums, black cherry and floral hints. Savory taste, pleasant, easy to drink, good body and...
Leggi tutto
200 metri 2015
Tintilia del Molise
Tenimenti Grieco
01/10/17
Daniele Cernilli
100% Tintilia grapes. Stainless steel only. Bright ruby red. Slightly fermentative, then wild berries and a hint of black cherry. Fresh, pleasant, well sustained by acidity, long and elegant...
Leggi tutto