Catarratto from the heart of Sicily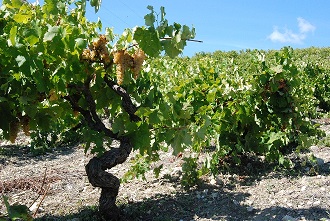 This is the most common varietal in central-western Sicily that while having lost some of its appeal is still widely used. Here we have selected some examples that have not been blended.
In the "prehistoric" era of Italian winemaking, Catarratto was a widely used grape. This because it had a high yield and was highly resistant to disease and parasites. It was one of the key elements in blending Marsala, along with Grillo and Inzolia.
Its popularity over the past decades has diminished in favor of the so-called international or French varieties, like Chardonnay and Sauvignon, which found fertile ground in Sicily. Nevertheless, it can still be found in almost all estates and is used in various ways. Experimentation, even by individual producers, has led to the re-evaluation of this varietal which, thanks to its high acidity level, can age well beyond a year if made well.
There are three varieties of this grape:
Catarratto Bianco commune, known also as Catarratto Bianco Nostrale and Catarratto Bertolaro;
Catarratto Bianco Lucido, known also as Catarratto Bianco Luasstro and Castellano. This tends to be less alcoholic and more acidic;
Catarratto Bianco Extra-Lucido or Lucidissimo, named like this because of its almost total lack of purine and even higher level of acidity.
The grape is included in the blends of several DOC (PDO) appellations:
Marsala, from zero to 100%
Alcamo, at least 85%
Contea Sclafani Bianco (at least 85%
Salaparuta, at least 85%
Etna, at most 40%
DOC Regionale, which includes Sicilia Catarratto in all its versions including late harvest, Passito, superior, reserve and sparkling.
Here are five Catarratto, all 100% with the exception of one that has a little Vermentino blended into it. The wines are classified either Doc or IGT and all have in common a great drinkability. The vintage is 2015 and thus demonstrates how these wines can even age in the bottle a few years.
Related Products
Product
Producer
Date of publication
Author
Read
Shiarà 2015
Contea di Sclafani
Castellucci Miano
08/24/17
Stefania Vinciguerra
100% Catarratto grapes cultivated at about 1000 mt of altitude. Stainless steel for 6 months. Bright straw yellow. Fresh and elegant on the nose with notes of white fruits, wild herbs, exotic...
Leggi tutto
Krimiso 2015
Terre Siciliane
Aldo Viola
08/24/17
Stefania Vinciguerra
100% Catarratto grapes from a single vignard. Maceration on the skins for 5 months. Straw yellow color with golden hues. Deep and complex notes of yellow fruits, honey and pleasant hints of...
Leggi tutto
Terza Nota Bianco 2015
Terre Siciliane
Augustali
08/24/17
Stefania Vinciguerra
Blend of Catarratto and Vermentino grapes. Matures in concrete vats. Straw yellow with golden hues. Notes of yellow flowers, honey and baked sweets. Fresh on the mouth and good structure, clear,...
Leggi tutto
Catarratto del Masso 2015
Sicilia
Feudo Montoni
08/24/17
Stefania Vinciguerra
100% Catarratto grapes. Matures 12 months in concrete vats on the lees. Aromatic herbs, laurel and eucalyptus aromas. Great freshness and good structure in the mouth. Great progression and...
Leggi tutto
Tripudium Bianco 2015
Terre Siciliane
Pellegrino
08/24/17
Stefania Vinciguerra

100% Catarratto grapes. Stainless steel. Straw yellow color. Notes of white fruits, herbs, Mediterranean woods. Fresh, intense, smooth and savory in the mouth. Good persistence.