The best Cesanese del Piglio 2015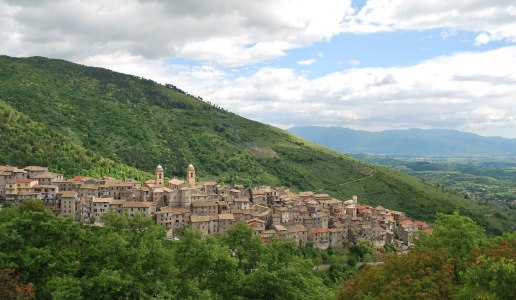 Cesanese del Piglio DOCG is the best wine made from the red Cesanese grape, common to the central region of Lazio. Here are the top five from 2015.
Cesanese is a red wine grape that has been common since ancient times to the hills surrounding Rome and it is cultivated both in the province of Rome and that of neighboring Frosinone. There are two basic biotypes of the grape, the common one and Affile, with the latter generally considered to be better. Contrary to what its name would suggest, its cultivation is not limited to the town of the same name nor the province of Rome.
There are three DOC appellations for this wine: Cesanese del Piglio (which has a DOCG classification), Cesanese di Affile and Cesanese di Olevano Romano. Each appellation has different variations of the wine, confirming the grape's versatility. Aside tom the superior and reserve versions, there are also, in the case of Olevano and Affile, sweet and sparkling versions.
In general, Cesanese produces wines that are often somewhat rustic but this gives them an ancient peasant charm that makes them unique and unmistakable. The wine's quality has improved significantly in recent years thanks to some very talented and passionate producers.
The following reviews are of the best Cesanese del Piglio DOCG 2015 to which we add one of the excellent Riserva 2011 from Marcella Giuliani.
Related Products
Product
Producer
Date of publication
Author
Read
Priore Mozzatta 2015
Cesanese del Piglio
La Visciola
08/22/18
Dario Cappelloni
100% Cesanese grapes. Matures in various size barrels. Very dark black color. Power and perfect balance in every aspect, beginning with the bursting aromas of spices and black fruits. Powerful, dense...
Leggi tutto
Priore Ju Quarto 2015
Cesanese del Piglio
La Visciola
08/22/18
Dario Cappelloni
100% Cesanese grapes. Matures in different size barrels. Deep black color. Broad aromas of elegant spices, aromatic herbs and blackberries. Rich on the palate, but elegant and fresh with a complex...
Leggi tutto
Romanico 2015
Cesanese del Piglio Superiore
Coletti Conti
08/22/18
Livia Belardelli
100% Cesanese di Affile grapes. Matures 15 months in barrique. Ruby red color. Elegant and enveloping aromas, smoky hints, cocoa, chocolate and vanilla puffs. Nice body and good acidity on the...
Leggi tutto
Torre del Piano Riserva 2015
Cesanese del Piglio Superiore
Casale della Ioria
08/22/18
Livia Belardelli
100% Cesanese d'Affile grapes. Matures in durmast barrels. Intense ruby red color. Eucalyptus aromas and spices with a vegetal background, hints of tobacco. Juicy and fresh on the palate,...
Leggi tutto
Dives Riserva 2011
Cesanese del Piglio
Marcella Giuliani
08/22/18
Livia Belardelli
100% Cesanese d'Affile grapes. Matures in new French and American durmast barrique for 12 months. Ruby red with garnet hues. Spicy and animal aromas, wild cherry and eucalyptus. Elegant and...
Leggi tutto
La Visciola

02/27/13
Redazione
If there is an authentic 'vigneron de garage' in Lazio then it is Piero Macciocca who produces his small wine gems, obtained through biodynamic winegrowing, is a small winery that looks...
Leggi tutto
Coletti Conti

05/15/15
Redazione
Anton Maria Coletti Conti has a smiling face and a small gift: the ability to immediately put at ease anyone with his anecdotes and stories. With his sunny disposition and exuberant personality, he...
Leggi tutto
Casale della Ioria

08/22/18
Redazione
Paolo Perinelli grows his own grapes in Ciociaria, in the heart of the Cesanese appellation, at an altitude of 400m above sea level. His vineyards are surrounded by forests and olive groves and his...
Leggi tutto
Marcella Giuliani

08/22/18
Redazione
A small farm managed by a lady that strongly feels "the calling of her roots". The farm, in fact, comes from a large estate property of the family since 1870, that slowly refined its own cultivations...
Leggi tutto