Rediscovering Arneis, the white wine grape of Roero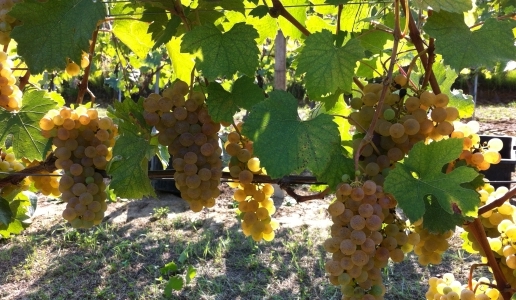 Arneis is an ancient Piedmont varietal that risked disappearing but today is making a comeback thanks to the interest of some producers.
Arneis is a white wine varietal that a few decades ago was at risk of extinction. Today it is being increasingly cultivated in various zones of Piedmont, its native region. Its historic area of production is Roero, on the left bank of the Tanaro River, where it has used to soften the tartness of Nebbiolo and make what some called "white Barolo".
In the early 1970s, only a few wineries were bottling white wine made from Arneis but in the following decade greater interest from enologists and consumers lifted annual production to around three million bottles. This was above all thanks to the interpretation of this varietal by brothers Bruno and Marcello Ceretto with their wine Blangé, Arneis delle Langhe.
The DOC appellation dates back to the 1990s and today the appellation includes a DOCG classification for Roero Arneis and a DOC Langhe Arneis. Regulations that went into effect in 2017 for the former allow for a Riserva wine, which must mature for 14 months, and a sparkling wine and all must be made with at least 95% Arneis grapes. The DOC Langhe Arneis wines, which include a Passito dessert wine, must be no less than 85% Arneis and vineyard yield can be 11,000kg per hectares a opposed to 10,000 for the DOCG wines.
Roero has some 920 hectares of Arneis vineyards and produces close to 6.5 million bottles a year with a positive growth trend for the future.
Wine made from Arneis is generally slightly aromatic and light with hints of grassy aromas and a flavor that recalls almond. The acidity is a bit weak, especially for grapes that have ripened to perfection, and thus the wine is for the most part simple and pleasing. Initially, it was thought that the wine had little propensity to age but in recent years some producers have been making versions that are particularly complex and surprising and the introduction of a Riserva wine indicates that producers themselves are convinced they can make a wine that ages well.
The following are the Roero Arneis that convinced us the most, three from 2016 and one from 2015 plus a surprise that contradicts the view that this wine cannot age: Sette Anni from the Angelo Negro e Figli winery that, as its name indicates, has aged in the bottle for seven years.
Related Products
Product
Producer
Date of publication
Author
Read
Cecu d'la Biunda 2016
Roero Arneis
Monchiero Carbone
02/13/18
Dario Cappelloni
100% Arneis grapes from Renesio vineyard in Canale and Tanone in Vezza d'Alba. Stainless steel only. Bright yellow color. Enveloping aromas of spices and white fruits. Rich taste but agile and...
Leggi tutto
Roero Arneis 2016
Roero Arneis
Batasiolo
02/13/18
Daniele Cernilli
100% Arneis grapes. Stainless steel on the yeasts for 4 years. Straw yellow color. Strong citrusy aromas of grapefruits and cedar, then yellow plums. Savory taste, fresh, pleasant, easy to drink and...
Leggi tutto
Merica 2016
Roero Arneis
Cascina Ca' Rossa
02/13/18
Dario Cappelloni

100% Arneis grapes. Stainless steel only. Bright straw yellow color. Intense aromas of white fruits and flowers. Rich taste but fresh and agile. Good length.

Rive del Bricco 2015
Roero Arneis
Giovanni Almondo
02/13/18
Dario Cappelloni
100% Arneis grapes. Stainless steel only. Wide and varied aromatic profile with notes of white flowers and Mediterranean herbs together with a delicate hint of white pepper. Rich and full taste but...
Leggi tutto
Sette Anni 2010
Roero Arneis
Angelo Negro e Figli
02/13/18
Dario Cappelloni
100% Arneis. Stainless steel only on the yeasts with at least 6 months of batonnage and rests in the bottle for 7 years. Bright straw yellow color. Complex aromas of flowers and light spices....
Leggi tutto