Vosne Romanée and some Premier Cru masterpieces
Vosne Romanée has some Premier Cru wines that can easily rival its Grand Cru ones.
The town of Vosne Romanée, home of the best Burgundy wines, is an example of the historic error in classifying vineyards with many examples of Premier Cru wines that can easily rival the Grand Cru ones thanks to the ability, perhaps unique, of some inspired winemakers to showcase this contradiction.
Complicating matters further was the genius of Henri Jayer, perhaps the greatest winemaker in the history of Burgundy, who from practically nothing and using his extraordinary talent and experience, created one of Burgundy's greatest wines that still today is classified as Premier Cru: Cros Parantoux.
After his death in 2006, his nephew Emmanuel Rouget, another very inspired winemaker, took charge of not only producing this great wine but also others outside the great Méo Camuzet domaine, where his uncle developed his ideas and made history. We will look at this great cru in the next installment and today will focus on the towns other great Premier Cru wines.
Vosne Romanée 1er Cru Aux Reignots Monopole 2005 Comte Liger Belair
This Monopole from a formidable producer has a very beautiful and intense red color. 2005 was an historic year for Burgundy and this wine is an objective example of this. The aromas are slightly compressed but decidedly broad with intense notes of black cherry and strawberry syrup, together with a balsamic sensation and a hint of tobacco. The mouthfeel is voluptuous, elegant and bold with a great persistence.
95/100
€ 500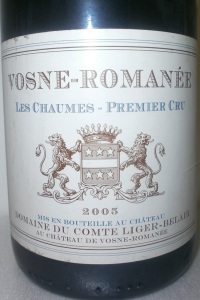 Vosne Romanée 1er Cru Les Chaumes 2005 Comte Ligier Belair
Decidedly more delicate and apparently subtler than its Monopole little brother, this has a lively and luminous red color. The aromas are much more acute and graceful with scents of Violetta di Parma and wild strawberry, gorse flower and crushed rose. The mouthfeel is very elegant, fine and silky.
94/100
€ 800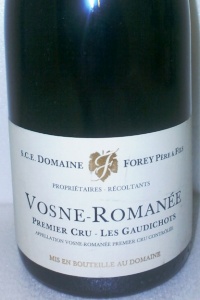 Vosne Romanée 1er Cru Les Gaudichots 2009 Domaine Forey
Not everyone knows that 2/3 of La Tache is in reality… Gaudichots, which Domaine Romanée Conti acquired and incorporated into the Grand Cru La Tache vineyard with what remained being classified as a Premier Cru. Forey was one of the few who did not sell and continued to make wine under its original classification from very old vines (80 years). This has a distinct red color and unmistakable aromas of underbrush, black currant and raspberry, together with some smoky and spice hints. He mouthfeel is flavorful, full and bold with thick yet very fine tannins. A La Tache in miniature.
93/100
€ 250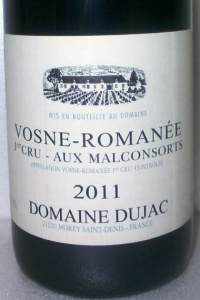 Vosne Romanée 1er Cru Aux Malconsorts 2011 Domaine Dujac
A clear, garnet color with purple hues and a bouquet of cut wild flowers that gradually give way to notes of berries, both blueberry and raspberry, together with the balsamic one that is the trademark of this producer. The mouthfeel is anything but passive, a slightly rough caress of the palate, virile and substantial.
94/100
€ 250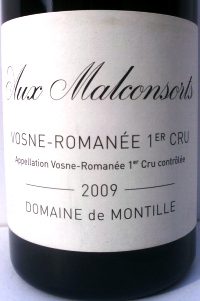 Vosne Romanée 1er Cru Aux Malconsorts 2009 Domaine De Montille
Rarely have I tasted a Pint Noir that is so austere yet classic at the same time. The red color is relatively clear and the aroma opens with distinct notes of spice followed immediately by distinct and broad scents of fruit, currant and strawberry jam. The taut mouthfeel is ethereal and how great personality.
96/100
€ 350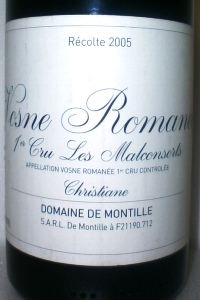 Vosne Romanée 1er Cru Les Malconsorts Christiane 2005 Domaine de Montille
A very rare wine made through a maniacal selection of grapes from a tiny vineyard of 0.49 hectares and created in honor of Hubert's wife. The aroma is decidedly more of dark fruit than the Malconsort, scents of Vignola cherry and blackcurrant as well as blueberry and blackberry. The mouthfeel is very taut with a cutting acidity and thick, dense yet very fine tannins. A wine with a unique personality and a disarming and intense aromatic persistence. Its propensity to age is eternal.
98/100
€ 1000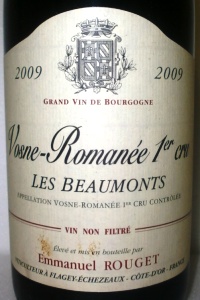 Vosne Romanée 1er Cru Les Beaumonts 2009 Emmanuel Rouget
In the hands of the nephew of the great Henri Jayer, any wine becomes poetry. A lively and luminous red color with an exemplary transparency and aromas of raspberry yogurt with suffused and persistent spice notes. The mouthfeel is very broad and caressing with wonderful, silky tannins.
96/100
€ 450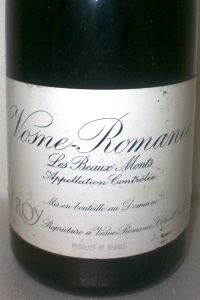 Vosne Romanée 1er Cru Les Beaux Monts 2000 Domaine Leroy
A very clear, almost transparent red color and a wonderful, intense and very complex bouquet with notes of incense and pine needles together with the classic nuances of berries, wild currant and wild strawberry. The mouthfeel is a drape of oriental silk, caressing and wrapping with an infinite persistence.
98/100
€ 2000
Related Products
Product
Producer
Date of publication
Author
Read
Aux Reignots Monopole 2005
Vosne Romanée 1er Cru
Comte Liger-Belair
12/14/18
Vinogodi

Les Chaumes 2005
Vosne Romanée 1er Cru
Comte Liger-Belair
12/14/18
Vinogodi

Les Gaudichots 2009
Vosne Romanée 1er Cru
Domaine Forey Pére et Fils
12/14/18
Vinogodi

Aux Malconsorts 2011
Vosne Romanée 1er Cru
Domaine Dujac
12/14/18
Vinogodi
A clear, garnet color with purple hues and a bouquet of cut wild flowers that gradually give way to notes of berries, both blueberry and raspberry, together with the balsamic one that is the...
Leggi tutto
Aux Malconsorts 2009
Vosne Romanée 1er Cru
Domaine De Montille
12/14/18
Vinogodi

Les Malconsorts Christiane 2005
Vosne Romanée 1er Cru
Domaine De Montille
12/14/18
Vinogodi

Les Beaumonts 2009
Vosne Romanée 1er Cru
Domaine Emmanuel Rouget
12/14/18
Vinogodi

Les Beaux Monts 2000
Vosne Romanée 1er Cru
Domaine D'Auvenay Leroy
12/14/18
Vinogodi

Comte Liger-Belair

02/03/12
Redazione

Domaine Emmanuel Rouget

01/04/13
Redazione

Domaine De Montille

02/24/12
Redazione

Domaine Dujac

02/25/12
Redazione

Domaine Forey Pére et Fils

09/12/14
Redazione

Domaine D'Auvenay Leroy

02/04/12
Redazione