Vosne Romanée Cros Parantoux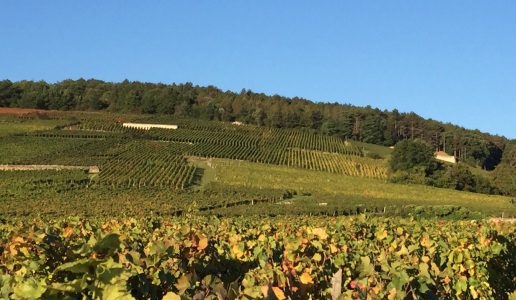 We conclude this Burgundy panorama in style with a Premier Cru that more than any other can rival the Grand Cru: Cros Parantoux.
Cros Parantoux is the story of a territory that is tied to "one man" because before Henri Jayer, Cros Parantoux did not exist wine-wise.
Henri Jayer was an icon in Burgundy winemaking in the second half of the 20th century. His wines contributed to establishing the uniqueness of this area even outside France. And he did this by shaking up the practices that up until then had been followed in the vineyard and the winery.
The history of Cros Parantoux is an interesting one that began in the 1950s when an announcement was published inviting anyone interested to go a certain notary to acquire a parcel in Vosne-Romanée. Henri Jayer was the only one to show up and for this reason he was able to buy this undeveloped piece of land at a reasonable price.
The two-hectare plot was situated in the upper part of Vosne-Romanée, right above the Grand Cru Richebourg vineyard, and after some studies Jayer decided to plant a particular variety of Pinot Noir.
His wines today remain iconic, both for their value to collectors and their quality that remains intact. Unfortunately, those available on the market are questionable because of the way they have been preserved and the distance almost all have "traveled", which make is rare, indeed, to fully appreciate their quality with the added variable of bottle aging.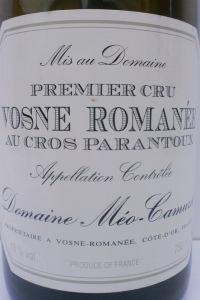 Vosne Romanée 1er Cru Au Cros Parantoux 2005 Méo Camuzet
A very luminous, fiery red color with an excellent concentration and a many sided and decidedly smoky aroma with notes of currant and tar in the background, while those of wild, red fruit are discreet. The mouthfeel is distinctly bold, very broad and has a great impact.
97/100
€ 2.500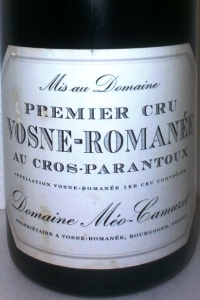 Vosne Romanée 1er Cru Au Cros Parantoux 2007 Méo Camuzet
Decidedly less muscular than the 2005, this has a lively and luminous red color that is not excessively concentrated. The aromas are intensely fruity, with light vegetal notes and a nice vein of spice. The mouthfeel is taut and fresh with a bold yet superbly elegant structure.
95/100
€ 1.500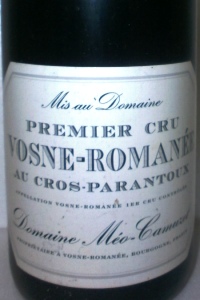 Vosne Romanée 1er Cru Au Cros Parantoux 2009 Méo Camuzet
Bold beginning with its intense yet transparent and bright red color. The bouquet is more explosive than the other vintages from this super producer. A smoky note returns on a backdrop of wild berries, above all currant, but there is also some coffee on the side. The bold mouthfeel is almost austere and saturates in an amazing way.
96/100
€ 1.600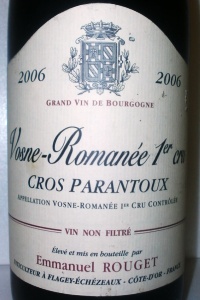 Vosne Romanée 1er Cru Cros Parantoux 2006 Emmanuel Rouget
The spirt of Henri Jayer lives on in this wine. The protocols followed by his nephew Emmanuel, in fact, fully respect the history of this legend. The red color is relatively intense while the aromas, on the other hand, are explosive and distinguished by the usual notes of wild strawberry and raspberry. Added to the bouquet are notes of fine spice, medicinal herbs and damp rock. The mouthfeel is splendidly relaxed with fine and silky tannins. Broad and rewarding.
96/100
€ 1.700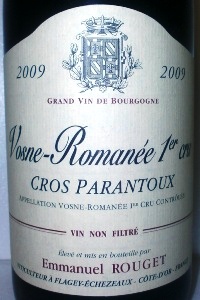 Vosne Romanée 1er Cru Cros Parantoux 2009 Emmanuel Rouget
Decidedly darker and dense than the 2006 beginning with its intense red color. The aromas are almost Marasca cherry-like but do not overshadow the varietal's classic ones of wild strawberry and raspberry. The structured mouthfeel is elegant yet bold with a wonderful tannic texture. A very perspectival wine.
97/100
€ 1.800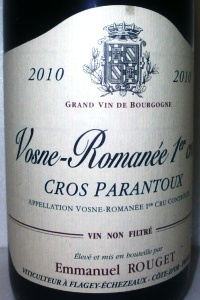 Vosne Romanée 1er Cru Cros Parantoux 2010 Emmanuel Rouget
Relatively less dense than the 2009, with a quite clear, luminous and bright red color with very light purple nuances. The aroma is the most intense of the three Rouget with notes of bark and pine needles, sweet spice and a smoky hint. A bold yet very balanced and deep mouthfeel that is fresh and complex with a very long finish.
97/100
€ 1.700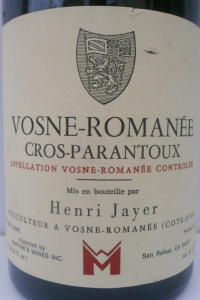 Vosne Romanée 1er Cru Cros Parantoux 1982 Henri Jayer
A legend. A very clear color with faint, transparent garnet reflections. The bouquet is a dirge of incense and fallen leaves, porcini and chanterelle mushrooms, white pepper and sweet tobacco. The mouthfeel is pure silk, fine and elegant with a freshness that is still evolving.
International evaluations put the price at between 8,000-10,000 euros.
96/100
€ 9.000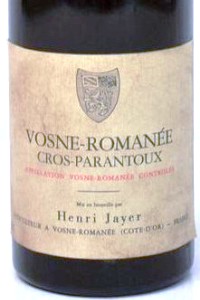 Vosne Romanée 1er Cru Cros Parantoux 1978 Henri Jayer
This was the first vintage of Crox Parantoux and it was love at first sight. It cost just a bit more than Sassicaia at the time, when I acquired a case with my modest earning as a working student. Today, there is no way I could afford this.
The color is oddly less faint than the 1982 and the wine seem even more lively, even if are aromas are more evolved, dominated by porcini mushroom and humus. The bouquet also has notes of leather, black truffle and juniper berries. The mouthfeel has a finesse that is beyond belief, with tannins almost nonexistent and replaced by an almost impalpable silk caress. A totally moving wine that I would personally rate 100/100. For Henri Jayer this was the first yet best version of the wine masterpiece.
International evaluations put the price at around 15,000 euros but fear not, the wine has sat for decades.
97/100
€ 15.000
Related Products
Product
Producer
Date of publication
Author
Read
Domaine Henri Jayer

11/07/13
Redazione

Domaine Méo-Camuzet

02/04/12
Redazione

Au Cros Parantoux 1982
Vosne Romanée 1er Cru
Domaine Henri Jayer
01/11/19
Vinogodi
A legend. A very clear color with faint, transparent garnet reflections. The bouquet is a dirge of incense and fallen leaves, porcini and chanterelle mushrooms, white pepper and sweet tobacco. The...
Leggi tutto
Au Cros Parantoux 2005
Vosne Romanée 1er Cru
Domaine Méo-Camuzet
01/11/19
Vinogodi
A very luminous, fiery red color with an excellent concentration and a many sided and decidedly smoky aroma with notes of currant and tar in the background, while those of wild, red fruit are...
Leggi tutto
Au Cros Parantoux 2007
Vosne Romanée 1er Cru
Domaine Méo-Camuzet
01/11/19
Vinogodi
Decidedly less muscular than the 2005, this has a lively and luminous red color that is not excessively concentrated. The aromas are intensely fruity, with light vegetal notes and a nice vein of...
Leggi tutto
Au Cros Parantoux 2009
Vosne Romanée 1er Cru
Domaine Méo-Camuzet
01/11/19
Vinogodi
Bold beginning with its intense yet transparent and bright red color. The bouquet is more explosive than the other vintages from this super producer. A smoky note returns on a backdrop of wild...
Leggi tutto
Cros Parantoux 1978
Vosne Romanée 1er Cru
Domaine Henri Jayer
01/11/19
Vinogodi
This was the first vintage of Crox Parantoux and it was love at first sight. It cost just a bit more than Sassicaia at the time, when I acquired a case with my modest earning as a working student....
Leggi tutto
Cros Parantoux 2006
Vosne Romanée 1er Cru
Domaine Emmanuel Rouget
01/11/19
Vinogodi
The spirt of Henri Jayer lives on in this wine. The protocols followed by his nephew Emmanuel, in fact, fully respect the history of this legend. The red color is relatively intense while the aromas,...
Leggi tutto
Cros Parantoux 2009
Vosne Romanée 1er Cru
Domaine Emmanuel Rouget
01/11/19
Vinogodi
Decidedly darker and dense than the 2006 beginning with its intense red color. The aromas are almost Marasca cherry-like but do not overshadow the varietal's classic ones of wild strawberry and...
Leggi tutto
Cros Parantoux 2010
Vosne Romanée 1er Cru
Domaine Emmanuel Rouget
01/11/19
Vinogodi
Relatively less dense than the 2009, with a quite clear, luminous and bright red color with very light purple nuances. The aroma is the most intense of the three Rouget with notes of bark and pine...
Leggi tutto
Domaine Emmanuel Rouget

01/04/13
Redazione