The Premier Cru wines of Côte de Beaune and Nuits Saint Georges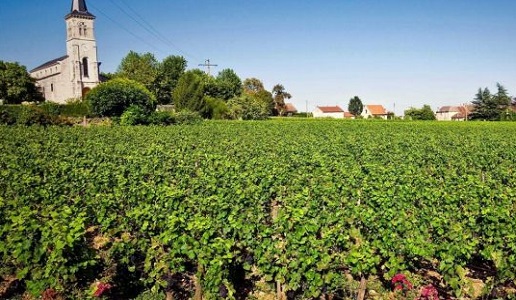 We continue our examination of Burgundy's Premier Cru wines with two areas that produce exceptional wines: Côte de Beaune and Nuits Saint George.
Here are two areas that would appear to be on the sidelines of the great Burgundy appellations, overshadowed by giants like Vosne Romanée, Gevrey Chambertin and Chambolle. However, repetita juvant, the skill of great Burgundy winemakers once again results in exceptional wines from certain lesser crus.
Côte de Beaune is only 20km from Côte-de-Nuits, between Ladoix-Serrigny and the Les Maranges hill, and its 30 hectares of vineyards produce 164,200 hectoliters of wine a year. The composition of the soil differs depending on the pitch of the land but is for the most part a lime-marl mix which gives the wines finesse and aromatic complexity. Volnay and Pommard produce almost exclusively red wines.
The village of Nuits Saint George is between Dijon and Beaune, in Côte de Nuits. This AOC includes, aside from the village that lends it its name, the town of Premeaux-Prissy. The vineyards are almost exclusively planted with Pinot Noir but there is some Chardonnay. There are no Grand Cru vineyards only excellent Premier Cru ones and this because Henri Gouges, who was involved in drawing up AOC classifications in 1937, being a Nuits winegrower did not wish to be appear bias and so did not seek a Grand Cru classification for this area.
The AOC appellation is subdivided into 41 Premier Cru areas. Because of the diversity of the soils and exposures, wines from two different areas, even if adjoining, can be very different from each other. Aside from the Premier Cru wines, there are also those classified as from the town of Nuits-Saint-George. Nuits Saint Georges wines have a very long lifespan and thus can age for many years before being consumed.
Not being able to include all the wines, here we limit ourselves to some small gems from extraordinary winemakers which, in a blind tasting, easily rival those with from more important appellations and classifications.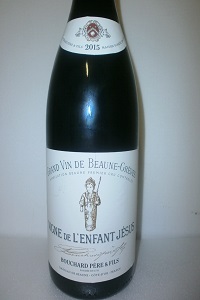 Beaune 1er Cru Vigne de L'Enfant Jesus 2015 Bouchard Pere & Fils
The name of this 4-hectare vineyard is a reference to the Sun King because his mother, Anne of Austria, gave it to the Carmelite convent after they had predicted the birth of her much-desired son.
The color is an incredible and fascinating, clear and luminous red with light purple reflections that denote the wine's brash youth. A model of elegance, the soave aroma has inebriating scents of crushed rose and wild strawberries but without being excessive. The mouthfeel is almost lithe with its unique grace and lively acidity that will uphold it for decades to come. A poetic wine.
95/100
120 Euros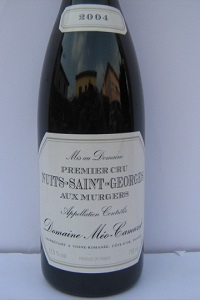 Nuits Saint Georges 1er Cru Aux Murgers 2004 Méo Camuzet
A lively and distinct red color and a full bouquet with scents of sour cherry and ripe cherry that turns into only raspberry with a vegetal hint in the finish. The mouthfeel is bold with a light, green tannic sensation, broad and rigorous.
92/100
130 Euros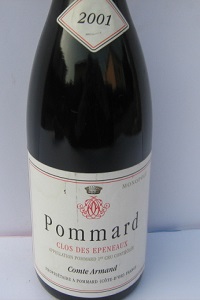 Pommard 1er Cru Clos des Epeneaux 2001 Comte Armand
A clear, red color and a bouquet that is more horizontal than vertical that expands into a broad and assorted aromatic profile in which notes of berries, wild strawberry and currant are exalted along with some smoky scents. The mouthfeel is severe and stiff with thick tannins that are still evolving but are in no way bothersome, in fact, they are extremely stimulating.
93/100
180 Euros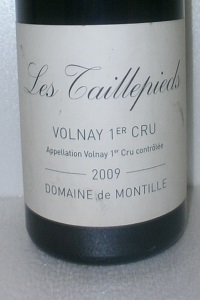 Volnay 1er Cru Les Taillepieds 2009 Domaine de Montille
A clear yet luminous red color and a bouquet that is initially delicate before it explodes mixing together floral scents and an extreme minerality as if it was a white wine disguised as a red. The suffused balsamic note is splendid together with those of fine spice creating great aromatic finesse. The mouthfeel is decidedly austere and noble, stiff with an old fashioned uprightness. A classic Pinot Noir with a long life ahead of it.
95/100
120 Euros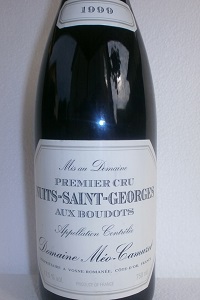 Nuits Saint Georges 1er Cru Aux Boudots 1999 Méo Camuzet
The red color is still intense and has light, garnet reflections and its amazing chromaticism is a clear indication of a rich and fine structure. The bouquet is nicely balanced between notes of red berries and those from bottle aging of bark and humus. The mouthfeel has become silky and soft while maintaining its extremely pleasing and acidic vivacity.
94/100
250 Euros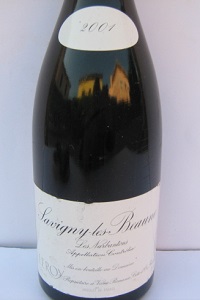 Savigny Les Beaunes 1er Cru Les Narbantons 2001 Domaine Leroy
A very clear, almost cherry red and an intense aroma of incense and sweet tobacco. The bouquet is unusually balsamic with its notes of holly, black cherry jam, cinnamon and chervil. The mouthfeel is pure silk, a precious drape that caresses the palate with a fascinating, eternal persistence.
96/100
1200 Euros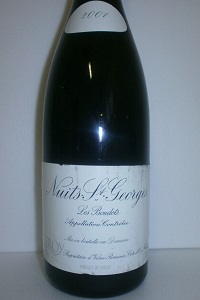 Nuits Saint Georges 1er Cru Les Boudots 2002 Domaine Leroy
A lively and very clear, ethereal and suffused red color and a rich and multifaceted bouquet with intense eastern aromas and those of strawberry and currant jam, spice and sweet cacao. The mouthfeel has a seraphic and caressing attack, an almost indecent caress, with a bewitching freshness and salinity.
97/100
1500 Euro
Related Products
Product
Producer
Date of publication
Author
Read
Vigne de L'Enfant Jesus 2015
Beaune 1er Cru
Bouchard Père & Fils
11/09/18
Vinogodi
The name of this 4-hectare vineyard is a reference to the Sun King because his mother, Anne of Austria, gave it to the Carmelite convent after they had predicted the birth of her much-desired son....
Leggi tutto
Aux Murgers 2004
Nuragus di Cagliari
Domaine Méo-Camuzet
11/09/18
Vinogodi
A lively and distinct red color and a full bouquet with scents of sour cherry and ripe cherry that turns into only raspberry with a vegetal hint in the finish. The mouthfeel is bold with a light,...
Leggi tutto
Clos des Epeneaux 2001
Pommard 1er Cru
Comte Armand
11/09/18
Vinogodi
A clear, red color and a bouquet that is more horizontal than vertical that expands into a broad and assorted aromatic profile in which notes of berries, wild strawberry and currant are exalted along...
Leggi tutto
Les Taillepieds 2009
Volnay 1er Cru
Domaine De Montille
11/09/18
Vinogodi
A clear yet luminous red color and a bouquet that is initially delicate before it explodes mixing together floral scents and an extreme minerality as if it was a white wine disguised as a red. The...
Leggi tutto
Aux Boudots 1999
Nuits Saint Georges 1er Cru
Domaine Méo-Camuzet
11/09/18
Vinogodi
The red color is still intense and has light, garnet reflections and its amazing chromaticism is a clear indication of a rich and fine structure. The bouquet is nicely balanced between notes of red...
Leggi tutto
Les Narbantons 2001
Savigny Les Beaunes 1er Cru
Domaine D'Auvenay Leroy
11/09/18
Vinogodi
A very clear, almost cherry red and an intense aroma of incense and sweet tobacco. The bouquet is unusually balsamic with its notes of holly, black cherry jam, cinnamon and chervil. The mouthfeel is...
Leggi tutto
Les Boudots 2002
Nuits Saint Georges 1er Cru
Domaine D'Auvenay Leroy
11/09/18
Vinogodi
A lively and very clear, ethereal and suffused red color and a rich and multifaceted bouquet with intense eastern aromas and those of strawberry and currant jam, spice and sweet cacao. The mouthfeel...
Leggi tutto
Bouchard Père & Fils

03/12/14
Redazione

Domaine Méo-Camuzet

02/04/12
Redazione

Comte Armand

02/24/12
Redazione

Domaine De Montille

02/24/12
Redazione

Domaine D'Auvenay Leroy

02/04/12
Redazione