Northern Piedmont: the Antoniolo family jewels in Gattinara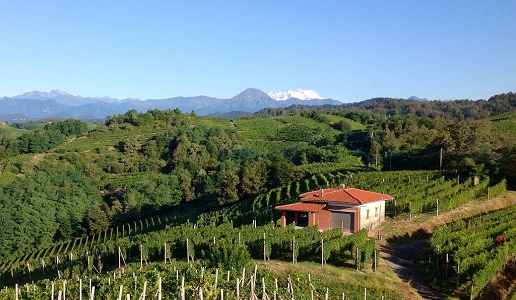 For years now, the estate has been enhancing the value of its own cru with an austere and elegant style.
I have always been fascinated by the decision of the Antoniolo estate to strive to enhance the value of their Gattinara cru. This almost Burgundy-esque effort to exalt the peculiar nature of the land has been obstinately pushed forward by Alberto and Lorella, the grandchildren of founder Mario Antoniolo. This is done with respect for well-expressed, particular characteristics that define a precise personality following a direct and inspired style that is never shouted and while austere is never aggressive but elegant and refined.
All this takes place in Gattinara where the exposures, soils and microclimate are all one and influence Antoniolo's three chief cru: Osso San Grato, San Francesco and Castelle. Antoniolo's history dates back to 1948 when they began to produce wines that from the beginning did not bend to compromise, in the tradition of wine with an eye on an as-yet-to-be defined future. This ability to interpret the Nebbiolo grape in its essence, how it stands the test of time, is the subject of this mini-vertical tasting of this estate's wines.
Gattinara Osso San Grato 2012
95/100 - € 60
Made from Nebbiolo grown on over-60-year-old vines in an almost five-hectare vineyard parcel. The wine matures for 36 months in oak barrels and has a relatively bold red color with nuances that are already a bit dated. The aromas are delicate ones of wilted rose, hematic, almost rusty, with sublime balsamic notes in the background. The mouthfeel only seems to be light but has a solid structure that is tannic while at the same time very fine. The persistence is surprising and great character unites expressive force and extreme elegance.
Gattinara Osso San Grato 2011
92/100 - € 60
Made from Nebbiolo grown on over-60-year-old vines and matured for 36 months in oak barrels. A luminous, red-garnet color and assorted aromas that have a nice density without being exaggeratedly intense. The nose is dominated by a precise mineral note and red fruit is evident as is a balsamic note. The mellow mouthfeel has very fine and silky tannins, great elegance and a structure that is anything but imposing.

Gattinara San Francesco 2004
94/100 - € 60
Made from Nebbiolo from a vineyard with 50-year-old vines and matured for a year in medium-sized battels and 18 months in large 20-25-hl barrels. This is perhaps the most austere cru and this bottle, from a great year, is a prime example, with its twilight-red color with garnet reflections. The initial note in the aroma is licorice followed by crushed violet and then balsamic notes dominate, along with hints of sweet tobacco and fine spice. The hematic notes have decidedly evolved with bottle aging. The mouthfeel is authoritative, with a tannic structure that is exuberant yet incisive. It is extraordinarily rich and leaves the mouth fresh with an incredibly persistent aftertaste.
Gattinara Vigneto Osso San Grato 1999
97/100 - € 100 and more
Made from Nebbiolo grapes and matured in large wooden vats for three years. Calling this a small masterpiece of Italian winemaking would not be a crime and it came from a great year. A faint red color with distinct garnet nuances and an orange edge. The aromas are typical of the cru, particularly intense and transformed by perfect bottle aging. The scents of wilted flowers are an authentic and assorted bouquet and are followed by notes of cinchona, underbrush and humus with distinct and particular notes of rust and iron. The unbridled mouthfeel is vibrant from the acidity with tannins that have a disarming finesse. The after-aroma is of pine needles that stimulate a long memory.
Gattinara Vigneto Osso San Grato 1983
94/100 – Not available retail
Made from Nebbiolo grapes and matured in large wooden vats for three years. The youthfulness this demonstrates is amazing with its color that is very similar to the 1999, an intense and transparent garnet. The nose is truly incredible with its ferrous notes and the bouquet has scents of dried flowers, damp earth and chanterelle and porcino mushroom, with an ever-present hematic sensation. The mouthfeel is pure silk with very fine and settled tannins making it velvety yet with an unexpected acidic energy.

Spanna Santachiara 1964
93/100 - No longer available
Made from Nebbiolo (locally known as Spanna) and matured in large barrels. We tasted this years ago and opening this bottle now confirmed all our highest expectations. It was amazing to see how one of Northern Piedmont's greatest wines can age this long. This has a clear, red color, a cherry with distinct orange hues. The aroma is a bouquet of cut, dried flowers with notes of antique and fine leather, balsamic and ferrous sensations. The mouthfeel is very fine and upheld by a lovely acidity in a framework of resolved tannins. Moving.
Related Products