Meursault and its masterpieces (2): the Premier Perrières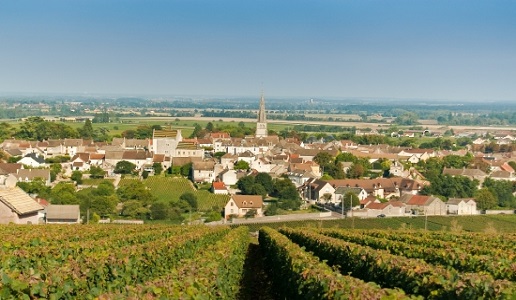 The greatest Perrières wines, those from the most inspired winemakers, can rival those from the Divine Hill of Montrachet, with a different finesse and elegance but with additional boldness and vigor.
errières has always been considered to be the best climat in Meursault and, in fact, it was cited in the first classification of 1861. The name refers to the presence of rocks in the soil that maintain the heat of the day and provide it to the vines during the night to allow the grapes to ripen perfectly. The 13-hectare zone is subdivided into four micro-parcels: Aux Perrières (80 ares), Perrières-Dessus (3ha 31 ares), Perrières-Dessous (8ha 64 ares) and Clos des Perrières (94 ares).
As opposed to other regions, in Burgundy the vineyards at higher altitudes are not the ones that reap the best advantages but, as in this case, those at a medium altitude. The soil in Perrières has marl formed with the same limestone found in the prestigious area of Montrachet and it is better protected from winds.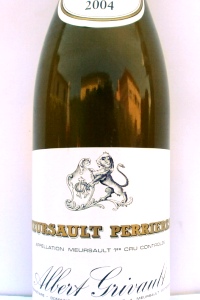 Meursault Perrières 1er Cru 2004 Albert Grivault
The color is a bright and luminous golden makes it this will be a true gem. The bouquet has an immediate iodine note followed by those of hazelnut crushed in a mortar and white fruit, all on a broad background of acacia honey and nothing at all has diminished over the years. The attack of the mouthfeel has a textbook softness making it easy to shallow with its stimulating, velvet hand. Everything it fully intact and this is quite surprising. Pure pleasure, a white you can never tire of, one with a linear impact, perfect components and a surreal balance.
93+/100
120 Euro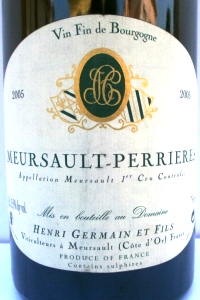 Meursault Perrières 1er Cru 2005 Henry Germain
This was perhaps the surprise of the tasting from a producer I know not enough about, to my demerit. The wine has a splendid golden-yellow color with equally splendid green reflections. The bouquet has carefree floral sensations, lily of the valley, Alpine butter and suffused mineral notes. In the glass the aroma varies greatly but the phrasing is always above-board, never dominating nor fickle with alternating notes of wood. The mouthfeel is almost subtle, something unusual for a Meursault, which does not mean that it is breaking down but that it is a sign of surprising elegance, with a balance drawn with light brushstrokes, almost a watercolor. The finish is long and very pleasing.
94/100
120 Euro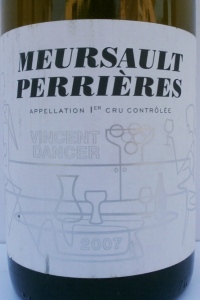 Meursault Perrières 1er cru 2007 Vincent Dancer
Creamy at first glance with its bold, luminous and volumetric golden color. The nose is also creamy with a hint of Chantilly cream embellishing aromas of fruit with a shell, husk and golden delicious apple. And even the cutting mouthfeel is creamy with its splendid, velvety caressing roundness and distinct sensuality. Meursault Perrières has a wonderful capacity to bring together an irrefutable sweet note with bold extract sensations. The palate is thus satisfied not only with this impression but also with the abundant structure. A fabulous dinner wine, even with white meat.
94/100
210 Euro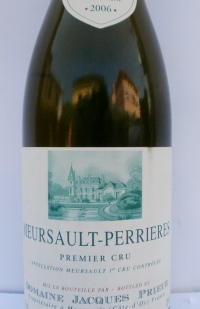 Meursault Perrières 1er Cru 2006 Jacques Prieur
A perfect example of the Prieur style. This producer is known for his totally personal style both with his whites and reds. The reds are elegant, fruity and gourmand, while the whites are rich in structure and almost overflowing. The harvest this year amplified the characteristics of this Perrières wine with its intense and bold golden-yellow color. The aroma is like sticking your nose in a jar of wild flower honey and is almost overwhelmingly fatty. For some, the broad, opulent and soft mouthfeel may make the wine difficult to swallow due to the unusual extracts that make it truly "volumetric". A white for those who love a "Boterian" white.
92/100
140 Euro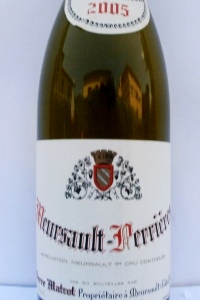 Meursault Perrières 1er Cru 2005 Matrot
Here elegance rules, despite a year that gave no favors to structure. The yellow color is wonderfully intact and still has green reflections. The solemn aroma has floral nuances and those of dried fruit with notes of ginger and papaya as well as a coquettish mineral note in the background. The mouthfeel is very fresh making this superbly drinkable. A very convincing version, among the best ever taste from this producer.
94/100
90 Euro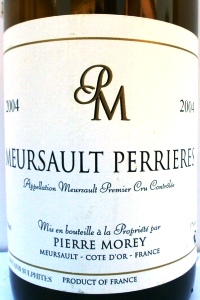 Meursault Perrières 1er Cru 2004 Pierre Morey
To be honest, I expected much more given the other wines I have tasted from this formidable producer, an ex-régisseur at Comtes Lafon and Domaine Laflaive. The color is a slightly coppery, pale yellow and the bouquet is anything but explosive with its notes of yellow plum, ripe peach and vanilla. The fruity notes decidedly dominate over the floral ones while notes of dried fruit and inlaid wood create a certain complexity. The mouthfeel, despite its nice tension, is incapable of stimulating your taste buds as you'd expect and remains superficial, almost uncompleted. Aging will not change things much. While still a great drop, it remains below par.
89/100
140 Euro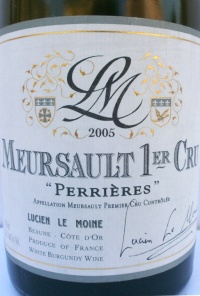 Meursault Perrières 1er Cru 2005 Lucien Le Moine
An enormous wine not so much for its structure as for its organoleptic properties. This is an up-and-coming producer who is always spot on, with both his reds and whites. This Perrières has a bright and bold golden color with light green reflections that indicate the wine's extraordinary integrity. The bouquet is assorted and intense, balsamic and mineral with floral notes of gerbera and lily of the valley and it closes with a quick succession of scents of wild flowers and Avola almonds. The full and rich mouthfeel is fresh thanks to a distinct acidity. A marvel of stimulation.
95+/100
140 Euro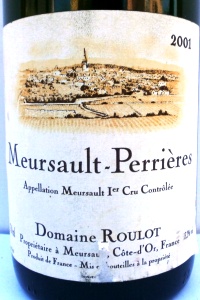 Meursault Perrières 1er Cru 2001 Domaine Roulot
This was the most mature of the lot but certainly not the least audacious. This is a producer who may be a symbol and reference point but one who has not always convinced me, although this was certainly not the case here. The wine has a luminous, topaz-yellow color and an assorted aroma with notes that are almost exotic but still have a taut and very pleasing minerality. The bouquet is unusually complex with crispy, hazelnut sensations and those of almond paste and cardamom. With breathing, the bouquet opens up and amplifies the aromas. The mouthfeel may seem compliant but in reality is very broad and energizing. A little masterpiece.
96/100
800 Euro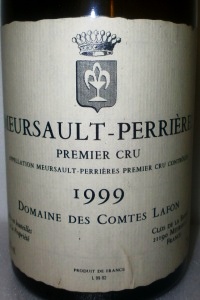 Meursault Perrières 1er Cru 1999 Comte Lafon
One of the best Meursaults I have ever tasted. The color is an intense golden-yellow and the attack of the aroma is of candied citrus, lime and honey. This wine has more citrus than the others but the stereotype aromas are not lacking with notes of walnut husk and ripe yellow fruit. The wine keeps improving with breathing, even for hours. The opulent mouthfeel fully expresses the Lafon style without, however, compromising pleasure thanks to an acidity that is in perfect balance with the bold extracts. Rich in every way, a true marvel.
97/100
350 Euro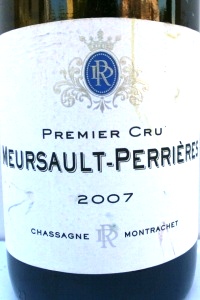 Meursault Perrières 1er Cru 2007 Domaine Ramonet
This was a phenomenon, the best of the lot, incomparable. The wine has an unusual yellow color with decidedly green reflections and the aroma is a floral explosion, a mélange of sensations of medicinal herbs, sage and a bravado minerality. The cutting mouthfeel is structured, amazingly pleasing and elegant despite being overstimulating. Everyone was bowled over and most tasted it for the first time given how rare it is.
P.S: This is a "virtual" wine produced in extremely limited quantity for personal use or to give to the most loyal customers. It is not available retail and has only a temporary Ramonet label.
98/100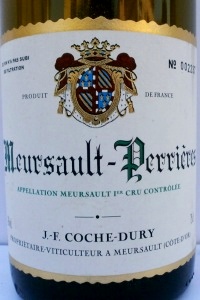 Meursault Perrières 1er Cru 2005 Coche Dury
One of the most "absolute" and incontestable white wines in existence. The golden-yellow color is relatively bold while the nose is uniquely and unrepeatably broad with explosive aromas of orange blossom and walnut husk, pyric and smoky notes and very intense balsamic and iodine sensations. The mouthfeel is cutting yet bold, enormous from a sensorial point of view with strength, persistence and elegance creating something truly unique.
99/100
3500 Euro
Related Products
Product
Producer
Date of publication
Author
Read
Perrières 1er cru 2007
Meursault 1er Cru
Vincent Dancer
10/26/18
Vinogodi
Creamy at first glance with its bold, luminous and volumetric golden color. The nose is also creamy with a hint of Chantilly cream embellishing aromas of fruit with a shell, husk and golden delicious...
Leggi tutto
Perrières 1er Cru 2001
Meursault 1er Cru
Domaine Roulot
10/26/18
Vinogodi

Perrières 1er Cru 2007
Meursault 1er Cru
Domaine Ramonet
10/26/18
Vinogodi
This was a phenomenon, the best of the lot, incomparable. The wine has an unusual yellow color with decidedly green reflections and the aroma is a floral explosion, a mélange of sensations of...
Leggi tutto
Perrières 1er Cru 2006
Meursault 1er Cru
Jacques Prieur
10/26/18
Vinogodi
A perfect example of the Prieur style. This producer is known for his totally personal style both with his whites and reds. The reds are elegant, fruity and gourmand, while the whites are rich in...
Leggi tutto
Perrières 1er Cru 2005
Meursault 1er Cru
Domaine Coche-Dury
10/26/18
Vinogodi
One of the most "absolute" and incontestable white wines in existence. The golden-yellow color is relatively bold while the nose is uniquely and unrepeatably broad with explosive aromas...
Leggi tutto
Perrières 1er Cru 2005
Meursault 1er Cru
Lucien Le Moine
10/26/18
Vinogodi
An enormous wine not so much for its structure as for its organoleptic properties. This is an up-and-coming producer who is always spot on, with both his reds and whites. This Perrières has a...
Leggi tutto
Perrières 1er Cru 2005
Meursault 1er Cru
Domaine Matrot
10/26/18
Vinogodi
Here elegance rules, despite a year that gave no favors to structure. The yellow color is wonderfully intact and still has green reflections. The solemn aroma has floral nuances and those of dried...
Leggi tutto
Perrières 1er Cru 2005
Meursault 1er Cru
Domaine Henri Germain et Fils
10/26/18
Vinogodi

Perrières 1er Cru 2004
Meursault 1er Cru
Pierre Morey
10/26/18
Vinogodi

Perrières 1er Cru 2004
Meursault 1er Cru
Albert Grivault
10/26/18
Vinogodi
The color is a bright and luminous golden makes it this will be a true gem. The bouquet has an immediate iodine note followed by those of hazelnut crushed in a mortar and white fruit, all on a broad...
Leggi tutto
Perrières 1er Cru 1999
Meursault 1er Cru
Domaine des Comtes Lafon
10/26/18
Vinogodi
One of the best Meursaults I have ever tasted. The color is an intense golden-yellow and the attack of the aroma is of candied citrus, lime and honey. This wine has more citrus than the others but...
Leggi tutto
Domaine Ramonet

06/12/12
Redazione

Albert Grivault

01/14/16
Redazione

Domaine Henri Germain et Fils

11/14/12
Redazione

Vincent Dancer

10/25/18
Redazione

Jacques Prieur

01/03/13
Redazione

Domaine Matrot

06/12/12
Redazione

Pierre Morey

05/11/11
Redazione

Lucien Le Moine

04/03/13
Redazione

Domaine Roulot

10/01/11
Redazione

Domaine des Comtes Lafon

12/17/11
Redazione

Domaine Coche-Dury

04/04/11
Redazione