Meursault and its masterpieces (1)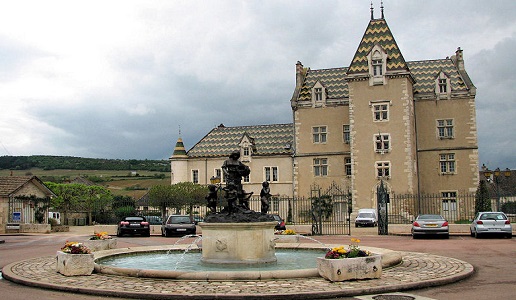 Here are some Premier Cru wines and others that are masterpieces hidden behind appellations that are interior to their real level of quality.
It is a profound and eternal mystery why there are no Grand Cru vineyards in Meursault. Some say it is because of geo-political reasons, others for tax purposes, but it remains difficult to understand considering that this area produces wines that rival the great ones of the Cote d'Or, also in regard to prices. Furthermore, Meursault has some of the greatest white winemakers in the world, something no one can deny.
What follows is a selection of the most important and moving wines that will leave any wine lover speechless and stunned, also in consideration of their prices on international markets.
We begin with a simple Lieu Dits (a geographic indication of the "place" the grapes came from) which is not classified as Premier Cru but is on a quality level of a Grand Cru.
Meursault Les Chevalières 2004 Coche Dury
Yet another masterpiece from the "Burgundy Einstein", as Robert Parker defined him. This is "only" a lieu dits, an appellation that is not Premier Cru but what a wine. It has an antique Burgundy style and is dense beginning with its bold, golden-yellow color, while the bouquet is extraordinarily fruity with notes of mango and citron along with a dusting of ginger. Elegantly pyric. The mouthfeel is broad, rich and not redundant despite an unusual density for a white.
Voto: 97/100
900 Euro
Meursault Les Narvaux 2005 Domaine D'Auvenay Leroy
Even in this case, the producer Madame Leroy made a true masterpiece. Pale golden color with still greenish hues. It bursts in a thousand aromatic profiles: citrus, passion fruit, white peach, hints of pastry cream. Austere on the palate, dense and incredibly long finish.
Voto: 97/100
1200 Euro
Meursault Goutte D'Or 1er Cru 2000 Comte Lafon
The master of Meursault immediately makes a statement with the wine's bold, golden color that at first glance promises great structure. And despite being almost-20-years-old, this wine has surprising integrity. The aroma is bold but not intense with notes of tropical fruit and some banana and mango to enrich the bouquet. The mouthfeel is soft and rich in texture all upheld by a great freshness. Bold.
Voto: 95/100
220 Euro
Meursault Genevrières 1er Cru 2008 Comte Lafon
A luminous, golden-yellow color with a surprising and distinct aroma of gorse on a background of medicinal herbs and notes of thyme and holly with a light, balsamic sensation of mint. The mouthfeel is austere yet elegant with saline and rounded sensations, almost an anthem for compulsive drinking.
Voto: 95/100
300 Euro
Meursault Charmes 1er Cru 2002 Domaine Comte Lafon
This is the boldest of Genevrières but no less elegant or balanced thanks also to a sensational harvest. It has an intense, golden-yellow color and wonderful scents of yellow fruit: peach and melon, mango and papaya. The mouthfeel is pure energy, a superb combination of strength and elegance.
Voto: 96/100
280 Euro
Meursault Genevrieres 1er Cru 2002 Coche Dury
Once again the "master genius" of Meursault delights us with this wine masterpiece. Its golden-yellow color is not excessively bold yet stands out with its power and youth. The aroma is decidedly balsamic and mineral and recalls a riptide as well as gunpowder. The aroma of cut flowers and fruit is only a garnish because the bouquet is dominated by notes of spice and leaves. The mouthfeel is wonderfully taut and dense, almost meaty.
Voto: 98/100
1400 Euro
Meursault Cailleret 1er Cru 2005 Coche Dury
One of my personal favorites. While not bold, the golden-yellow color is clear, luminous, extreme and bright. The bouquet is a kaleidoscope of thousands of nuances, never overpowering but significantly intense. The inebriating aromas are of Chantilly cream, curry and oriental spice with a light and exalting note of blond tobacco along with scents of wet fern and sand. The very fresh mouthfeel is invigorating despite its enormously complex structure. Unique elegance.
Voto: 98/100
1500 Euro
Related Products
Product
Producer
Date of publication
Author
Read
Les Chevalières 2004
Meursault
Domaine Coche-Dury
10/05/18
Vinogodi
Yet another masterpiece from the "Burgundy Einstein", as Robert Parker defined him. This is "only" a lieu dits, an appellation that is not Premier Cru but what a wine. It...
Leggi tutto
Les Narvaux 2005
Meursault
Domaine D'Auvenay Leroy
10/05/18
Vinogodi
Even in this case, the producer Madame Leroy made a true masterpiece. Pale golden color with still greenish hues. It bursts in a thousand aromatic profiles: citrus, passion fruit, white...
Leggi tutto
Goutte D'Or 2000
Meursault 1er Cru
Domaine des Comtes Lafon
10/05/18
Vinogodi
The master of Meursault immediately makes a statement with the wine's bold, golden color that at first glance promises great structure. And despite being almost-20-years-old, this wine has...
Leggi tutto
Genevrières 2008
Meursault 1er Cru
Domaine des Comtes Lafon
10/05/18
Vinogodi
A luminous, golden-yellow color with a surprising and distinct aroma of gorse on a background of medicinal herbs and notes of thyme and holly with a light, balsamic sensation of mint. The mouthfeel...
Leggi tutto
Charmes 2002
Meursault 1er Cru
Domaine des Comtes Lafon
10/05/18
Vinogodi
This is the boldest of Genevrières but no less elegant or balanced thanks also to a sensational harvest. It has an intense, golden-yellow color and wonderful scents of yellow fruit: peach and...
Leggi tutto
Genevrieres 2002
Meursault 1er Cru
Domaine Coche-Dury
10/05/18
Vinogodi
Once again the "master genius" of Meursault delights us with this wine masterpiece. Its golden-yellow color is not excessively bold yet stands out with its power and youth. The aroma is...
Leggi tutto
Cailleret 2005
Meursault 1er Cru
Domaine Coche-Dury
10/05/18
Vinogodi
One of my personal favorites. While not bold, the golden-yellow color is clear, luminous, extreme and bright. The bouquet is a kaleidoscope of thousands of nuances, never overpowering but...
Leggi tutto
Domaine Coche-Dury

04/04/11
Redazione

Domaine des Comtes Lafon

12/17/11
Redazione

Domaine D'Auvenay Leroy

02/04/12
Redazione