Gevrey Chambertin and its Premier Cru wines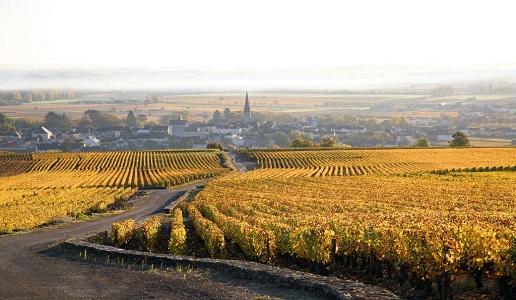 The very great Clos Saint Jacques was erroneously classified as "only" a 1er Cru vineyard and the same is true of Lavaux Saint Jacques.
Over 1,300 years have gone by since the monks at the Bèze Abbey planted the first vineyards in the area. Since then, Gevrey Chambertin has become perhaps the symbol of and the reference point for French and global winemaking.
The wines of Gevrey Chambertin have an extraordinary variability and thus it is difficult to draw up a classification of quality given that the variables constituted by the producer, parcel and year make it impossible to establish generic parameters.
Clos Saint Jacques was the victim of an historic error given that it was classified as a Premier Cru whereas in the hands of an inspired winemaker the cru is considered the third most important in Gevrey Chambertin after Chambertin and Chambertin Clos de Bèze. Its prices are also a confirmation of the high esteem it has on the market. But there is not just Clos Saint Jacques…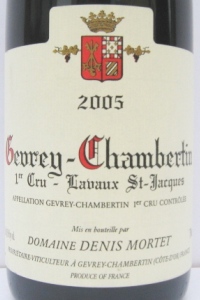 Gevrey Chambertin Lavaux Saint Jacques 1er Cru 2005 Denis Mortet
A lovely and lively red color with almost purples nuances and aromas that are delicately smoky, leaving room for those of exuberant fruit, vigorous underbrush, black cherry and currant. The pronounced mouthfeel is structured, taut and bold, decidedly broad and with very fine and dense tannins in the finish.
94/100
300 Euros
Gevrey Chambertin Lavaux Saint Jacques 1er Cru 2002 Bernard Dugat Py
An intense, unusual and only slightly transparent red color with a baroque bouquet of intense notes of wild red fruit, blueberry and raspberry, but also red plum. The mouthfeel is bold, virile, unusual for a Pinot Noir, with taut and thick tannins on an exemplary freshness. A disarming wine.
95/100
350 Euros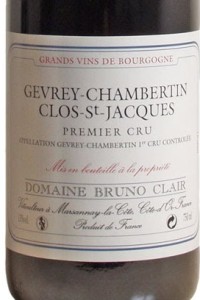 Gevrey Chambertin Clos Saint Jacques 1er Cru 2005 Bruno Clair
A very lively and luminous red-garnet color and a bouquet with distinct notes of wood on a background of currant and raspberry, crushed rose and sweet tobacco. The mouthfeel is saline and fresh with silky and fine tannins.
94/100
350 Euros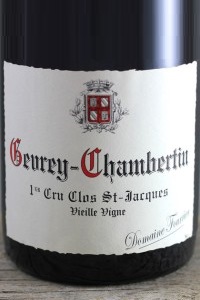 Gevrey Chambertin Clos Saint Jacques 1er Cru 2006 Domaine Fourrier
A relatively clear and lively red color and an aroma that offers its best with intense and very classic sensations of wild berries, raspberry, currant and wild strawberry, even in jam form. The truly rich mouthfeel has a fine tannic structure, thick but not bothersome, in fact, extremely electrifying uniting a lively acidity with a significant density.
96/100
500 Euros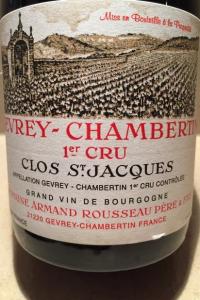 Gevrey Chambertin Clos Saint Jacques 1er Cru 2007 Domaine Rousseau
One of Burgundy's greatest wines. The color is relatively intense, a clear, luminous red, rich in reflections and transparencies. The bouquet is a true kaleidoscope of aromas, intense as a great Chardonnay, vertical as only a great Pinot Noir can be. There are notes of raspberry yogurt, wild berry jam and black cherry and everything embellished by a suffused balsamic note. The mouthfeel is majestic thanks to it vigor and pleasing drinkability and its endless aftertaste.
97/100
700 Euros
Related Products
Product
Producer
Date of publication
Author
Read
Gevrey Chambertin Lavaux Saint Jacques 1er Cru 2005
_
Domaine Denis Mortet
11/16/18
Vinogodi
A lovely and lively red color with almost purples nuances and aromas that are delicately smoky, leaving room for those of exuberant fruit, vigorous underbrush, black cherry and currant. The...
Leggi tutto
Gevrey Chambertin Lavaux Saint Jacques 1er Cru 2002

Domaine Bernard Dugat-Py
11/16/18
Vinogodi
An intense, unusual and only slightly transparent red color with a baroque bouquet of intense notes of wild red fruit, blueberry and raspberry, but also red plum. The mouthfeel is bold, virile,...
Leggi tutto
Gevrey Chambertin Clos Saint Jacques 1er Cru 2005

Domaine Bruno Clair
11/16/18
Vinogodi
A very lively and luminous red-garnet color and a bouquet with distinct notes of wood on a background of currant and raspberry, crushed rose and sweet tobacco. The mouthfeel is saline and fresh with...
Leggi tutto
Gevrey Chambertin Clos Saint Jacques 1er Cru 2006

Domaine Fourrier
11/15/18
Vinogodi
A relatively clear and lively red color and an aroma that offers its best with intense and very classic sensations of wild berries, raspberry, currant and wild strawberry, even in jam form. The truly...
Leggi tutto
Gevrey Chambertin Clos Saint Jacques 1er Cru 2007

Armand Rousseau
11/16/18
Vinogodi
One of Burgundy's greatest wines. The color is relatively intense, a clear, luminous red, rich in reflections and transparencies. The bouquet is a true kaleidoscope of aromas, intense as a...
Leggi tutto
Domaine Denis Mortet

02/24/12
Redazione

Domaine Bernard Dugat-Py

06/08/12
Redazione

Domaine Bruno Clair

06/13/12
Redazione

Domaine Fourrier

06/08/12
Redazione

Armand Rousseau

10/27/15
Redazione