Chassagne and Puligny, the Premiers and more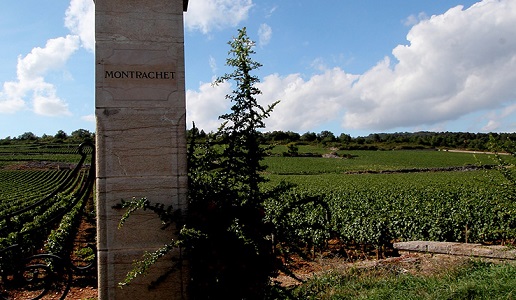 There are exceptions even in this area where it is difficult to rival the Grande Crus. Here they are.
I feel somewhat embarrassed because it is difficult to find exceptions in this area that is universally recognized Chardonnay's elective homeland and where there are unmatchable levels of quality. I am referring to the "Divine Hill" of Montrachet and its Grand Cru vassals (Chevalieres, Batard, Bievenues Batard and Criots Batard). The mix of terroir, cultures, craftsmanship and microclimates produce results that cannot be imitated elsewhere.
To have access to the great Burgundy wines is like being a kid in a fantastic candy store and the unexpected opportunity and desire to try everything prevails over seeking to make a rational analysis of quality. For me, the Divine Hill of Montrachet is one of the few axioms of quality that I know in the world. And yet even in this case, the variables can be many, from the weather to the individual (and decisive) skill of the winemaker. Here as nowhere else the classification is so strict, with the exception of Meursault, which we will deal with on a separate occasion.
However, there are cases in the area where the quality of some Premiers or simple Villages, in the hands of inspired producers, come close to the quality of the Grand Crus… the minor ones that is.
Chassagne Montrachet Monopole 1er Cru Clos de Murées 2002 Domaine Fontaine-Gagnard
An extraordinary year for this Monopole that has a bold, golden-yellow color. The aromas are mature but not over-the-hill with distinct notes of ripe fruit, white peach and melon, a coquettish and original nuance of coffee. The broad mouthfeel is solemn and soft yet maintains a vivacious acidity. A wine that has fully come of age.
92/100
100 Euro
Puligny Montrachet 1er Cru Les Perrières 2008 Etienne Sauzet
A pale, golden-yellow color and graceful scents of citrus and wild flowers with a light, balsamic streak. The mouthfeel is taut and balanced with extreme elegance and finesse.
93/100
150 Euro
Chassagne Montrachet 1er Cru Les Caillerets 2007 Domaine Ramonet
At 11 years old, this wine solemnly demonstrates it propensity to age. The color is a very clear yellow with green reflections and the aroma Renetta apple blends in with a bouquet of cut flowers and notes of yellow plum and a hint of ginger. The mouthfeel is full and fresh and has great impact.
94/100
180 Euro
Puligny Montrachet 1er Cru Les Pucelles 2008 Domaine Leflaive
A pale, canary-yellow color and an unusually bold and impressive aroma with notes of flint, white chocolate and lime. The mouthfeel is taut yet solemn, bold and surprisingly broad for a white wine with a very long persistence.
95/100
250 Euro
Puligny Montrachet 1er Cru Les Folatières 2014 Domaine Leflaive
The pale, canary-yellow color is in contrast with an unexpectedly intense and balsamic aroma with notes of citron and yellow plum. The mouthfeel has extreme acidic tension and brazen youth that astounds you with its expressive boldness. Although solid, the freshness makes this an extremely enjoyable drop with an amazing and kilometric persistence.
95/100
250 Euro
Puligny Montrachet 1er Cru Les Folatières 2004 Domaine D'Auvenay Leroy
Monumental beginning with its intense and extraordinarily luminous golden-yellow color. The bouquet is of incense and medicinal herbs, thyme, marjoram and basil. The solemn mouthfeel is exceptionally bold with an endless persistence, one of the most amazing whites around.
98/100
1800 Euro
Bourgogne Blanc 2002 Domaine Comte Georges de Vogüé
This is not a Premier Cru but is another classic example of a wine that absolutely does not correspond to its classification, which here is the generic Régionale. In reality, this is a Musigny Blanc made by a master of Meursault with grapes from vines that are considered to be too young to qualify for the prestigious appellation. The color is a bold, golden-yellow and the aroma is already strong and consistent. The formidable mouthfeel is soft and pasty and very original.
96/100
400 Euro
Puligny Montrachet Les Enseigneres 2004 Domaine Coche Dury
Again this is not a Premier but a simple Lieu Dit from one of the world's top, if not the greatest and inspired craftsmen of white wine in existence. The yellow color still has green reflections and the intensity and variety of the aroma is almost penetrating with notes of gunpowder, graphite and turmeric. The mouthfeel surpasses any concept of saturation as it attacks the palate and does not let for minutes on end.
97/100
800 Euro
Related Products
Product
Producer
Date of publication
Author
Read
Clos de Murées 2002
Chassagne Montrachet Monopole 1er Cru
Domaine Fontaine-Gagnard
09/28/18
Vinogodi
An extraordinary year for this Monopole that has a bold, golden-yellow color. The aromas are mature but not over-the-hill with distinct notes of ripe fruit, white peach and melon, a coquettish and...
Leggi tutto
Les Perrières 2008
Puligny-Montrachet 1er Cru
Etienne Sauzet
09/28/18
Vinogodi

A pale, golden-yellow color and graceful scents of citrus and wild flowers with a light, balsamic streak. The mouthfeel is taut and balanced with extreme elegance and finesse.

Les Caillerets 2007
Chassagne Montrachet 1er Cru
Domaine Ramonet
09/28/18
Vinogodi
At 11 years old, this wine solemnly demonstrates it propensity to age. The color is a very clear yellow with green reflections and the aroma Renetta apple blends in with a bouquet of cut flowers and...
Leggi tutto
Les Pucelles 2008
Puligny-Montrachet 1er Cru
Domaine Leflaive
09/28/18
Vinogodi
A pale, canary-yellow color and an unusually bold and impressive aroma with notes of flint, white chocolate and lime. The mouthfeel is taut yet solemn, bold and surprisingly broad for a white wine...
Leggi tutto
Les Folatières 2014
Puligny-Montrachet 1er Cru
Domaine Leflaive
09/28/18
Vinogodi
The pale, canary-yellow color is in contrast with an unexpectedly intense and balsamic aroma with notes of citron and yellow plum. The mouthfeel has extreme acidic tension and brazen youth that...
Leggi tutto
Les Enseigneres 2004
Puligny-Montrachet
Domaine Coche-Dury
09/28/18
Vinogodi
Again this is not a Premier but a simple Lieu Dit from one of the world's top, if not the greatest and inspired craftsmen of white wine in existence. The yellow color still has green...
Leggi tutto
Bourgogne Blanc 2002

Domaine Comte Georges de Vogüé
09/28/18
Vinogodi
This is not a Premier Cru but is another classic example of a wine that absolutely does not correspond to its classification, which here is the generic Régionale. In reality, this is a...
Leggi tutto
Les Folatières 2004
Puligny-Montrachet 1er Cru
Domaine D'Auvenay Leroy
09/28/18
Vinogodi
Monumental beginning with its intense and extraordinarily luminous golden-yellow color. The bouquet is of incense and medicinal herbs, thyme, marjoram and basil. The solemn mouthfeel is exceptionally...
Leggi tutto
Domaine Fontaine-Gagnard

01/03/13
Redazione

Etienne Sauzet

10/24/12
Redazione

Domaine Ramonet

06/12/12
Redazione

Domaine D'Auvenay Leroy

02/04/12
Redazione

Domaine Leflaive

10/24/12
Redazione

Domaine Comte Georges de Vogüé

02/25/12
Redazione

Domaine Coche-Dury

04/04/11
Redazione