Chambolle Musigny: Les Amoureuses plus a couple of intruders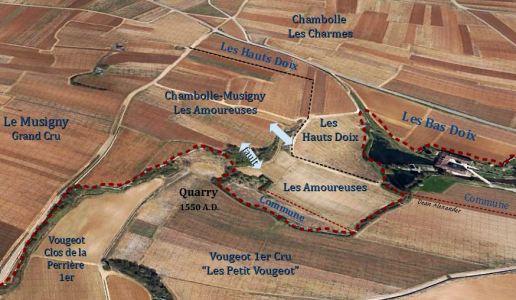 One of history's the most clamorous errors was the classification of the Les Amoureuses in Chambolle Musigny as a Premier Cru.
When it comes to Chambolle Musigny wines what immediately comes to mind is Les Amoureuses, a masterpiece that is probably one of the most exciting versions of Pinot Noir in all of Burgundy. And one of the most clamorous errors in history was its classification as only a Premier Cru.
While this area is dominated by lord Musigny, Amoureuses is right up there with it in regard to fame and the pleasure it gives even if they have decidedly different characteristics. Les Amoureuses is next to Musigny, separated by a road, and its grapes reflect the character of its illustrious neighbor, even if they do not have the same boldness. The vineyard is around 5.5 hectares in size and has a consistent brown earth soil rich in gravel. The pitch of Les Amoureuses is stepped and most of it has a southeast exposure allowing for abundant sun during the day with some parts protected from the hot afternoon sun. The name is already intriguing and it sums up the originality of the wine. Like everyclimat in Burgundy, the vineyard is split up into small parcels owned by different estates.
Together with our panorama of Les Amoureuses wines we have included to Premier Cru wines that have always intrigued me, where the "hand of the winemaker" has produced extraordinary results.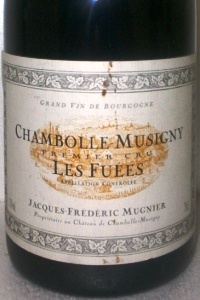 Chambolle Musigny 1er Cru Les Fuees 2008 Mugnier
A very clear, seemingly diluted red color that in reality has an amazing sensorial density. The aromas are untamed, very assorted with a strong presence of currant and fine spices and hints of licorice and tobacco. The mouthfeel is agile but not commonplace, almost cuttingly fresh yet very expressive.
94/100
€ 200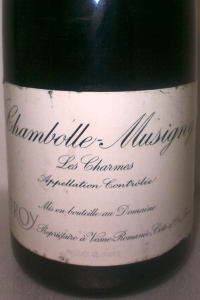 Chambolle Musigny 1er Cru Les Charmes 2001 Domaine Leroy
The red color is so clear it almost seems like a rosé with its onion-skin color. The bouquet is an explosion of iodine and balsamic sensations, incense and ginger, turmeric and curry, all with a dazzling intensity. The mouthfeel is also intense, extraordinarily fresh on an artistic background of unique sensations. The hand of Madame is evident, as is the persistence even after the glass is empty.
97/100
€ 1.800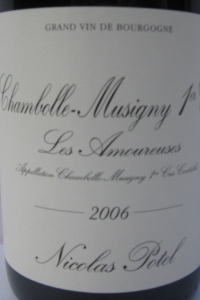 Chambolle Musigny 1er Cru Les Amoureuses 2006 Nicolas Potel
A pale, thin red color with a fine and feminine aroma that has lovely spice and balsamic notes, scents of delicate red fruits that are as assorted as only this cru can express. The silky mouthfeel is almost graceful in structure yet with a solid tannic-acidic balance and a long and satisfying finish.
94/100
€ 200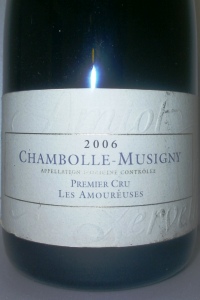 Chambolle Musigny 1er Cru Les Amoureuses 2006 Amiot Servelle
A translucent, red color with light hues of purple. The aroma is inebriating, light yet extraordinarily complex with a hint of horseradish overpowered by notes of wild strawberry and black cherry juice. The mouthfeel has an exemplary delicateness and is fresh and lively, succulent yet seraphic with its almost perfect balance. One of the most delicate and elegant Pinot Noir around.
94/100
€ 250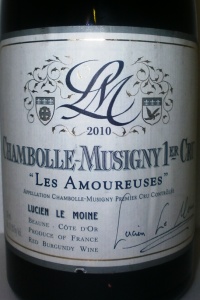 Chambolle Musigny 1er Cru Les Amoureuses 2010 Lucien Le Moine
A clear red color with distinct reflections. The bouquet is still very primal and fruity, explosive and strong spices with wonderful aromatic definition. The mouthfeel is anything but lithe and this extraordinary harvest added abundant acidity and purity. Everything is perfectly in place and the wine has decades ahead if it.
95/100
€ 400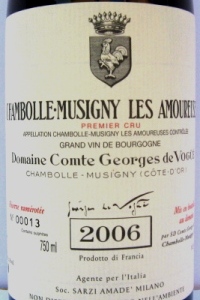 Chambolle Musigny 1er Cru Les Amoureuses 2006 Comte Georges de Vogüé
The color is a clear but not very bright red and the aroma is an apotheosis of elegance with its distinct notes of raspberry, grandiose spices and hints of antique leather. The wine expresses a purity of aromas and a well-modeled texture that also express themselves in the mouthfeel, not compliant but extremely cerebral. A superbly conceived wine.
97/100
€ 650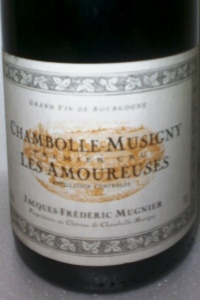 Chambolle Musigny 1er Cru Les Amoureuses 2008 Mugnier
A very refined, sensual and feminine wine with a clear, red color with bright reflections. The aroma is initially enigmatic and wild to then expand in a seraphic way in trickles of incense and oriental spice, red berries and underbrush. The mouthfeel at first seems lithe but then the fine tannins, delicate acidity and the harmony of elements make this a small, hedonistic masterpiece.
97/100
€ 1200
Chambolle Musigny 1er Cru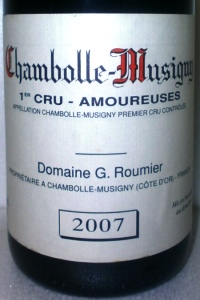 Domaine G.Roumier
Another masterpiece, one of the best interpretations of this "classic" Burgundy vintage. The color is a traditional red but what amazes is what the bouquet is able to capture: very intense aromas, unique notes of spice, poetic sensations of strawberry and raspberry, without ever lingering on the fruit but expressing a variety of floral scents as few Pinot Noir can. The mouthfeel is broad, caressing and silky, a precious drape… as is the price.
98/100
€ 2.500
Related Products
Product
Producer
Date of publication
Author
Read
Les Fuees 2008
Chambolle Musigny 1er Cru
Jacques-Frédéric Mugnier
11/29/18
Vinogodi
A very clear, seemingly diluted red color that in reality has an amazing sensorial density. The aromas are untamed, very assorted with a strong presence of currant and fine spices and hints of...
Leggi tutto
Les Charmes 2001
Chambolle Musigny 1er Cru
Domaine D'Auvenay Leroy
11/29/18
Vinogodi
The red color is so clear it almost seems like a rosé with its onion-skin color. The bouquet is an explosion of iodine and balsamic sensations, incense and ginger, turmeric and curry, all with...
Leggi tutto
Les Amoureuses 2006
Chambolle Musigny 1er Cru
Nicolas Potel
11/29/18
Vinogodi
A pale, thin red color with a fine and feminine aroma that has lovely spice and balsamic notes, scents of delicate red fruits that are as assorted as only this cru can express. The silky mouthfeel is...
Leggi tutto
Les Amoureuses 2006
Chambolle Musigny 1er Cru
Amiot Servelle
11/29/18
Vinogodi
A translucent, red color with light hues of purple. The aroma is inebriating, light yet extraordinarily complex with a hint of horseradish overpowered by notes of wild strawberry and black cherry...
Leggi tutto
Les Amoureuses 2010
Chambolle Musigny 1er Cru
Lucien Le Moine
11/29/18
Vinogodi
A clear red color with distinct reflections. The bouquet is still very primal and fruity, explosive and strong spices with wonderful aromatic definition. The mouthfeel is anything but lithe and this...
Leggi tutto
Les Amoureuses 2006
Chambolle Musigny 1er Cru
Domaine Comte Georges de Vogüé
11/30/18
Vinogodi
The color is a clear but not very bright red and the aroma is an apotheosis of elegance with its distinct notes of raspberry, grandiose spices and hints of antique leather. The wine expresses a...
Leggi tutto
Les Amoureuses 2008
Chambolle Musigny 1er Cru
Jacques-Frédéric Mugnier
11/29/18
Vinogodi
A very refined, sensual and feminine wine with a clear, red color with bright reflections. The aroma is initially enigmatic and wild to then expand in a seraphic way in trickles of incense and...
Leggi tutto
Les Amoureuses 2007
Chambolle Musigny 1er Cru
Domaine Georges Roumier
11/30/18
Vinogodi
Another masterpiece, one of the best interpretations of this "classic" Burgundy vintage. The color is a traditional red but what amazes is what the bouquet is able to capture: very...
Leggi tutto
Jacques-Frédéric Mugnier

02/25/12
Redazione

Domaine D'Auvenay Leroy

02/04/12
Redazione

Nicolas Potel

02/24/12
Redazione

Amiot Servelle

04/03/13
Redazione

Lucien Le Moine

04/03/13
Redazione

Domaine Comte Georges de Vogüé

02/25/12
Redazione

Domaine Georges Roumier

02/25/12
Redazione