A trio of Langhe wonders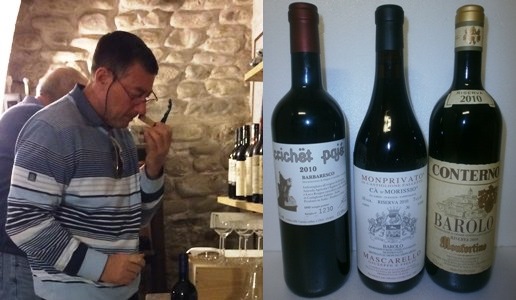 A tribute to vintage 2010 from three "titans": Barolo Riserva Cà'D'Morissio Giuseppe Mascarello; Barolo Riserva Monfortino Giacomo Conterno; and Barbaresco Riserva Crichët Pajé Roagna I Paglieri.
A few years ago we compared three Langhe champions (Barolo Riserva Cà'D'Morissio, Giuseppe Mascarello; Barolo Riserva Monfortino Giacomo Conterno; and Barbaresco Riserva Crichët Pajé Roagna I Paglieri) all vintage 2006 which was an exceptional year in the Langhe. We now repeat this comparison with an equally exceptional year, 2010, a truly hyperbole sensorial vintage.
The Monfortino was reviewed in our Essential Guide to Italian Wine 2018 and the Cà'D'Morissio in the 2019 edition, while the Crichët Pajé is a preview from numerous tastings and it will appear in the 2020 edition of the DoctorWine guide.
We opened these bottles with great joy because these wines are authentic and rarely repeatable experiences. Idolized abroad (where most of the production of these three wines ends up), the wines have rightfully reached the price level of the great international wines.
I consider these three wines to be absolute, great expressions of winemaking and not only in Italy. They are connected by a fils rouge of extraordinary detail, a hard-to-match complexity and a lifespan that still has to be discovered (with the exception of the Monfortino that is approaching its first century and recent tastings of the first vintages, 1926 and 1937, were astounding for the wines' elegance and integrity).
We repeated this latest tasting the following the day after as well to ascertain the effect adequate breathing had.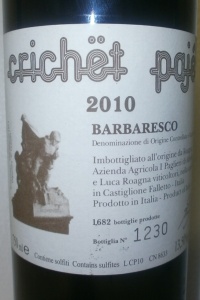 Barbaresco Crichët Pajé 2010 Roagna
An incredible and very rare wine, produced with grapes from a vineyard less than half a hectare in size situated in the Pajé amphitheater in Barbaresco. Only a few rows of vines in the highest area that has the best exposure and perfect drainage. The old vines are tended with maniacal care and the winemaking process involves long maceration. The vineyard was acquired in the mid-1950s with the first winemaking experiences taking place in 1958 by that incredible vigneron of father Roagna. The first vintage was 1978, which I have never had the fortune to taste. The first vintage I did taste was 1979 and I still have a bottle: a double magnum and a half (3.8 liters).
Vintage 2010 has just been bottled, after maturing in barrels for over seven years. This evaluation takes into account that the wine still needs to stabilize a bit in the bottle and the definitive one will be made after another tasting in June for the DoctorWine's Essential Guide. But already now this wine is outstanding!
The color is a relatively intense red and the aromas are initially compressed before they open into an incredible fan of floral notes and the typical one of crushed rose becomes complex with a distinct balsamic sensation while the scents of spice and medicinal herbs are almost redundant. The mouthfeel has great mass and consistency, with its hypertrophic components decidedly still needing to strike a balance, while the tannins have a rare thickness. A colossal winenot so much for its extracts as much as its violent organoleptic punch. This has an eternal propensity to age and so, despite my tender age, I will never be able to taste this when it reaches its peak (in at least 40-50 years).
(The rating refers to the wine as it is now but I think it will receive top marks after it stabilizes for a few months).
98++/100
€ 800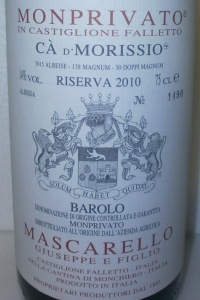 Barolo Monprivato Cà d'Morissio Riserva 2010 Giuseppe Mascarello
An epic wine given its structure, enormous expressive force and complexity. Made from only Nebbiolo grapes of the Michet variety, this is the result of a project begun back in 1993 and it is considered one of the greats in Italian and world winemaking.
The relatively concentrated red color has some garnet notes with splendid tenuous and graceful reflections but this can be deceiving. The bouquet is explosive with surprising intensity and detail. An extremely varied array with a stratification that is difficult to find elsewhere, making this perhaps the best vintage in its brief history. The scents of wild berry gelatin embellish a diversified mosaic of floral scents and those of oriental spice, with notes of incense and wild mint pursuing each other. The mouthfeel, while decidedly austere and pronounced, does not give the impression of a bold structure, bestowing thick yet silky tannins and an infinite persistence. A small masterpiece of winemakingwith an amazing aftertaste that will leave you thunderstruck.
99/100
€ 700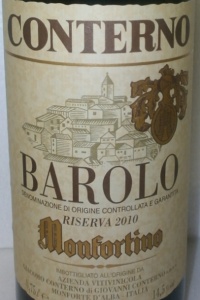 Barolo Monfortino Riserva 2010 Giacomo Conterno
One of the greatest Monfortino in history. Only time (and much of it) will determine how high it will climb in this behemoth's almost century-old history quality scale.
The wine has a lovely and gentle visual impact with its twilight colors that almost seem an ode to Nebbiolo. The aromas are incredibly intense and varied, rose and wisteria, wild strawberry and raspberry, autumn underbrush and scents of the moor with a spellbinding balsamic sensation. The mouthfeel is terribly austere and bold with an amazing length and persistence, very thick yet conciliatory tannins. A sensorial phenomenon.
100/100
€ 1200
Related Products
Product
Producer
Date of publication
Author
Read
Crichët Pajé 2010
Barbaresco
Roagna I Paglieri
01/29/19
Vinogodi

Monprivato Cà d'Morissio Riserva 2010
Barolo
Giuseppe Mascarello e Figlio
01/29/19
Vinogodi

Monfortino Riserva 2010
Barolo
Giacomo Conterno
01/29/19
Vinogodi
One of the greatest Monfortino in history. Only time (and much of it) will determine how high it will climb in this behemoth's almost century-old history quality scale. The wine has a lovely...
Leggi tutto
Roagna I Paglieri

03/31/11
Redazione
The wines from this estate are some of the most convincing in the Langhe, cru produced in small quantities with maniacal care. Again this year Luca Roagna has been able to amaze us with a series of...
Leggi tutto
Giuseppe Mascarello e Figlio

04/17/14
Redazione

Giacomo Conterno

04/04/11
Redazione
The wines or Roberto Conterno are sought after almost as if they were religious relics. They only reach the market if they have the high quality the estate is recognized for and that consistently...
Leggi tutto
Related Articles