Patricia Guy's Diary August 2019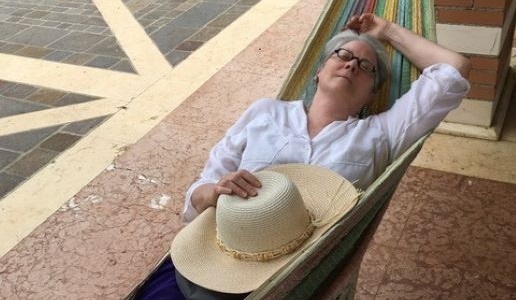 Here is the diary of the sunny month of August of our English friend and journalist Patricia Guy.
Verona in August has experienced an unprecedented heat wave. As every wine taster knows, drinking wine in extreme heat is never a wise decision. So, I only tasted on cool days, of which there were few..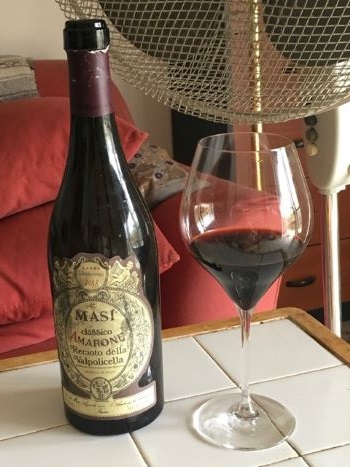 23 August: Cooling Rain is forecast
We opened a bottle of Masi Amarone della Valpolicella Classico 1988 – an exceptional vintage. Yes, 31 years old. I opened it thinking that it might not have maintained its promise after being stored in our wine closet. But at first sniff it was clear that the wine was still exciting.
Tasting Note: Deep dark ruby with a pale brownish sheen. On the nose I found shades of prune fruit melded with tertiary aromas reminiscent of walnuts, soft leather and rust. The palate was clean and firm. There was a fine and satisfying integration of flavours. The finish: long and pleasant. After 15 minutes in the glass the fragrance and flavour remain firm.
Those who know me are aware of the fact that I appreciate older vintages. This is no doubt a holdover from my early experience as a Bordeaux broker in London, many years ago. I love the sensations on the palate of an older vintage. You can feel its evolution with each sip. You can feel it unravelling on the palate: a bittersweet sensation that is both fascinating and melancholy.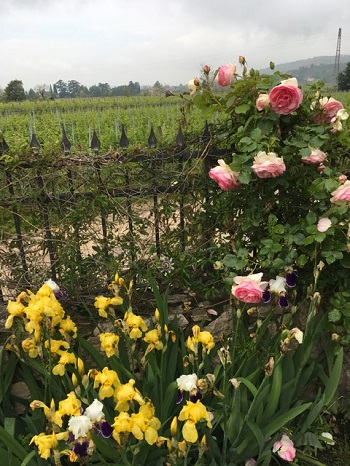 19 August: Another coolish day. This time a Valpolicella
Valentina Cubi's Iperico Valpolicella 2017 (organic). A vibrant dark ruby. On the nose are notes of prunes and plums that carry on to the palate. A dusting of freshly ground black pepper. Longish fruit-filled finish.
I drink a glass of it with a dinner of grilled turkey breast and pasta dressed with steamed spinach and peas. Later I had another glass with an episode of Glow on Netflix. Two days before, when I opened the bottle, Michael and I had a glass with Kale Fribble, made from a recipe found in Bert Greene's wonderful book Greene on Greens. I had never seen or heard the word "fribble" before I opened this book. It means a crustless pie. This versatile and elegantly fruity wine went down a treat with this fribble. Who knew? Valpolicella and Kale!
8 August: A brief cool spell with Valentina Cubi
The unprecedented heat broke for a while, so I opened Valentina Cubi's Valpolicella Classico Superiore 2016 to have with a dinner of cheeseburgers. Bright dark ruby color. The warm ripe cherry fruit on the nose follows through on to the velvety palate. Enveloping and satisfying. Its organic, by the way. The quality of the wine almost makes me wish I had the energy to make something a bit more important sounding than cheeseburgers. A succulent T-bone, perhaps?
Above you will find a photo of the view from Valentina's garden.
5 August: Down the Rabbit Hole
A man who used to work with wineries called and invited us to meet a young producer in the Valpolicella zone. I am always happy to try the wines of up and coming producers. We arrive at our inviter's house in Valpolicella at around 10:30. Time passes in his nice little garden. Soon it is closing in on noon and we still have not gone to the producer's winery. Our host calls some friends – a nice couple who are having a day off work – to come over. They do and, after more chat, we head off for lunch. The producer shows up. We eat, then set off. We wander around the producer's backyard and look at the vineyards. We go to his tiny ageing cellar and more conversation about this and that ensues.
Finally, I can stand it no longer and say: I would really like to taste your wines now. The young producer looks relieved, the others clearly feel I have committed a social faux pas. We sit in his cool and tidy shop area. Our inviter drinks, while Michael and I taste. The inviter's pals are slightly aghast that Michael and I spit. Spitting, as professionals in the wine trade know, is a part of tasting. If tasters swallowed every drop of wine that passed their lips, they would be pie-eyed by teatime.
The producer is intelligent, and I look forward to tasting his wines again in a year or so.
English lesson: the expression "down the rabbit hole" is used to refer to a bizarre, confusing, or nonsensical situation or environment, typically one from which it is difficult to extricate oneself.
English lesson: Pie-eyed means extremely drunk. It traces its origins to around 1900 and is derived from the fixed, wide-eyed stare of drunks. ("They put him down at a Table and sat around him and inhaled the Scotch until they were all Pie-Eyed," George Ade, 1904)
On the ride home, our inviter invited us to return to his place the next evening for a rock concert to be held in a field.
"It's Valpolicella's answer to Woodstock," he crowed.
"Who will be performing?" asked Michael.
"Creedence Clearwater Revival!"
"Aren't they all dead?" asked Michael.
"One of the original band is still alive!"
"Which one?"
Just so you know, John Fogarty, at the time of this writing, is still alive and kicking.
We declined the invitation. Instead I dug out a Creedence Clearwater CD and danced around the living room to Green River, while Michael looked up obituaries.