Susumaniello and Tenute Rubino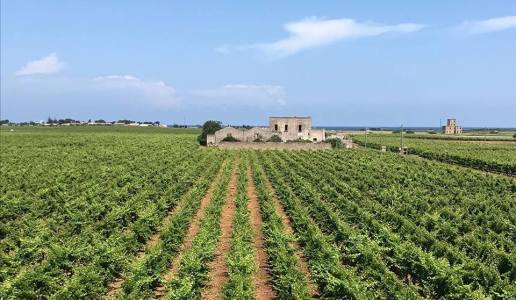 There are many native Italian varietals and they never cease to amaze. In the region of Puglia, the time has come for Susumaniello, which has successfully been cultivated in Salento by Tenute Rubino.
Susumaniello is a red grape native to the region of Puglia and it is experiencing a kind of renaissance and generating great interest, which is perfectly in line with that for the immense wealth of indigenous Italian grapes. The phenomenon is relatively recent and in regard to Susumaniello still quite limited in scope. The reasons for such interest in Susumaniello are quite easy to understand: it gives wine an intriguing, very dark and almost black color with bright reflections; it has well-ordered and fine tannins; a discreet yield per hectare; and it has a pleasing flavor.
The first estate to invest significantly in this varietal was Tenute Rubino in the province of Brindisi. Both Luigi Rubin and his wife Romina Leopardi know what they want and believe greatly in this project. Of the estate's 270 hectares of vineyards, in fact, 18 are currently cultivated with Susumaniello and this will soon be expanded to 24.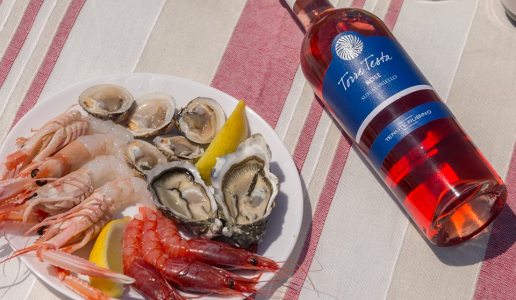 Both producers and agronomists know little about this grape. Its cultivation had long been abandoned, almost becoming extinct, then little by little interest was renewed in it. One of the reasons why it was abandoned may have been the short lifespan of the vines that made it uneconomical in the long term. Luigi hopes this will not be the case now.
Tenute Rubino has six farms spread out in the provinces of Brindisi, Lecce and Taranto which are also cultivated with Negroamaro and Primitivo as well as Minutolo, Bianco d'Alessano and Ottavianello.
During my recent visit to Tenute Rubino I stopped at the seaside estates in the province of Brindisi: Jaddico and Giancòla. They both have enchanting, very ordered vineyards set between the Adriatic Sea and the Lecce-Bari motorway. The vineyards are spalliera-trained, cordon-spur pruned with relatively young and alternating vines of the leading, native Puglia varietals. Every here and there you can find plots of international or French varietals but they are proportionally few.
The estate moves forwards but does so cautiously, step-by-step with no rush and before setting new goals they make sure they have consolidated the previous ones. Even the winery, already very large, continues to expand to make room for new, stainless steel vats that are temperature controlled and will be used to hold the wines from new vineyards. Little by little, they have increased production to over 1.5 million bottles without any exhausting efforts, aside from those of the skilled, charming and reserved Luigi Petrelli, an experienced enologist of few words who during harvest gives his all.
Susumaniello is very versatile and can be used to make red and rosé wines as well as a traditional method sparkling rosé. Much remains to be done with the latter wine for which they have had little experience, having worked with only five harvests so far. Nevertheless, the first results have been discreet and they still have to decide whether the direction they have taken is the right one and whether they should continue along that path or not. I was able to taste three different traditional method bubblies - 24, 36 and 60 months on the lees – and found them to be very different from each other and it was too early to tell which was the best and why. The red and rosé wines were a different story with the potential of the varietal immediately distinct. The reds benefitted from maturing in barriques without being distorted by the wood, while the rosé brought out the varietal's great personality and class having fermented and matured in stainless steel.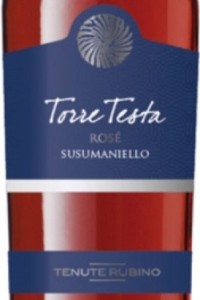 Torre Testa Rosé Salento Igt 2017
100% Susumaniello fermented under controlled temperatures in stainless steel, matured for five months in stainless steel and then aged for a couple of months in the bottle. The wine has a beautiful pink color that is not too pale, a classic southern Italian rosé and not the pale kind typical of Provence. The intense aroma has scents of raspberry and grassy notes as well as an intriguing brackish one. The mouthfeel is salty, direct and fresh with a nice complexity and consistency with the aroma. A pleasure to drink.
Bottles produced: 10,000.
88/100
12.00 euros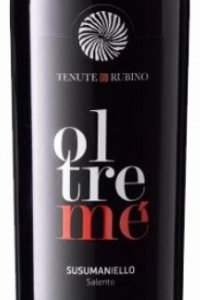 Oltremè Salento Igt 2017
100% Susumaniello fermented under controlled temperatures in stainless steel, matured for 10 months in stainless steel and aged for at least two months in the bottle. This has a very lovely, almost black and impenetrable color with bright reflections. The bouquet has scents of cherry and raspberry that are not too ripe while the mouthfeel is discretely consistent, a little too light and meager but overall a good and pleasing drop.
Bottles produced: 80,000.
84/100
10.00 euros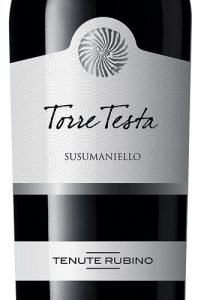 Torre Testa Salento Igt 2016
100% Susumaniello fermented under controlled temperatures in stainless steel, malolactic fermentation also in stainless steel. After maturing for six months, the wine matures a further 12 months in new French barriques and then ages in the bottle for 12 months before going to market. The black color is almost impenetrable and has bright reflections, while the strong aroma has notes of ripe, dark fruit and cherry preserved in alcohol. The wood is not invasive and even the tannins are gentle. The mouthfeel is consistent, mature and fresh with a nice persistence and significant alcoholic content.
Bottles produced: 10,000
88/100
38.00 euros
At the end of the tasting, the very talented enologist surprised us with a very rare bottle, a Torre Testa 2001 that had aged for 17 years. The color had naturally faded and become brick-like and not everything was as it should be but there were no outstanding defects. The aroma still cut a fine figure with its scents of burnt wood and lively mentholated whiffs. This only confirmed that Susumaniello is a grape not to be underestimated and if it is worked well in both the vineyard and the winery it can produce some very respectable results, even over the years.
Related Products