Great success for Best Wine Stars 2022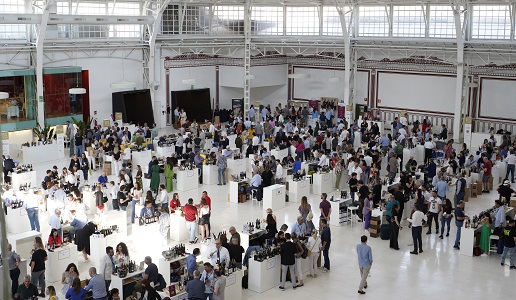 More than 2,000 labels, including wine, champagne and spirits enlivened Ice Palace. More than 20,000 tastings conducted.
The third edition of Best Wine Stars, which welcomed Italian and foreign companies and received great attention and interest from more than 3500 visitors, who actively participated in the event, has come to an end. The event gave participating companies the opportunity to get in touch with 1750 industry professionals, such as press, distributors, restaurateurs, wine merchants, buyers, but also with many wine lovers, increasing admissions by 40 percent compared to 2019.
The intent of Best Wine Stars is to enhance innovation but also celebrate the tradition and historicity of each participating winery. Precisely for this reason, Sunday opened with the Best Wine Stars Awards 2022. The awards ceremony was attended by sommelier and wine writer Adua Villa, who selected the winning wines for the Best Red, White, and Bubbly awards, and the Best Wine Stars Team, which selected the wineries for Best Logo and Best Label.
Best Red Wine was won by the Bulichella winery for its 2017 Coldipietrerosse label, a bright and intense ruby red wine. Albino Armani Viticoltori dal 1607 won Best White Wine with its Pinot Grigio Colle Ara 2021 label, a bright "rose gold" wine that opens with fruity notes of pomegranate and peach. Best Sparkling Wine was awarded to the Col Vetoraz winery for its Cuvee Ø label, a dry, velvety and round, fruity and floral wine.
Two wineries were also awarded prizes that amazed the jury for their communication and marketing work, making their mark for the creativity shown in their choice of branding. The Best Logo was won by Varani Spirit company whose name and image is inspired by Komodo Varanus, the largest living lizard, expressing uniqueness, power and exoticism. Palerna Di Biagioli Paola won the Best Label award for its Cospaia 1441 label named after a tiny independent republic, which was born due to a topographical error and evokes a symbol of freedom.
Finally, the Tenuta Sant'Antonio company was awarded the Landini Prize presented by Massimo Vegro, Area Sales Manager Argo Tractors.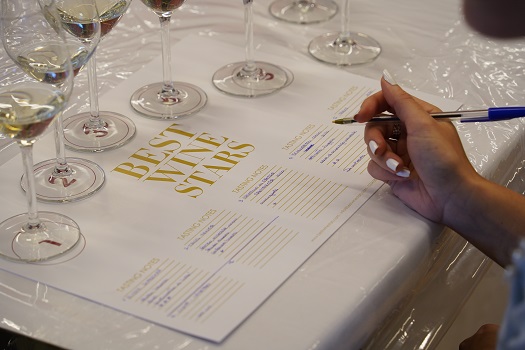 To enrich the already extensive program of the two days with in-depth moments, 12 Masterclasses were held inside the striking Sala Piranesi, overlooking the parterre, allowing participants to enrich their knowledge with respect to the latest market innovations. Chaired by Adua Villa with Livia Berardelli of DoctorWine, Valentina Vercelli of La Cucina Italiana, Francesco Quarna of Radio Deejay and Alberto Lupetti, journalist and champagne specialist, they presented historical production realities and new undiscovered talents such as: Abraxas, Alberto Massucco Champagne, Ba&co, Cà du Ferrà Wine & Tasting, Cantina Mingazzini, Cantina Moscone, Cantina Numa, Cantine Serio, Casa Vinicola Fazio, Casalis Douhet, Cesarini Sforza, Conte Leopardi Dittajuti, La Masseria di Sessa, LETERRE, Marisa Cuomo, Pinot Bianco Network in Collio, Sensi 1890, Tenute d'Italia, Tenute San Giovanni, Tenute Tomasella, Terre de Trinci, Valdo Spumanti and Vinicola Sacro Cuore.
The entire organization was highly appreciated, starting with the choice of the location of Palazzo del Ghiaccio, which, with a total area of more than 5,000 square meters, made it possible to create an elegant, unique environment conducive to interaction among all those present.
Since this year Best Wine Stars has also opened its doors to spirits and food companies, arriving to host 250 realities, more than double the previous edition, from all over Italy and other countries such as Slovenia, Croatia, Serbia, Romania, France and Tasmania, with more than 2000 labels for tasting and selected high quality food and wine products.
Enzo Carbone, Founder of Prodes Italia, the organizing company of Best Wine Stars, comments on the event as follows, "The goal of the event, that is, to create a connection between the dynamic and international reality of Milan, and the hundreds of small and large companies that we had the honor of hosting, was achieved. After more than two years of waiting, due to the health emergency, we finally managed, with commitment and passion to relive this exciting and magical experience. The long wait was repaid, meeting the high expectations we had set for ourselves, with great success and enthusiasm from everyone."
The organization of Best Wine Stars is already ready to start again in view of the fourth edition scheduled for May 2023, with the aim of presenting to the public a selection of excellent realities of the Italian territory and beyond, highly qualified, attentive to research and innovation.
List of participants: Abraxas, Agriarquata Soc. Coop. Agricola, Agricola Dellavalle, Alberto Massucco Champagne, Albinea Canali, Albino Armani Viticoltori dal 1607, Alessio Brusadin "Invasi dal Gusto", Argentaia, Assuli, Az. Agr. La Palerna di Paola Biagioli, Az. Agr. Sartieri 1931 di Saviotti Enrica, Az. Agricola Il sapore della luna srl, Az. Agricola La Leccetella sarl, Az. Agricola Cameli Irene, Azienda Agricola Caudrina di Romano Dogliotti, Azienda Agricola Alciati, Azienda Agricola Alessandro Bortolin, Azienda Agricola Barbialla Srl Soc. Agricola, Azienda Agricola Bellia Ennio, Azienda Agricola Biasiotto S.Ag.S., Azienda Agricola Bolzicco Fausta, Azienda Agricola Cariello Vincenzo, Azienda Agricola Cinzia Bergaglio, Azienda Agricola Cottini Marco, Azienda Agricola Daniele Ronco, Azienda Agricola Giovanni Battista Mesina, Azienda Agricola L'Essenza di Puglia, Azienda Agricola La Caneva di Giancarlo, Azienda Agricola La Lama, Azienda Agricola La Mirandola, Azienda Agricola Purovino, Azienda Agricola Rabino Marco, Azienda Agricola Ruffano Ischia, Azienda Agricola Serra Domenico, Azienda Agricola Vietto, Azienda Agricola Vigna Maurisi, Azienda Candido, Azienda Vinicola Rolfo, Ba&Co s.r.l., Baccichetto Umberto, Bentu, Bival Azienda Agricola, Bjana, Borgoverde, Soc Agricola, Bucovaz, Bulichella, Cà du Ferrà Wine & Tasting, Ca' di Prade, Cantina Bacelli, Cantina Biagiotti Luca, Cantina Bravin, Cantina Canaio, Cantina di Casorzo, Cantina di La-Vis e Valle di Cembra sca, Cantina Furlan, Cantina Giorni, Cantina Il Passo, Cantina Mingazzini srl, Cantina Moscone, Cantina Mussennore, Cantina Numa, Cantina Orsogna 1964, Cantina Pietrovecchio di Az.Agr.Pietrovecchio Bruno, Cantina Sociale Quistello, Cantina Riboli, Cantina Santadi, Cantina Trexenta, Cantina Tuscania, Cantina Valle di Accoro, Cantina Vedova, Cantine Animas, Cantine di Dolianova, Cantine di Tufo snc di La Marca Giovanni &C., Cantine Lizzano, Cantine Lozza, Cantine Serio, Cantine Sgarzi Luigi, Casa Buffetto "Vin du Jardin", Casa Primis, Casa Tione, Casagrande della Quercia, Casale del Giglio, Casalis Douhet, Casalone Viticoltori, Cascina Costanato, Cascina Goregn, Cascina Lanzarotti, CastellAlta Società Agricola, Ceri, Chiamami Quando Piove - Valori, Cian Du Giorgi, Claudio Quarta Vignaiolo, Col di Lamo, Col Vetoraz Spumanti spa, ColleMassari SpA, Colli Liburni srls, Colline Albelle, Conte Leopardi Dittajiuti, Coral Wine, Corte Canella, Cossignani L.E. Tempo, Crama MaxiMarc, De Faveri Spumanti, Deianira, Destefanis Federico, Dezzani + Roccavini, Di Miò, Dieci Prese Winery, Diego e Damiano Barale, Distillerie Peroni Maddalena, Distilleria Prete, Dolcevera, Domodimonti, Donna Viola, Etichettificio Antoniano, Eugin Distilleria Indipendente, Fattoria di Monticello Soc. Agr. Srl, Fattoria Gaglierano, Fazio Casa Vinicola in Erice, Feudo Vagliasindi, Fiorotto dal 1934, Flatio, Fontanavecchia, Gaggiano Viticoltori, Gazzola Spumanti, GB Bennicelli, Gravanago, Gurrieri, I'm Winery, Il Contadino online, Il Quercetto, Il Rosso e Il Nero, Inverso Vini, Klinger, Kobal Wine Estate, La Combarbia, La Grazia - Viticoltura Eroica, La Masseria di Sessa, La Piemontina s.s.a., La Sala del Torriano, Le Vigne di Silvia, Lechburg Winery, Leonardo Pallotta, Leopoldo I di Toscana, LETERRE, Linea Crepuscolo, Liquorificio Mastr'Antonio, Marchesi della Rocca, Mario Portolano, Marisa Cuomo, Masciarelli, McHenry Distillery Tasmania, Mister Bio Wine, Monastero dei Frati Bianchi, Monteruello srl - Società Agricola, Mulin di Mezzo, Murales, Nicola Priori, Omina Romana, Palazzo Vecchio, Pinto Vini, Podere Casanova, Podere, Colleprimo, Podere Gusto, Poggio de' Cavalieri, Porto di Mola, Prosecco Pirani, PuntoZero, Rete del Pinot bianco nel Collio, SaDiVino, Sangallo Distilleria Cinque Terre, San Matìo Azienda Agricola, San Vincenzo Vini, Sartori di Verona, Scuola Mocajo, Sensi, Siridia, Società Agricola Bes srl, Società Agricola Mingotti srl, Società Agricola Roccia Rossa, Tassi Montalcino, Tenuta di Artimino, Tenuta di Saragano, Tenuta Freddano, Tenuta Incarrozza, Tenuta La Cà, Tenuta Marino di Monterado, Tenuta Pampinus, Tenuta Parco dei Monaci, Tenuta Pietramora, Tenuta Sant'Antonio, Tenuta Santo Spirito, Tenuta Scarfana, Tenuta Volpare, Tenute Cerfeda, Tenute Cesaroni, Tenute d'Italia, Tenute Guardasole, Tenute Lu Spada, Tenute San Giovanni, Tenute Tomasella, Tenute Valso, Tenute Vidi, Terre de Trinci, Terre di Gnirega, Terre di Serrapetrona - Tenuta Stefano Graidi, Testacoda Gin, The Panciu Domains –Princely Vineyards, Valdo Spumanti, Vallerosa Bonci, Varani Spirit srl, Viano Michele, Vigna del Gaò S.S. Agricola di Balliana Italo e figlio, Vigna 61, Vigna della Cava, Vignavolando - Di berardino, Vigneti Bonaventura, Villa Bibbiani, Vinarija Despotika, Vinicola Sacro Cuore, Vitivinicola Trè Biddas, Wine GUŠTIN, Winedia (Cossetti, Guardiani Farchione, Mantellassi, Pighin, Villa Girardi), Xamorfos.
Related Products