The SuperNobile Alliance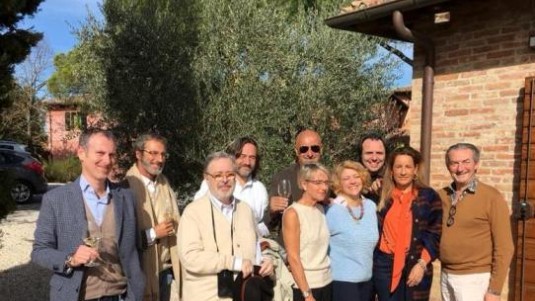 Thanks to the producers who belong to the Wine Alliance, we have seen the birth of six very great Super Nobile wines, Vino Nobile di Montepulciano made from only Sangiovese grapes.
Vino Nobile di Montepulciano has for years found itself crushed between two Tuscan titans. On the one side is Chianti Classico with its famous name, renowned hills and international reputation, while on the other is Brunello di Montalcino which may have less of a history but is today considered worldwide to be Italy's Number One wine. How to break out of this predicament is a question that six important producers decided to tackle, important because of their history, their fame, the quality of their production and their brand. They are (in alphabetical order): Antinori-La Braccesca, Avignonesi, Boscarelli, Dei, Poliziano, Salcheto.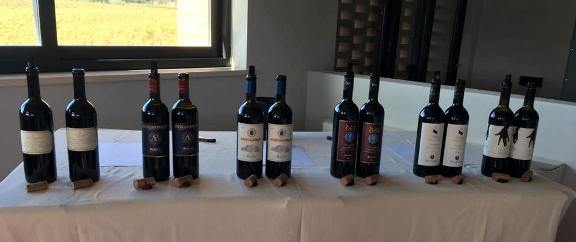 The first step they took was to create a producers' association, in the spring of this year, to promote their wines around the world and demonstrate how they express the many sides of an area like Montepulciano, which are different than the previously mentioned 'cousins'. Thus you could say a 'noble' alliance was born in which the word 'noble-nobile' has a double significance. The first is that it is the right word to describe the character of the producers who joined this Alliance Vinum and the second is that it is a direct reference to Vino Nobile di Montepulciano. The second step began this autumn and we at DoctorWine (Daniele Cernilli, Ricardo Viscardi and yours truly) were asked to give our opinion on and to evaluate this important step: the production of a Nobile made only with Sangiovese. Although this grape is the primary one used to make Vino Nobile di Montepulciano, regulations governing its production call for it to be blended up to 30% with wine made from other red varietals. The rational for making a 100% Sangiovese is that on its own it is easily intuible because the grape is the one that best expresses territorial differences within the same appellation, those that give a distinct character to a wine.
And so on Saturday, October 29, we went off to the Poliziano estate where we met up with all the other Alliance producers for a preview tasting of their 100% Sangiovese Super Nobile wines, which will make their debut on the market next year. The vintage chosen to embark on this project was 2015, which was an excellent year, warm and sunny with a rainy winter and summer storms helping to maintain an ideal level of humidity. This resulted in wines that, on an average, had a very high level of quality.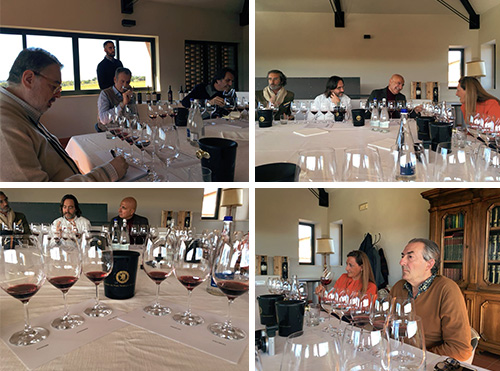 Being Nobile wines, they were still in the maturing phase (some were not even bottled) and so we did not rate them and limited ourselves to explaining each individual wine and the sensations they gave us. These are all top Nobile wines which are targeted for a high-end market with prices starting at 40 euros a bottle and reaching over 60 euros for the Boscarelli and 75 euros for the Poliziano.
---
Antinori, an international Nobile
The Antinori estate in Montepulciano has 100 hectares of vineyards and on an average produces 350,000 bottles a year.
The Alliance Nobile is a small cru, made only with grapes from the Maggiarino vineyard, situated in the area of Cervognano, which has a rich, red-clay soil and a nice structure. It sits at an altitude of 350m above sea level and has a southwest exposure. Fermentation takes place in stainless steel vats and the wine matures in 500-liter barrels made of Hungarian oak.
The wine has a limpid, slightly garnet, ruby color and the bouquet's typical fruity aromas are accompanied by a smoky note and the sensations of sweet spice that are characteristic of the Antinori style with black cherry ever-present. The mouthfeel is agile, broad and wrapping, saline and has an excellent acidity and composed tannins. According to the estate, the wine is "a superior expression of Sangiovese in the terroir of Montepulciano".
Bottles produced: 3,900.
---
Avignonesi, the dual nature of Nobile
Avignonesi is one of the private giants in Montepulciano with 161 hectares of vineyards, which have been bio-dynamically cultivated since 2010, and an annual production of 550,000 bottles.
The grapes for this Alliance Nobile are from Poggetti, a very particular area between Argiano and Cervognano that has with a pale-blue and sandy soil set at an altitude of 300m above sea level. Indigenous yeasts are used here and the grapes are delicately destemmed and meticulously selected. The wine matures for 18 months in 500-liter, used Allier barrels.
The color is a limpid garnet and the nose intensely spicy with scents of pepper and cardamom, ethereal notes, menthol whiffs and a hint of black cherry. The mouthfeel is composed, agile and expressive with a nice acidic backbone and distinct yet measured tannins. The estate believes this wine "exhaustively expresses its dual nature: very enjoyable when young but at the same time with a natural propensity to age".
Bottles produced: 5,000.
---
Boscarelli, a reference point
This is the smallest estate of the six with 20 hectares of organic vineyards and 100,000 bottles produced.
The grapes for the Alliance Nobile are for the most part from the Vigna Grande vineyard that has a northwest exposure and a soil rich in clay and chalk. Next to it is the Nocio vineyard which has a southern exposure and its grapes represent 10% of the wine. The grapes are meticulously picked, indigenous yeasts are used and fermentation takes place under controlled temperatures with brief maceration to avoid any extreme extracts. The wine matures in 350-500-liter Allier barrels and 15-hectoliter Slavonian oak vats for 18 months.
The wine has a limpid, ruby-garnet color and a very fruity aroma of blood orange and strawberry with a balsamic hint and some fine spices. The mouthfeel is very Sangiovese, essential, profound and agile with incredibly elegant tannins and a very long finish. According to the estate: "the soil here is stratified with so many different compositions that the same vineyard can express an incredible variety of Sangiovese nuances".
Bottles produced: 6,500.
---
Dei, a signature wine
Under the supervision of Caterina Dei, this 52-hectare, family estate - with annual production of 220,000 bottles – has seen a surge in constant growth.
The grapes for the Alliance Nobile are from the Bossona vineyard, the estate's best cru with its 15 hectares, southern exposure and soil rich in chalk producing wines that are very bold yet elegant at the same time. The grapes are softly pressed, the juice fermented in stainless steel and the wine matured in 750-liter barrels for 36 months, necessary to tame the boldness of the tannins.
An intense, ruby-garnet color and a very fruity nose with black cherry, strawberry, a little sour cherry, citrusy hints and a woody touch. The rich and bold mouthfeel is vertical and deep, warm with a significant yet wonderful tannins and a fruity aftertaste. The estate says: "the best expression of our Sangiovese".
Bottles produced: 10,000.
---
Poliziano, a ballerina en pointe
Federico Carletti relies on pluck to run this 130-hectare estate that is converting to organic methods and produces 700,000 bottles a year.
In order to produce this Alliance Nobile it was decided to bring back up to speed the Le Caggiole cru with its soil of marine origin, fossil shells and low amount of clay. This renowned vineyard was in part replanted 15 years ago while other vines are 50 years old. The wine matures for 18 months in used, 600-liter barrels and then in cement vats before bottling.
A ruby-garnet color and a bouquet that is very citrusy and intensely fruity with a little chocolate and lots of cherry. The fresh and saline mouthfeel has great finesse and lightness as well as agility, making it a counterpoint to their Asinone Nobile. According to the estate: "the utmost quality attainable and a very limited production. We wanted to exalt the characteristics of the terroir, its sweet and salty flavor profile".
---
Salcheto, the austerity of Sangiovese
Salcheto has 48 hectares of certified organic vineyards and produces 300,000 bottles a year.
Their Alliance Nobile is Salco and is made with grapes from the vineyard of the same name plus a small amount from the Laghetto vineyard. The soil is of polyxenic origin and rich in clay and the vineyards sit at an altitude of 300-450m above sea level with north and northeast exposures. The wine is the result of an exasperating search for perfect balance in the vineyard and careful attention in the winery to preserve the potential of the grapes. The wine first matures for 15 months in Spanish-made, Allier barriques and then in 7-hectoliter Slavonian oak barrels.
The color is a classic ruby and the nose has light and refined spice notes on citrusy scents and those of black cherry making the aroma austere and severe. The severe and profound mouthfeel is taut and elegant with a lovely acidity and tannins that are still young. The estate: "our interpretation of the land through Salco produces very enjoyable wines that are profound and complex yet at the same time are distinguished by their freshness and vibrant acidity".
Bottles produced: 9,000.