Antonio Camillo, Ciliegiolo in the heart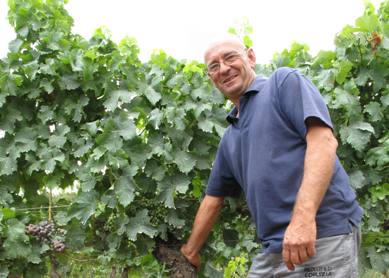 Antonio Camillo is a very sociable and reliable person who has an incredible passion for what he does and although his estate dates back to only 2006, he has been involved in the world of wine for much longer. He worked, always in the area of Morellino, for Poggio Argentiera where he performed a number of tasks before becoming responsible for production. Although a native of Lazio, Antonio has put down roots in this area of Tuscany where he fell in love with a local grape, Ciliegiolo, and with time he has become one of its most important interpreters. This variety has some interesting characteristics but has been overshadowed by the more famous Sangiovese to the point that there are not many vineyards of it and the grape used in Morellino to give fragrance to the Sangiovese.
When Antonio discovered a two-hectare vineyard of Ciliegiolo above Capalbio with vines that were some 40 years old it was love at first sight and he bought it in order to begin producing his owns wine. His estate how has 11 hectares of vineyards, eight of which are leased, and all have old vines because Antonio believes that only old vines can give that 'something else' not only to Ciliegiolo but all varieties. One can only agree with him.
The winery, which was inaugurated last year, is comfortable and rational with cement vats for fermentation, which are a must for Antonio along with using 25hl barrels to bring out the best from Ciliegiolo. The style of the wines is elegant without being obsessive about extracts or boldness and Antonio prefers to focus more on balance, something he achieves with all his wine. 
Related Products