The Morellino pioneer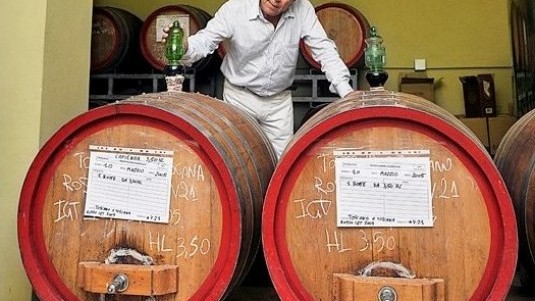 I can perfectly remember the moment, place and perhaps even the day when I first met Erik Banti. It was in March 1979 and I had gone, on Veronelli's advice, to meet Stefano Milioni who at the time a promising young wine and food journalist and was organizing the first 'wine tours' of wineries on behalf of a famous Roman travel agency. Banti Viaggi had its headquarters at Lungotevere dei Mellini 44, right behind Piazza Cavour, and Erik was its much-feared 'boss'. At the time he was in his early 30s and came from a very well-to-do family with an aristocratic and Tuscan father and a Danish mother. He had a 'wild' youth and had been an authentic Roman playboy with a slew of love affairs that were punctually at the center of press gossip. Then he decided to 'settle down' and get a serious job.
Together with Milioni and under Veronelli's supervision, he 'invented' what would later be known as wine tourism. Unfortunately, they were apparently a bit ahead of their time because Banti Viaggi folded in 1981. Erik decided to 'retire' to the countryside, to Montemerano, where his family owned a home and a small wine estate that no one was looking after. He took it over and began to bottle Morellino di Scansano, at the time a little-known Maremma red, using his own grapes was well as those he bought from neighbors. After having tasted wines from all over the word, Erik had developed a fine palate and he knew what he was doing.
After a few months he invited me to visit his winery which was, in reality, a converted garage with a Vaslin press and some large chestnut and oak barrels. His wine, on the other hand, was not bad at all and while not extraordinary, it was a well-made and delicious red with an aromatic profile typical of the Sangiovese of the area. He began to sell it locally with a label he still uses today and which was designed by Stefano Milioni, who was also a graphic artist. Soon after, and exploiting his popularity, he was making trips back to Rome in his Passat station wagon which was filled with cases of his wines that he sold to the wine shops and restaurants he used to frequent.
Sometimes he even went to Denmark, always in his station wagon packed with wine, to try and do the same there. He spoke Danish perfectly and knew a lot of people there, too, so it was it wasn't too hard for him to make his wine known and sell a respectable amount. He did such a good job marketing his Morellino in Rome that it became a trendy wine in the 1980s and much of the following decade. By doing this he also paved the way for many other producers to sell their wine outside Maremma, where the Morellino of Sellari Franceschini and Mantellassi were being made before he got involved. Today Morellino di Scansano has its own DOCG appellation and is known throughout the world.
And its popularity resists even if some producers have sought to turn it into something different from that fragrant and pleasing red it was at the beginning. For me, this was the essence of what it should remain and I think back with some nostalgia to that Morellino 1981, the first vintage Erik produced, which was a real treat.