The Marquis of Wine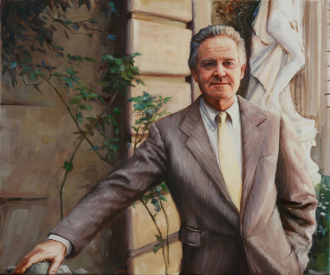 Few people have had such influence, left such a mark on the recent history of Italian wine than the Marquis Pietro Antinori. For sure he has been the one with the greatest foresight and vision when it comes wine in Italy. The son of Nicolò Antinori and son-in-law of Alberico Boncompagni Ludovisi, Pietro comes from one of the younger branches of the Antinori dynasty, a family that has been producing wines for over six centuries but whose wines have only achieved aristocratic status thanks to him. He began running the family's wine business towards the end of the 1960s and brought in with him a promising young enologist by the name of Giacomo Tachis, who would later be defined as the father of modern Italian winemaking.
Tachis was five years older then Pietro Antinori, born in 1933, and so when they began working together both were more or less 30. It was at that age that, after Tachis had returned from Bordeaux where he had studied under Professor Peynaud, they had a brainstorm. At the time Chianti Classico was going through a serious crisis and production was in large part in the hands of bottlers, who were cutting it with cheaper 'southern' wine. However, during those same years the 'luxury wine' sector was expanding thanks to Tancredi Biondi Santi, and later his son Franco, and his Brunello di Montalcino that fetched prices 20 or even 30 time greater than those of Chianti Classico. The time had come for a major change and Pietro Antinori and Giacomo Tachis decided to make a wine from only red grapes, the way Brunello was, but one that was more like a Bordeaux by using small French oak casks. Although this would mean that it would not officially classify as a Chianti Classico, it didn't really matter seeing how things were going. At the same time, Tachis was also collaborating with Niccolò Incisa to create the first Sassicaia and so was working with grapes other than Sangiovese.
This is how Tignanello was born. The first one they produced, in 1970, came out as Chianti Classico Riserva del Podere Tignanello, and had the old white label that had been used for Villa Antinori up until about 15 years beforehand. A new label was then designed by graphic artist Silvio Coppolo, one of the best of his generation, and it is more or less the same one used today. The first official Tignanello vintage was 1971 and it was mostly Sangiovese with a little Canaiolo that aged in 350-liter Slovenian oak barrels. Production was suspended for three years and then resumed in 1975 with a blend that included Cabernet Sauvignon, only 20%, and was aged in barriques. This new version was the first wine to be developed as a project and that was not the product of a family or winery tradition. In other words, it was the first modern Italian wine. Its success was global. Veronelli was enthusiastic about it and became it chief promoter. Several years later they developed Solaia which was similar to Tignanello except the percentages of the blend were inverted, with 80% being Cabernet Sauvignon and 20% Sangiovese. The first vintage was a 1978 but the first to reach the market were the 1979 and 1982, because the tannic level in that first year made it clear the wine needed to age longer.
There is an anecdote regarding Solaia that says a lot about Pietro Antinori's personality and tastes. Before it came out there were a long discussions over its label. Coppola had died and so it was impossible to do something like they did with Tignanello. At one of these meetings, perhaps a little fed up with how long it was all taking, Pietro Antinori said. ''I just had my business card redone using a design that the printer came up with. Take a look, I think it's quite nice''. And he then flicked a card to the middle of the table, catching everyone off guard. It was, in fact, a very elegant design and the Solaia label is a direct elaboration of it.
In 1993, Giacomo Tachis retired and Pietro Antinori needed to find a new technical director. At one of the family's estates in Orvieto, Castello della Sala, there was a young and very capable director named Riccardo Cotarella. Today he is famous throughout the world of wine but at the time he was not even 40 and it took a lot of courage to appoint him as Tachis' successor and make him responsible for production. But Antinori once again demonstrated his foresight and faith in young people. ''I needed to choose someone who could also relate to my daughters - Albiera, Alessia and Allegra, who are the estate's future – and not just to me. They are younger than Renzo but not as much as someone from my generation would have been and who might have intimidated them,'' he explained to me once. Renzo took the control of production with the confidence of a veteran but also with an open-mindedness of a young person, determined to achieve extraordinary results, those that today have made Antinori one of the leading players on the world wine scene.
The latest big project by Pietro and Renzo Cotarella was the creation of a new winery in Bargino, south of Florence, which entailed abandoning the historic one in San Casciano that had been operating there for almost a century. It is a very modern and eco-compatible winery, the result of a 100-million-euro investment. ''The head of the American investment fund that put in capital asked how long it would take to make back the investment,'' Pietro Antinori confessed to me, ''and I told him how with the last one it took 100 years. Maybe this time it will be a little less, but we have time''.