My first Picolit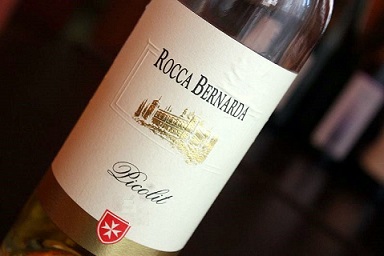 It was the year 1978 when I finally found myself with a glass of Picolit 1976 Rocca Bernarda in front of me. It was then that I understood the evocative and symbolic power of wine. 
The first wine bars began to open in Rome in the mid-1970s, when I was in my 20s. Perhaps the first was inside the Buccone wine shop, on via Ripetta, where they served, and still serve, great wines at reasonable prices. And it was a stone's throw from a stop of a bus that ran by where I was living at the time and so it was also easy to get to. Most important, it was possible to have a glass of a wine there which I could not afford to buy a bottle of.
One of these was a true legend, Picolit della Rocca Bernarda , which had a stratospheric rating in Luigi Veronelli's Catalogo Bolaffi dei Vini Italiani with a description that bordered on poetry. At the time, the winery, which is an historic landmark in Friuli winemaking history, was still owned by Count Gaetano Perusini , who shortly thereafter died tragically and left everything to the Order of Malta. I remember that a glass of that Picolit at the time cost 1,000 lire, which was equal to around ten bus tickets then or the equivalent of 15 euros today, and a bottle cost about 12 euros. It was a lot of money, especially for a student, and so I saved up what I could earn doing odd jobs, tutoring some thick students and organizing a few excursions for tourists together with friends from high school. I spent most of my money on wine, not knowing at the time that I was setting the foundation for my future profession.
As I said, 1,000 lire was a lot but so was my curiosity about Picolit. And then one day, I think it was in 1978, I received a nice paycheck from helping to organize a furniture trade fair and I went straight to Buccone and ordered a glass of Picolit 1976. The Rhineland flute bottle was green and the label was white and on it was a silhouette of Rocca Bernarda with Picolit written in cursive . I was lucky and, being the first person to order this wine that day, they opened a new bottle right in front of me. I can still remember how the wine just seemed to slip into the glass, how its clear, golden-yellow color was not as bold as I had expected and how its aromas began to fill the room even before I lifted the glass to my nose. The bouquet had scents of honey, almond, perhaps even peach and wild flowers. It was delicious, intriguing and not excessively sweet. My first sip was much less than what I usually took and this allowed my taste buds to become accustom to this wonder. Veronelli described it as "sweet not sweet"  and I finally understood what he meant. The attack was slightly sweet yet at the same time delicate and composed. Then, as it progressed in my mouth, those sweet notes gave way to fresher sensations and the acidity. The aftertaste was more 'almondy' than bitter and reminded me of the barley sugar candy my grandmother used to give me when I was a child. Sweet at the beginning but then slightly bitter at the end.
It took me a good half an hour to finish the glass and each sip brought something to mind , a flavor, obviously, but also an event, a moment in my life, a memory. It was then that I began to understand the evocative and symbolic power of wine. And I realized that what I had in front of me was not just "something to drink" but a liquid that had the same impact of an artistic image or a musical refrain. And the proof of this is the fact that I still remember everything and feel the same sensations I felt so many years ago.
Over the years I have continued to drink that Picolit. And I have even visited the estate where it is made, there in the lovely Ipplis Hills, in the heart of Colli Orientali del Friuli . I got to know the historic cellarman Carletti, who was the estate's living memory, as well as his beautiful daughter. Back when I worked on the Gambero Rosso wine guide, Giulio Colombo and I were able, and it was no small feat, to ensure several vintages of this wine were awarded its top Three Glasses rating.
I am sure that the memory of that morning in 1978 will stay in my mind and in my heart for as long as I will live.